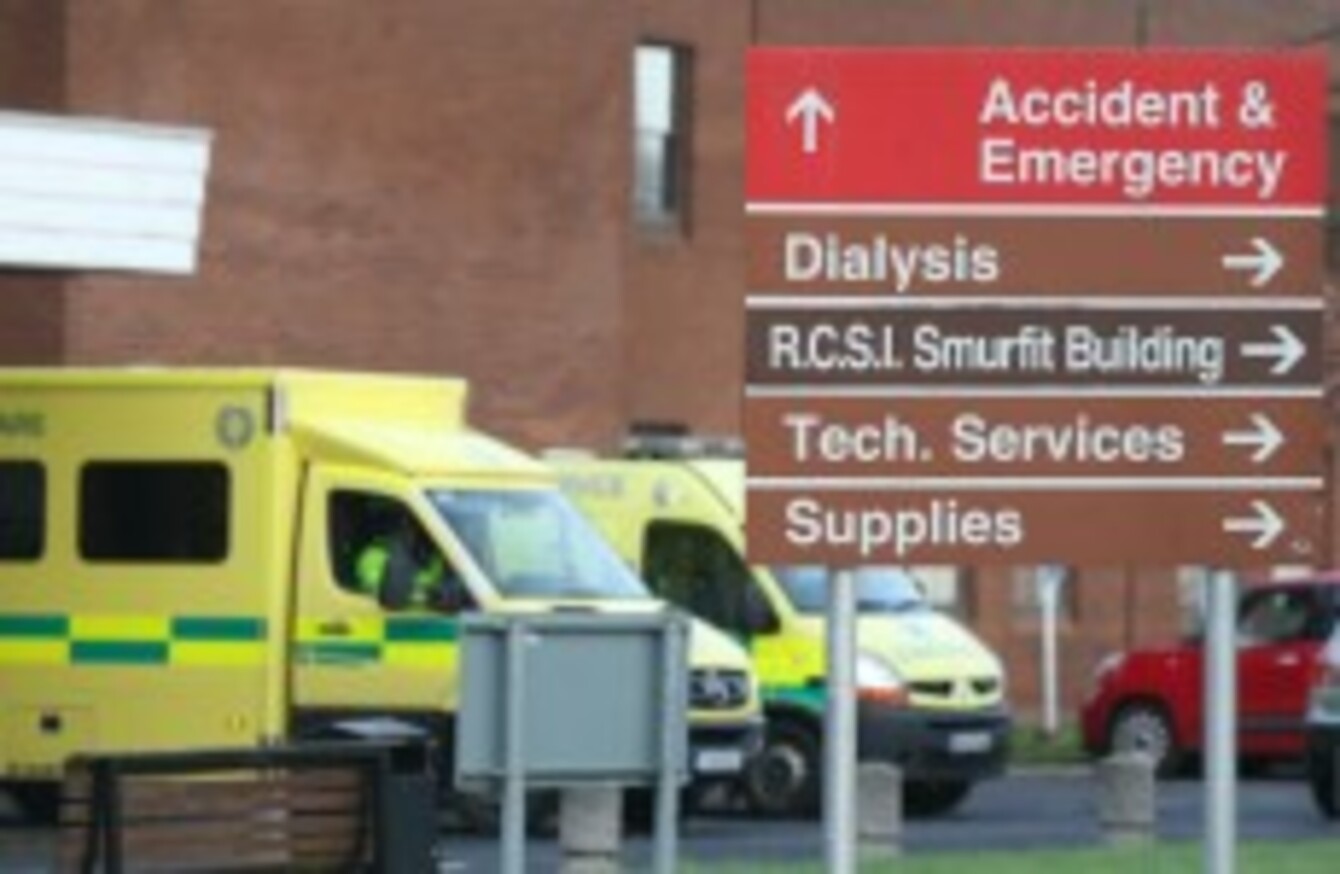 Image: Leon Farrell/Photocall Ireland
Image: Leon Farrell/Photocall Ireland
Updated 10.40pm
HEALTH MINISTER LEO Varadkar has said that the number of people on hospital trolleys is at a seven-year low today.
"If you compare like with like and if you compare this time of year over the last number of years, the number of people on trolleys (359) is actually at a seven-year low," Varadkar told reporters this afternoon.
He said that overcrowding remains "a chronic problem" in 7-10 of the country 27 A&E's.
"This problem goes back 15 years, starting under Micheál Martin as health minister."
Varadkar was speaking on the way into a meeting of the Emergency Department Taskforce in Dublin. While the meeting was taking place, dozens of nurses from around the country were protesting outside Leinster House.
Criticism of Fianna Fáil
In a speech in the Dáil during private members' time this evening, Minister Varadkar was scathing about the health service under the care of the current Fianna Fáil leader Micheál Martin when he was Health Minister.
"First of all, allow me to say that the government acknowledges that the problem of over-crowding is serious, real and cannot go on," said Varadkar.
He spoke of Martin's time as Health Minister between 2000 and 2004, and that it was a case of 'a lot promised, little done'.
Varadkar said that over the past four years that the Fine Gael-Labour coalition have been in power, "things have consistently improved year-on-year until it started to deteriorate again in the summer culminating in a spike last week".
It still "has not reached the levels experienced under Fianna Fail" said Varadkar.
He said that in 2003 – 2004, there were stories of patients having to be treated in the car park, because there was no room for them inside.
So how did the Minister at the time address the crisis? Did he stand up and take responsibility? Did he take steps to address it? No. He came before this House in May and insisted that he did not like the word 'crisis', complained that it was being used with 'gay abandon' and none of it was his 'fault'.
Varadkar said of Deputy Martin that "despite having every opportunity, all the tools and plenty of time, he achieved little. Now he wants to be Taoiseach".
With such a legacy behind him, I am grateful for his advice. Any Health Minister could learn a lot from his mistakes and poor leadership. He is a poor example to follow and I won't.
In ending his pointed comments towards Deputy Martin, Varadkar commented on the deputy's suggestion that the Health Minister "should stop acting like a 'commentator and some sort of analyst'".
But perhaps he is concerned that I actually can analyse the problems, that I'm not afraid to comment on them, and face up to them. He worries that I am actually prepared to take responsibility for solving them, when he would not. He fears being shown up and he fears the people being reminded of what he failed to do as Health Minister and the appalling damage he did to the economy as a member of the last Government.
A Fianna Fail spokesperson told TheJournal.ie:
"All those hundreds of people on trolleys and their families will despair that after four years in Government and 10 years after Micheál Martin left the Department of Health, the best Leo Varadkar can come up with in a Dáil debate on the A&E crisis is cheap and silly political point scoring."
Measures to ease the situation
Minister Varadkar also outlined measures being taken to ease the situation:
Non-urgent elective surgery has been cancelled. The extent and criteria vary from hospital to hospital depending on the extent of overcrowding.
Elective surgeries for life-threatening conditions like cancer cannot, however, be postponed for more than a few days.
Closed wards have been re-opened
Transition beds in nursing homes are being funded while the paperwork for the Fair Deal is being worked out.
Additional Home Care Packages are being provided and, as of last weekend, no patient ready to be discharged is awaiting a home care package
300 additional Fair Deal places are being funded. While there has been a delay in getting some patients to nursing homes, this is "progressing".
To speed up patient flow, additional diagnostic scans are being made available and consultants are being asked to do ward rounds twice a day to speed up discharge.
Community Intervention Teams are being extended allowing more patients to go home or stay at home or in their nursing home, where they will be visited by a nurse. Planning is underway to extend this to Drogheda, Naas and Waterford.
Nurses back work-to-rule
Nurses at several hospitals including Limerick University Hospital, Ennis, Nenagh, Croom and Naas have voted in favour of holding a work-to-rule action on 3 February.
Varadkar said he understood the frustration of nurses, but industrial action is not the answer.
My experience from my time in the health service is that [work-to-rule] doesn't particularly impact on patients but it does make work harder for other frontline staff, particularly junior doctors so it's not a solution to this problem.
"[The nurses are] sick to death of it, they're frustated about it and I totally understand where they're coming from."
Varadkar said "local solutions assisted by national measures" are required to address the overcrowding issue.
INMO
Liam Doran, head of the Irish Nurses and Midwives Organisation (INMO), said the work-to-rule action could escalate to a strike if solutions are not achieved shortly.
So, what's needed?
More staff, more beds, more community services. Without that you won't address this problem.
Doran, who has agreed to co-chair the ED Taskforce, added that "action on the ground" is required urgently, not "more high level strategies".
#Open journalism No news is bad news Support The Journal

Your contributions will help us continue to deliver the stories that are important to you

Support us now
Varadkar said resources are not the only issue at play.
"It's about more than that, if resources were the solution this would have been solved a long time ago."
He said "much better" management, organisation, patient flow and hospital avoidance is required.
"There is nobody who wants to resolve this 15-year chronic problem once and for all more than me," Varadkar added.
Leaders' Questions
Later today, the Taoiseach said that last week's trolley numbers, which saw 600 people waiting on hospital beds, made hospitals less safe than they should have been.
In the first leaders' questions in the Dáil of 2015, Fianna Fáil's Micheal Martin and Sinn Féin's Gerry Adams used their time to question the government on the hospital crisis, which saw 600 people on trolleys last week.
That prompted the Taoiseach to say that last week "emergency departments were not as safe as they might have been".
Martin said that the situation had arisen because of government neglect.
"You've neglected it as a priority in government and that's why there were record numbers last week. You tried to get away with it, but you got caught."
However, the Taoiseach hit back, reminding Martin that he had been Minister for Health and pledged himself to end overcrowding.
"You wasted money when there was billions sloshing around."
Additional reporting by Paul Hosford and Aoife Barry