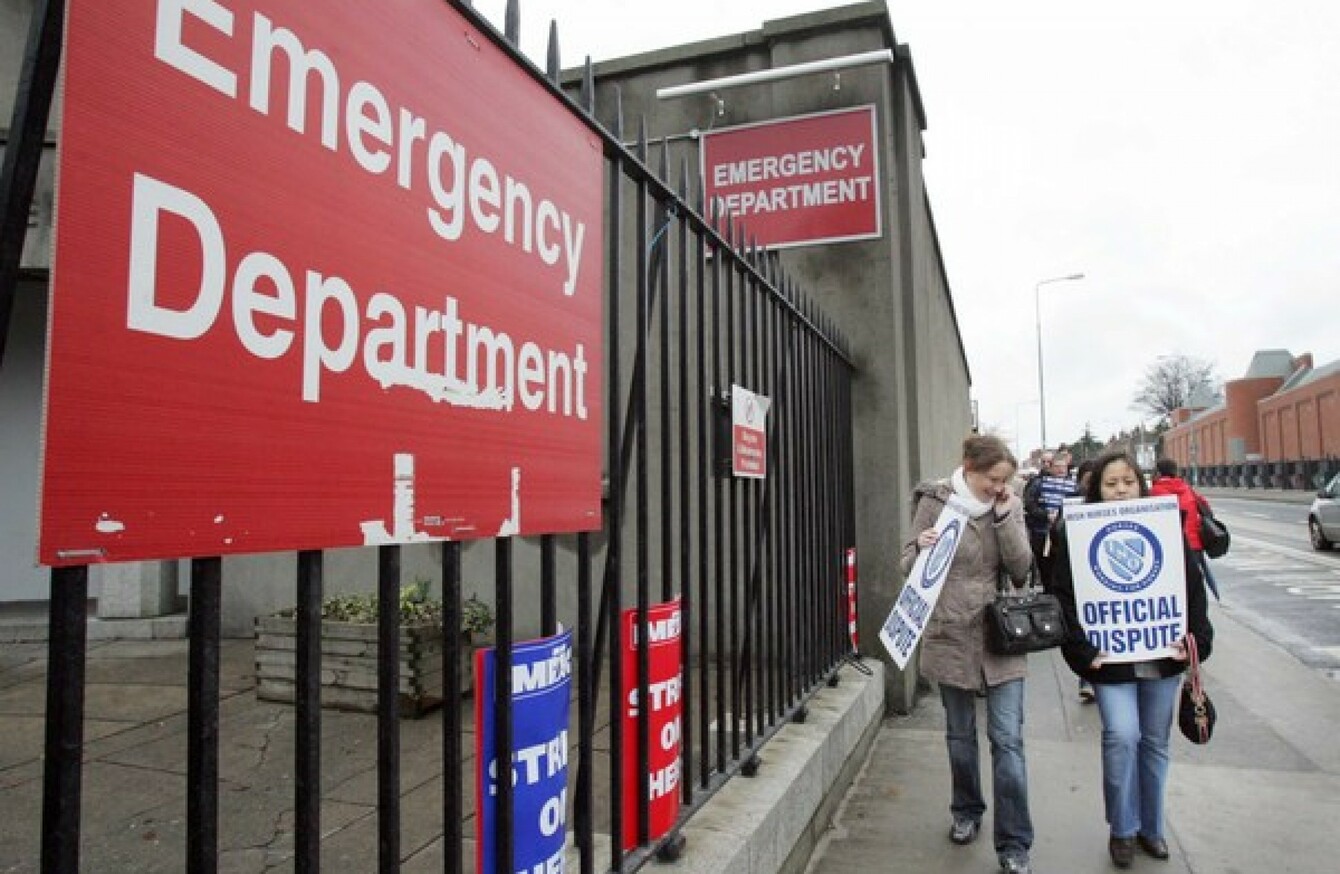 Image: Leah Farrell/RollingNews.ie
Image: Leah Farrell/RollingNews.ie
HEALTH SERVICE SUPPORT staff who are members of Siptu have voted overwhelmingly in favour of strike action today, which will see the workers join nurses and midwives in industrial action on Tuesday 7 March.
The ballot of over 10,000 workers saw staff voting 94% to 6%, in favour of taking strike action, in relation to "breaches of the national public services agreements and their exclusion from concessions provided to other emergency department workers".
Siptu called the vote a "clear and emphatic" message from its workers.
Up to 39 acute hospital facilities will be affected, including James's, Beaumont and the Mater hospitals in Dublin, and hospitals in Tipperary, Cork, Donegal, Limerick and Galway.
Support staff, which includes healthcare assistants, cleaners, porters and security staff, say that elements of both the Lansdowne and Haddington Road agreements were not adhered to.
The most important of these, say staff, is the failure to reintroduce a job evaluation scheme, and the application of incremental credit to interns.
It is believed that success in the job evaluation scheme would have led to higher pay and upgrades to their job roles if they were found to have expanded.
The other key issue for support staff is the granting of concessions by the HSE and Department of Health, including a €1,500 education bursary and additional leave, to nurses last year which has not been extended to them.
Siptu health division organiser Paul Bell said: "The response from our members is clear and emphatic.
It has never been our members' desire to engage in strike action, which will obviously put additional pressures on the health service. However, after fifteen months of management obstruction and intransigence our members have been left with no option but to commence strike action.
"We have three weeks to the expiry date of the strike notice so there remains ample opportunity for the issues in dispute to be resolved. However, for this to occur there needs to be a change in attitude and approach from management."
In response, the HSE said in a statement: "The HSE is disappointed that hospital support staff belonging to Siptu have voted to take industrial action on 7 March.
The HSE is open to engaging with Siptu officials and is hopeful that a satisfactory resolution can be reached regarding the outstanding issues.
Last week, the Irish Nurses and Midwives Organisation rejected government proposals to deal with retaining and recruiting staff and announced plans for industrial action.
INMO president Martina Harkin-Kelly said that nurses and midwives are "unable to provide full care to their patients, working beyond the end of their shift without pay, unable to take meal breaks and facing unmanageable workloads because of the appalling conditions".