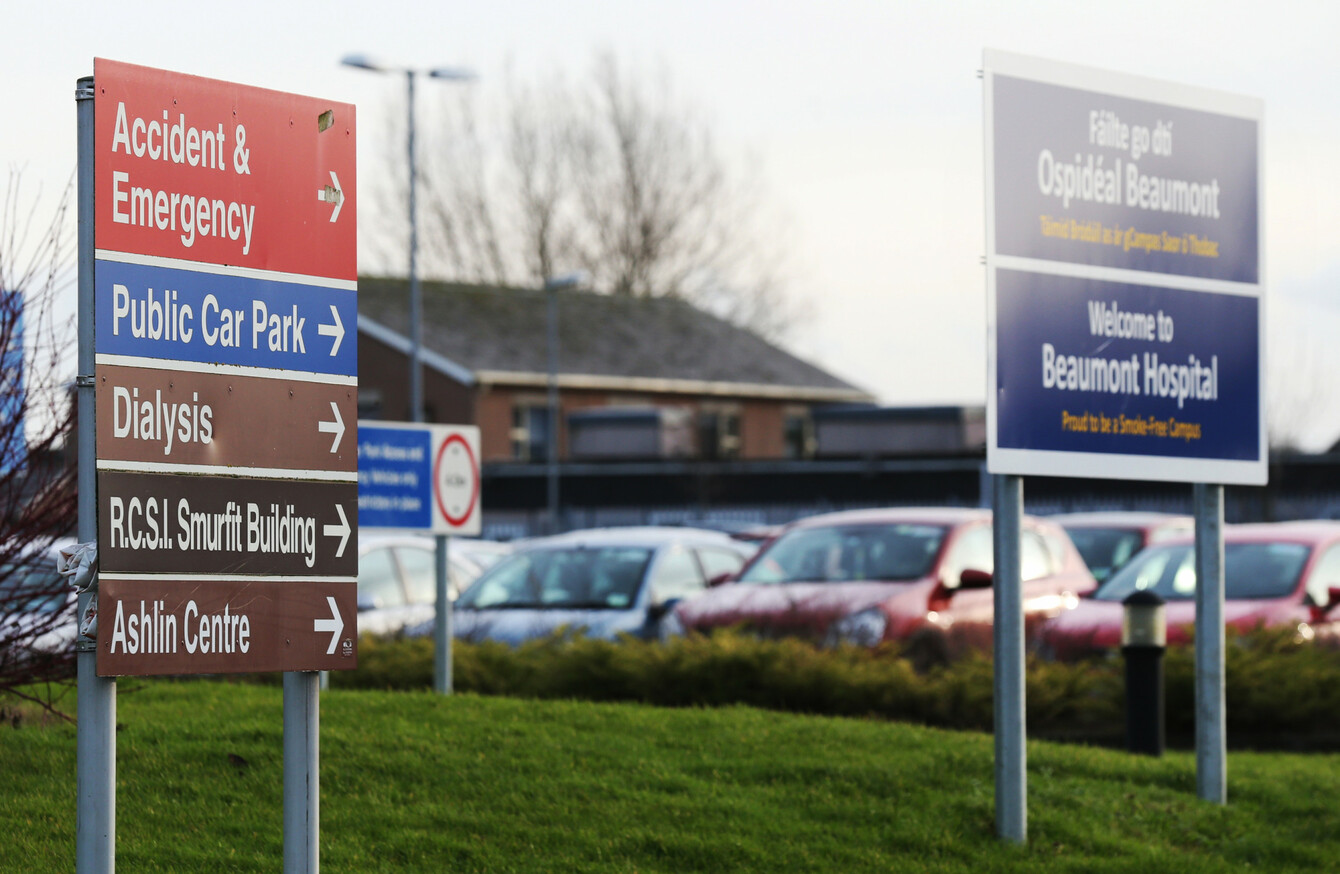 Beaumont Hospital part of the RCSI group.
Image: Leon Farrell/Rollingnews.ie
Beaumont Hospital part of the RCSI group.
Image: Leon Farrell/Rollingnews.ie
THIS AFTERNOON, A petition will be delivered to the headquarters of the RCSI group of hospitals, demanding that parking fees be scrapped for long-term patients and their families.
A recent report highlighted the high cost that cancer patients and their families face in the form of car park fees at hospitals, with people charged on average over €250 a month in Irish hospitals.
The RCSI Hospital Group runs Beaumont Hospital, Connolly Hospital and the Rotunda Hospital (all in Dublin), as well as Cavan General Hospital, Louth County Hospital, Monaghan Hospital and Our Lady of Lourdes Hospital – Drogheda.
Over 7,400 people have signed the Uplift petition, which will be delivered at 3pm today.
Campaign spokesperson Roderick Campbell said that other hospitals had made full parking exemptions for patients with cancer and their families, but that RCSI had refused to budge on this matter.
"We've requested a meeting with the hospital group," he said. "But they turned us down. We're just going to deliver the petition anyway."
Campbell said that there was no justification for hospitals to charge high rates, and that it's even worse when it's at the expense of cancer patients.
The maximum daily rate at Beaumont Hospital for example is €9 in the hospital visitor car park.
Campbell will be joined in delivering the petition by some who've had to pay for parking while receiving treatment, as well as friends and family.
"They [RCSI] are now in the minority among hospital groups in Ireland by continuing to charge patients such rates," he said. "And that needs to change."
Late last year, the Irish Cancer Society highlighted the burden of parking for cancer patients in its report Park the Charges.
That report estimated that parking costs for cancer patients are an average of €63 per week, with the overall financial cost of having cancer estimated at an average of €862 a month.
It said: "These are the kind of additional charges that no one thinks about when you first hear 'you have cancer', but which can quickly take their toll when you're struggling to deal with huge additional outgoings and a big fall in income, whether you have to leave your job, work reduced hours, or partners and family members have to do the same."
The report found that a number of hospitals offered free parking to cancer patients or regular visitors. These include Mayo General Hospital, Kerry General Hospital, Portiuncula and reduced rates at South Tipperary and Cork University Hospital.
One cancer patient, Gerry Carroll, told the Irish Cancer Society that he was diagnosed with leukaemia and admitted to Beaumont Hospital where he spent 115 days.
He said: "During that time, my wife came to visit me five days a week. It cost her almost €1,200 in parking charges alone in that time. That's a lot of money."
Commenting on cases such as this, Campbell said that the "last thing a cancer patient needs is to be charged this much for parking".
At the time of publication, the RCSI Hospital Group has not responded to a request for comment from TheJournal.ie.