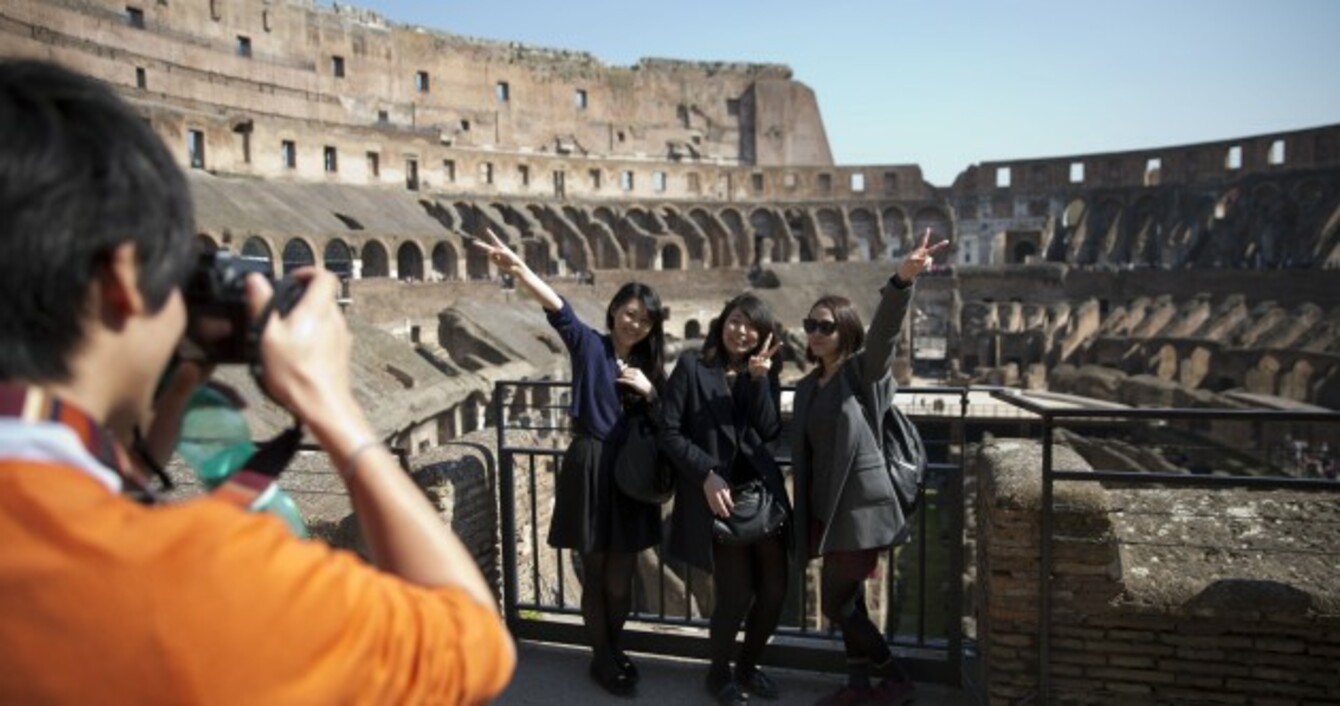 Tourists pose for a happy snap at Rome's Colosseum
Image: Associated Press
Tourists pose for a happy snap at Rome's Colosseum
Image: Associated Press
DUBLIN HOTEL PRICES jumped nearly 30% over the past year, making the city a more-expensive destination than Barcelona, Vienna or Rome for a November stay.
The average tariff for a Dublin hotel room this month has been €145 per night, compared to only €112 per night for the same time last year, according to figures from price comparison site Trivago.
That made the city the 13th most-expensive destination in Europe, although it remained well behind the priciest cities like Geneva, London and Paris. All prices were based on the rates for a standard double room among the site's most-searched-for cities.
However Dublin rates in November remained significantly higher than popular destinations on the continent like Rome, where rooms averaged only €114 per night, Barcelona at €117 per night, or Berlin at €98 per night.
Prices in the Irish capital were affected by U2′s shows, which began at the 3Arena on Monday night and run through to this weekend, although the November rates were still 8% lower than in October.
Figures from advisory firm Crowe Horwath earlier this year showed the average pre-tax profits on each hotel room in Dublin was €13,797 in 2014, close to double that in other parts of the country.
These are the most expensive places to stay across Europe in November, based on Trivago's figures:
Click here for a larger version
At the other end of the spectrum, the Russian imperial capital of St Petersburg was the cheapest of the major destinations at only €56 per night.
Portugal's second-largest city, Porto, at €74 per night, and Málaga on Spain's Costa del Sol, at €80 per night, were also relative bargains.
Here are the cheapest destinations on the list:
Click here for a larger version
Elsewhere in Ireland, Dingle was the second-dearest destination in November, behind Dublin, with average room rates of €119 per night – 38% up on the previous year.
County Kerry tourist spots made up three of the five most-expensive locations to stay with Kenmare and Killarney both high on the list.
The Irish Hotels Federation has previously disputed the accuracy of Trivago's figures, claiming they weren't representative of the full range of accommodation options in Ireland.
This is how the prices for Irish hotel stays compared:
Click here for a larger version