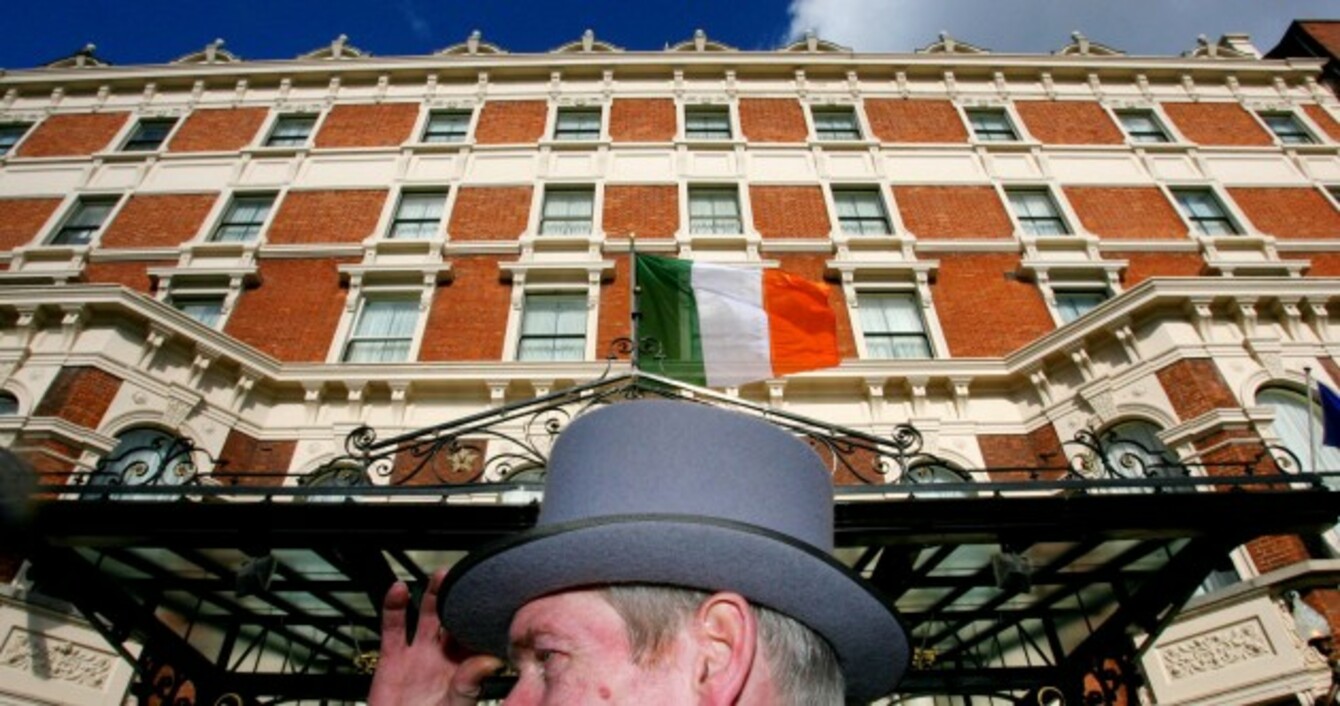 The doorman outside Dublin's Shelbourne Hotel
Image: Julien Behal/PA Archive
The doorman outside Dublin's Shelbourne Hotel
Image: Julien Behal/PA Archive
DUBLIN HOTELIERS WERE keeping nearly €14,000 on average for every hotel room they offered last year – twice as much as businesses in other parts of the country.
The rising returns came as an ever-increasing number of tourists flocked to Ireland, pushing up room prices and occupancy rates across the island.
However the figures are yet to return to their boom-time peaks, when the going price for a room hit over €120 per night in the capital, according to an annual hotels survey from advisory firm Crowe Horwath.
Last year Dublin had both the highest average price per room, at €97, and occupancy rate, at 77%, which unsurprisingly made it the most-profitable region for hoteliers. 
Pre-tax profits on each hotel room in the capital were €13,797 last year, up more than 21% on the figure for 2013.
Those returns compared to an average of €6,791 per room on the western seaboard, the least-profitable region. The profit margin for each available room across the country was 17%, while in Dublin it was 26%.
Renovations needed
The report, based on a survey of 3-, 4- and 5-star hotels across the country, said the average room rate in the Republic was €82 per night last year, up from €77 in 2013.
The industry has benefited from a reduced VAT rate of 9% since 2012 and the hotels lobby is pushing for the special levy to be continued.
Crowe Horwath's Aiden Murphy said the higher profits for many hotels would need to be channelled into "much-needed renovation" after many businesses didn't have the money to spend on improvements during the recession.
He noted than occupancy in Dublin hotels hit an average 85% during the peak season last year and there needed to be enough supply of new rooms to cope with all the extra tourists.
Any over-pricing of hotels rooms in the Dublin market, which acts as a gateway for travel into Ireland, could thwart the potential for continued expansion of the overseas tourism numbers to Ireland and have a negative impact on tourism and economic recovery if new supply is not delivered."
Recent figures have showed the tourism boom was continuing unabated this year with the number of overseas visitors to Ireland up 11% in the first six months of 2015.