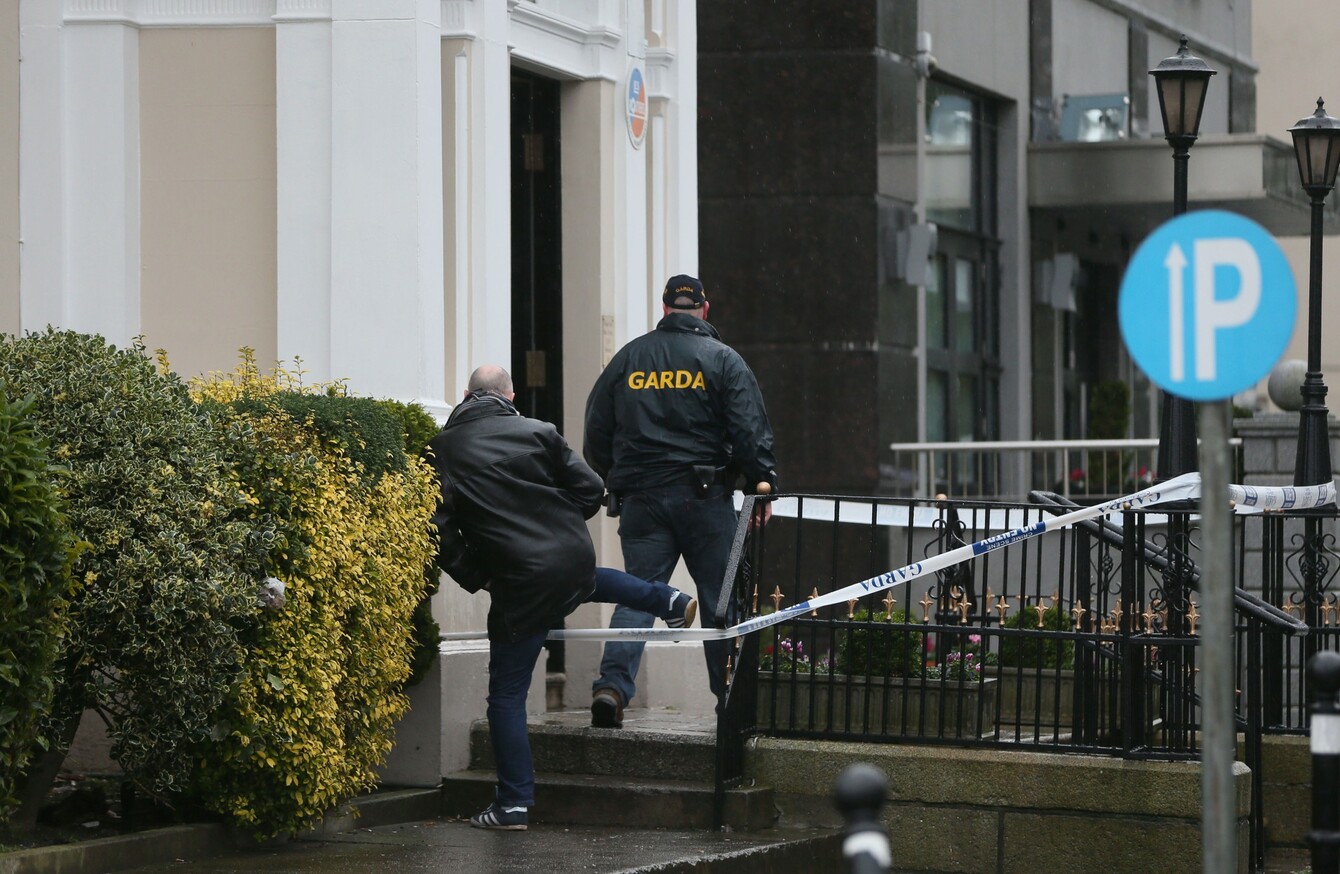 Gardaí outside the Regency Hotel yesterday.
Image: PA WIRE
Gardaí outside the Regency Hotel yesterday.
Image: PA WIRE
Updated at 2pm
GARDAÍ INVESTIGATING YESTERDAY'S gangland shooting that left one man dead and two others injured at a Dublin hotel have appealed for information on a Ford Transit van used by the gunmen.
It's now believed at least six people were involved in the attack – not four, as initially reported.
Officers gave an update on the investigation at Ballymun station this afternoon – less than 24 hours after gunmen, three of whom were wearing SWAT-style police uniforms, opened fire during a boxing weigh-in at the Regency in Drumcondra.
The man who was killed was an associate of the Kinahan crime gang – 32-year-old David Byrne.
Two other men were admitted to hospital with gunshot wounds in the wake of the attack.
Assault weapons
According to the latest information this afternoon, the three attackers wearing the SWAT-style gear were carrying assault weapons.
Another man was dressed as a woman and wearing an auburn wig. The fifth attacker is described as stocky and wearing a beige cap. Both were armed with handguns.
Gardaí believe the sixth man sat in the driving seat of the waiting van as the raid was taking place.
Assistant Commissioner Jack Nolan said investigators wanted to hear from anyone with information on the vehicle, which was later found burnt-out in the Charlemont estate in nearby Marino.
He added:
If they have seen it in any place in the last number of days. If they have seen it in the vicinity of the Regency Hotel or if they have noticed anybody acting suspiciously in any part of Dublin or elsewhere in relation to a silver Ford Transit van please get in touch with An Garda Síochána.
Video of the attack, posted online yesterday, shows boxers and hotel guests running for cover as gunshots are heard.
A child can be heard shouting "Daddy help me" before another gunshot rings out.
The boxing event that was being promoted at the hotel, scheduled for tonight at the National Stadium, has been cancelled.
One of the fighters involved, Jamie Kavanagh, tweeted in the wake of the attack that he was lucky to be alive.
Gardaí are also appealing for witnesses. According to Assistant Commissioner Nolan:
"We know that there were a considerable number of people present in the Regency Hotel and we are appealing to them to provide any information they may have in relation to the shooting.
We are also appealing to anyone who was in the area of the Regency Hotel between 2pm and 2.45pm, or anyone who was in the Charlemont Estate at that time is asked to contact Ballymun Garda Station.
The number for Ballymun station is 01 666 4400. The Garda Confidential Line can be reached at 1800 666 111.