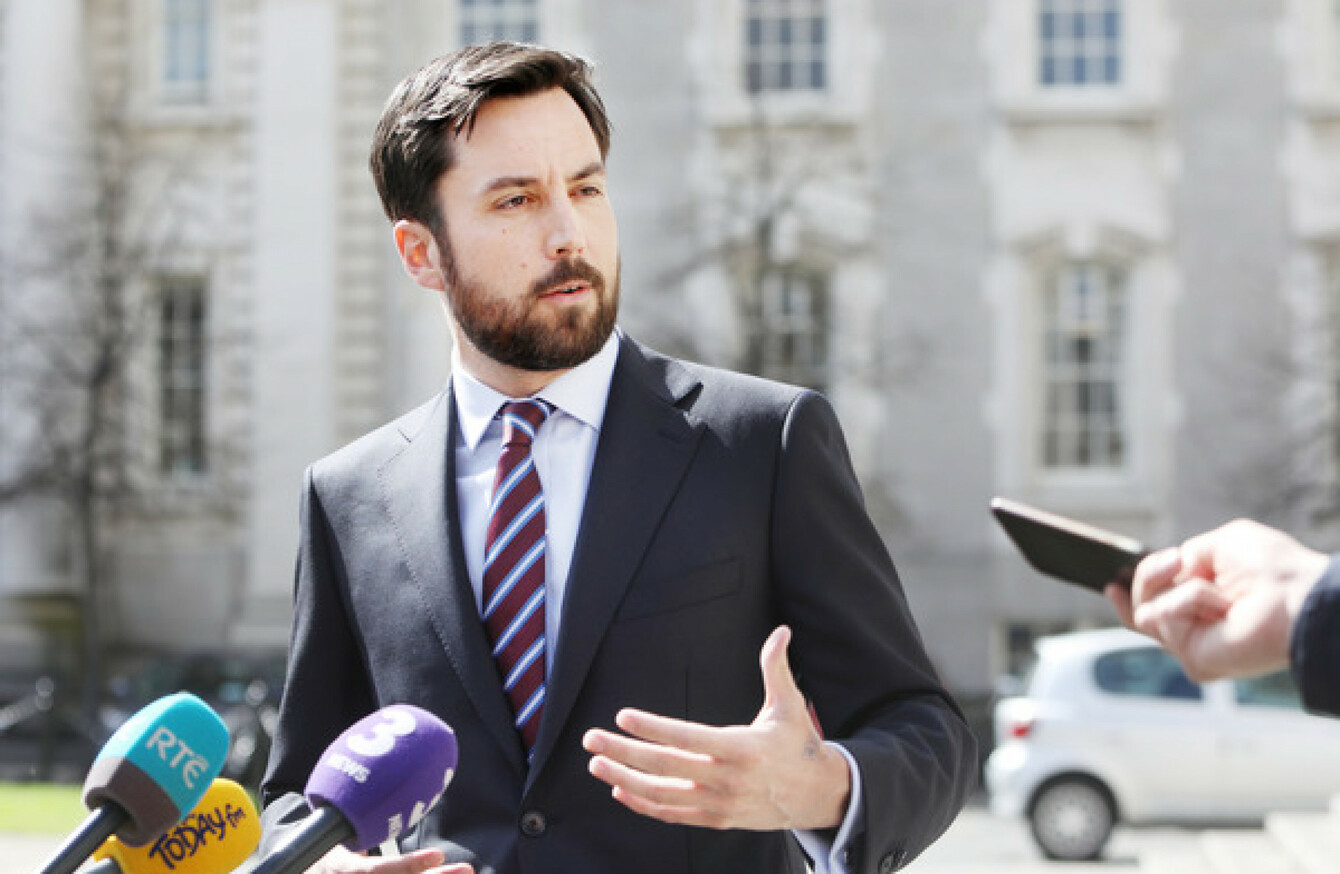 Housing Minister Eoghan Murphy speaking outside of Government Buildings today.
Image: Leah Farrell/RollingNews.ie
Housing Minister Eoghan Murphy speaking outside of Government Buildings today.
Image: Leah Farrell/RollingNews.ie
LANDLORDS IN DUBLIN and other cities and areas who raise the rent by more than the legally allowed limit could face criminal charges under new measures being proposed by government.
Housing Minister Eoghan Murphy today secured Cabinet approval for the general scheme of the new Residential Tenancies Bill.
Providing it passes through the Oireachtas, the Residential Tenancies Act will bring into force a host of new measures designed at increasing protections for tenants in the private rental market.
These include making it a criminal offence for landlords with properties in designated Rent Pressure Zones (RPZs) to raise the rent above the legally allowed 4%.
Rent Pressure Zones were introduced by government in late 2016 to combat spiralling rents. All of Dublin, Cork city, Galway city and various other areas are designated RPZs.
Despite the threat of sanctions, there have been widespread reports of landlords breaching the rules and raising rents above the limits. Government hopes that the threat of criminal sanctions will make landlords more compliant.
"What we're bringing now is a sanctions regime making it a criminal offence, that we'll follow with a number of measures that will be allowed to be implemented by the RTB (Residential Tenancies Board) including fines," Murphy told reporters today.
He said at the moment the fine being considered would be in the region of €15,000.
He also that government was "exploring" options of jail time for non-compliant landlords.
Murphy said he hoped that the Bill would pass quickly through the Oireachtas and be made into law before the summer recess.
Other measures
Other measures in the bill include strengthening the power of the RTB to go out and proactively investigate private rental dwellings and landlords when they feel there may be an issue.
Currently a complaint needs to be made by an existing tenant before it can investigate.
The Bill will also allow for a public register of rents in a certain area, so that tenants will know what they should be paying.
It will also contain measures to increase the notice periods for tenants facing eviction, to give them a longer time in the property before they have to leave.
While the measures have been welcomed by people working in the housing not-for-profit sector and opposition party members, there is criticism that they don't go far enough.
"The legislation should go further," said Sinn Féin housing spokesperson Eoin Ó Broin.
The government needs to revisit the Focus Ireland amendment which would prevent buy-to let landlords who benefited from tax breaks from seeking vacant possession when they are looking to sell.
There are currently 1,739 families with 3,755 children homeless and living in emergency accommodation in Ireland – an unprecedented number.
Homelessness charity Focus Ireland said that about 500 children could have been prevented from becoming homeless last year if laws were brought in that prevented tenants from being evicted in cases where a house is being sold.
The current Bill will not introduce these laws, with Murphy telling TheJournal.ie today that he will speak to Finance Minister Paschal Donohoe about this to see what incentives could be brought in during negotiations for October's Budget.
#Open journalism No news is bad news Support The Journal

Your contributions will help us continue to deliver the stories that are important to you

Support us now
Fianna Fáil
Murphy also took the opportunity today to respond to comments from new Fianna Fáil housing spokesperson Darragh O'Brien, who told the Sunday Independent that Murphy and Taoiseach Leo Varadkar were "too elitist" to fix the housing crisis.
"What I would ask them is to get out into the real world to actually look at how this housing crisis is affecting people," O'Brien said.
Murphy today branded O'Brien's comments as "useless".
"I couldn't think of a more useless contribution to the national debate on housing and homelessness," he said, and accused Fianna Fáil of having broken the housing market when they were in power.
He criticised the "personal attack" from O'Brien.
Sinn Féin today said that it would be holding off on tabling a motion of no confidence in Murphy, after it had signalled that it would do so. Party leader Mary Lou McDonald said that it was delaying the motion due to the importance of the upcoming referendum campaign.
She was strongly critical of government, today saying that "the clock was ticking" on Murphy's time as minister.