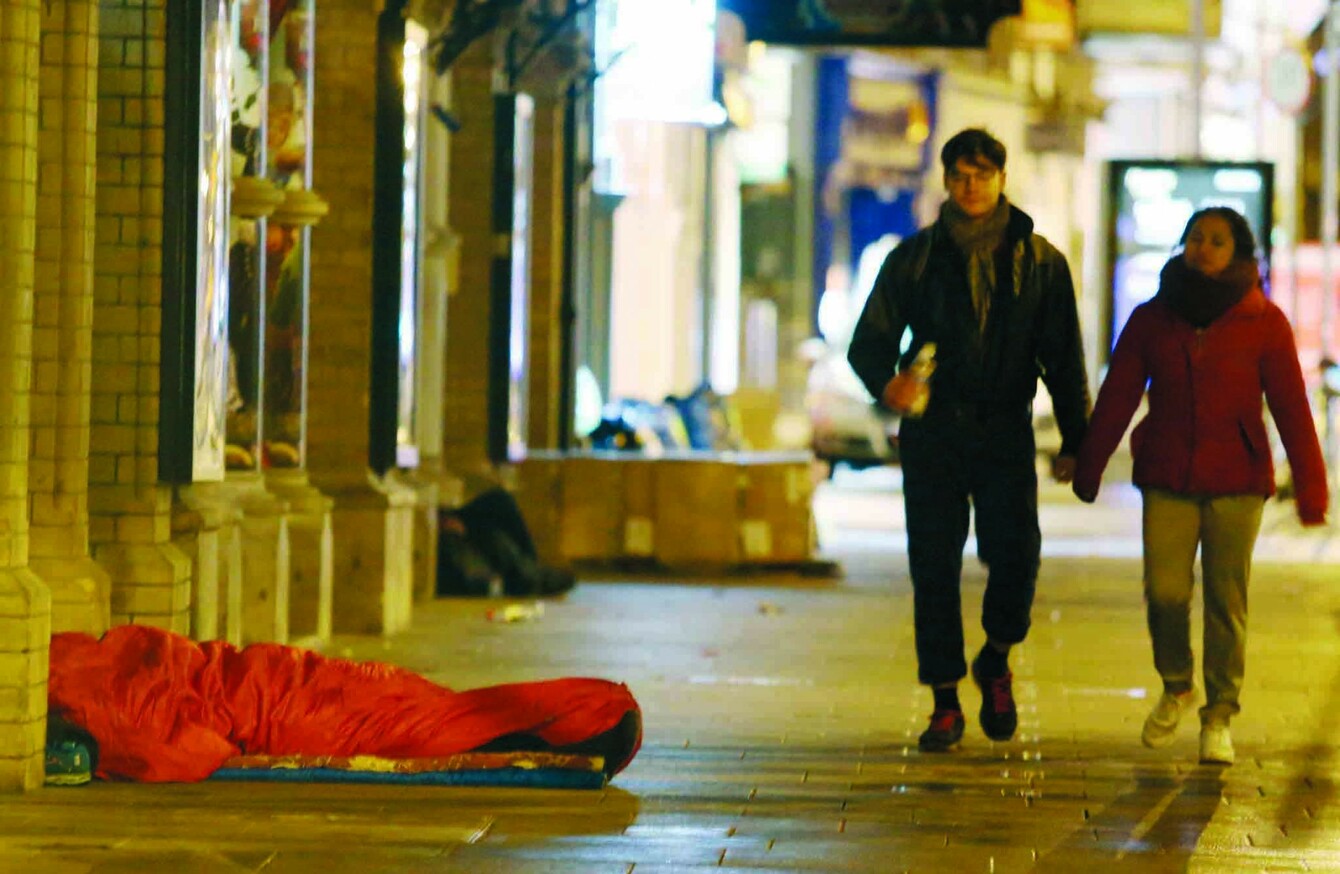 Image: Leon Farrell/Rollingnews.ie
Image: Leon Farrell/Rollingnews.ie
A NEW REPORT on the housing crisis by independent think tank Tasc has predicted that the housing crisis is set to worsen in Ireland.
At the current rate of house building, it says, it could take over 40 years to provide permanent homes for the people currently on Dublin city's housing waiting list.
The report urges a radical change in approach from the government, and says that its Rebuilding Ireland plan is only making the housing crisis worse.
This plan, unveiled almost a year ago, promised to deliver across five pillars that included addressing homelessness, accelerating social housing, building more homes, improving the rental sector and utilising existing housing.
For example, it said it would support the delivery of 47,000 units of social housing by the end of 2021, allocate €200 million to provide the infrastructure to deliver 15,000-20,000 new homes and provide enhanced supports for homeless families with children.
The Irish Fiscal Advisory Council, meanwhile, has warned that the construction sector could cause Ireland's economy to overheat if it grows much more quickly than is currently anticipated.
"The risk of overheating in coming years is significant," it said in its latest fiscal assessment report. "This is particularly so if a sharp supply response to possible penty-up demand in the housing market were to contribute to unsustainable construction-led growth."
Echoing these statements, the OECD has also warned that another Irish housing bubble could be created due to a sharp rise in house prices and property-related lending.
"The sharp rise in prices and lending raises concerns that another bubble may be forming, and the authorities should stand ready to tighten prudential regulations if needed," it said.
"Tsunami of homelessness"
In the Tasc paper, Dr Rory Hearne warns of a "potential tsunami of homelessness, from mortgage arrears and unaffordable rents in the private sector".
Family homelessness, for example, is at its worst stage in the country's recent history, with the vast majority of affected families located in Dublin.
A lack of affordable accommodation has led to skyrocketing rents across the city as demand far outstrips supply in the private rental market. This is coupled with a severe dearth of affordable or social housing, which has resulted in more families becoming homeless.
Hearne said that the number of homeless families in Dublin has increased by 289%, while almost 10% of all households face mortgage arrears or house repossession.
He draws comparisons between the price that homes were sold for in some areas of Dublin with the current crisis:
Six 'trophy' houses on one road in Dublin 4 were sold for between €3 and €4 million each in 2016. Meanwhile, 198,358 homes lie empty in Ireland. In Cork, there are 269 people homeless, and 21,287 vacant units and in Dublin, 3,247 people homeless and 35,293 vacant homes.
The paper says that the current government policy is "worsening economic and generational inequalities".
Hearne says that the current level of building, particularly in the social housing sector, requires a radical re-think. He said:
While it was stated that 18,000 new social housing 'solutions' were provided in 2016, in fact there were just 650 actual new build social housing units. Only 210 of these were built by local authorities with just 40 in Dublin. This was far below the 2,200 projected new builds for 2016.
He predicts that less than 1,000 units will be built this year in Dublin city and says that, at this rate of building, "it could take over 40 years to provide a permanent home to those on the Dublin City Council housing waiting list".
According to Dublin City Council figures from January, there were 18,946 people on the waiting list.
"Housing a right, not a commodity"
The government's Rebuilding Ireland plan, Hearne said, is not improving the situation, but making it worse by allowing a number of the houses built to be provided for by the private rental sector.
He said it was a stark choice between putting a price on a home and looking at it for its economic value, or viewing a house as a social necessity and human right.
He said: "The choice is between supporting housing as a financialised commodity and wealth generating investment asset for the wealthy, and ensuring housing as a universal right for all.
The first option will enshrine unaffordable rental and house prices into the future and will guarantee associated poverty and financial stress for large sections of our population. The second approach can deliver and guarantee the human right to housing for all our citizens.
By placing housing as a right rather than an asset, only then will the tide turn in the housing crisis, according to Hearne.
He advocated the setting up of a new Irish Affordable Homes company and a number of measures that would see housing considered a right, rather than a privilege.
"Such policies would aim at improving security of tenure in the private rental sector for tenants," Hearne said, "using the large amount of vacant and derelict land and buildings to provide homes to address the crisis, such as fast-tracking and increasing the vacant site tax, compulsory leasing orders on vacant property or a vacant property tax."
Last week, Minister for Housing Simon Coveney hailed the latest progress report of the Rebuilding Ireland plan.
He said: "In terms of momentum, the report shows strong evidence that Rebuilding Ireland, even though just 10 months old, is delivering increased supply.
However, we cannot afford to be complacent: the housing challenge remains immense, households remain under extreme pressures, and demand still far outstrips supply.  We must continue to work together to meet this challenge head on by driving implementation with urgency and purpose.
In response to a request from TheJournal.ie, the Department of Housing said the "unprecedented increase" in the government's social housing investment programme is "already ramping up social housing supply".
"Last year, €935 million was spent providing some 19,000 social housing supports," they said. "This year we will provide 21,000 social housing supports with expenditure of €1.3 billion".
It added that a number of measures were in progress to develop an affordable renting model and to develop State-owned lands for mixed-tenure housing.
With reporting from Paul O'Donoghue