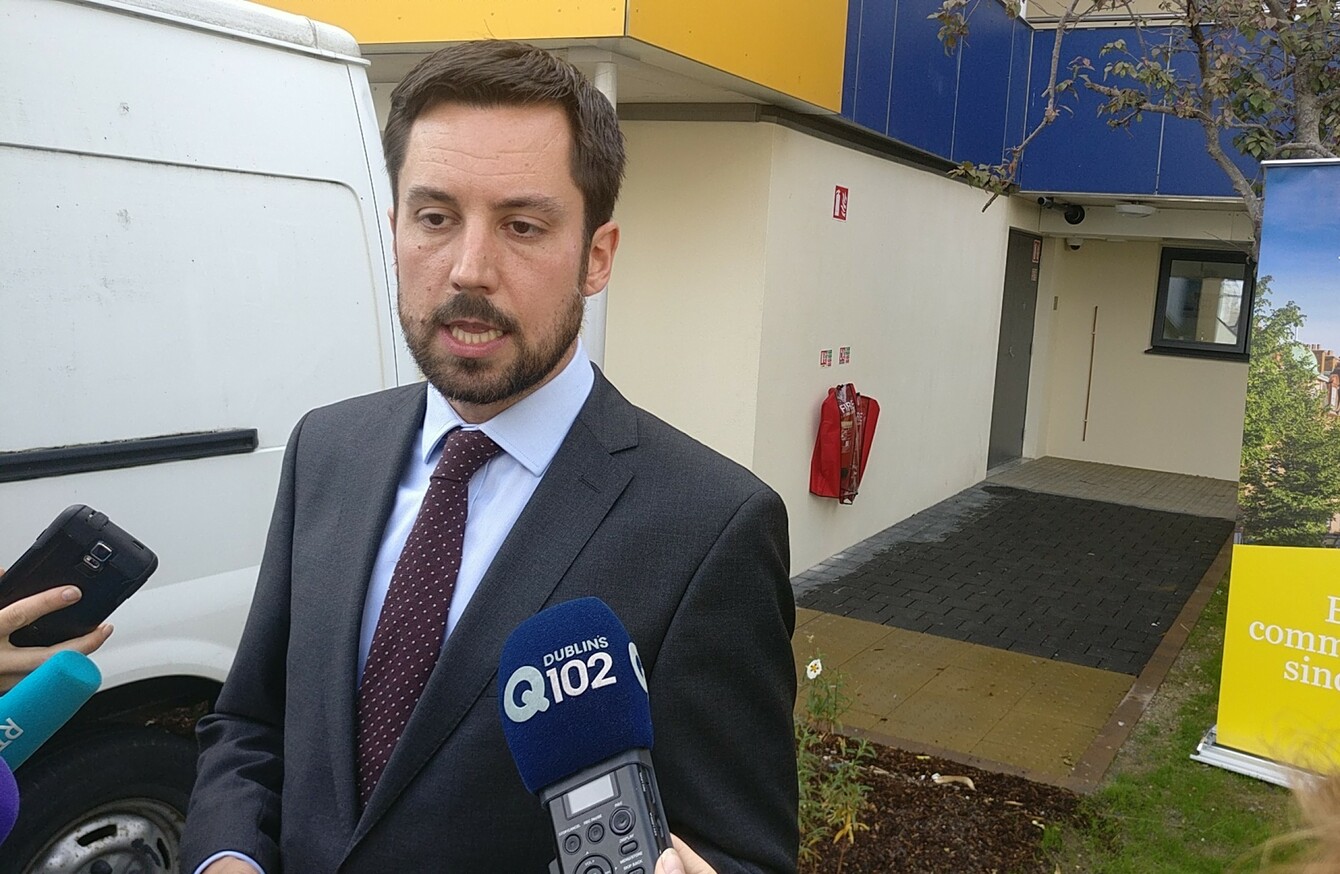 Housing Minister Eoghan Murphy talking to reporters today.
Image: Cormac Fitzgerald/TheJournal.ie
Housing Minister Eoghan Murphy talking to reporters today.
Image: Cormac Fitzgerald/TheJournal.ie
NEW HOUSING MINISTER Eoghan Murphy faced reporters today for the first time, a week after he was given the job.
Murphy's first big outing as minister was on a good news day, as he officially launched the largest social housing development so far this year.
The Annamore Court social housing development is operated by the Iveagh Trust and located in Chapelizod/Ballyfermot in south Dublin. It provides 70 self-contained single-bed apartments for older people.
A number of these tenants are moving from old three- or four-bedroom family homes, freeing up the space for younger homeless families and families on the social housing waiting lists.
The €10 million scheme was completed in 18 months from when construction began, at the cost of €144,000 per unit.
The apartments are in the final stages of painting and decorating, with the finishing touches being added when Murphy arrived today.
He was there to hand over the keys to new tenant Ann Uzell to her apartment on the third floor.
Source: TheJournal.ie/YouTube
After this, he gave a brief speech about the importance of the new units and the work of the Iveagh Trust, before being crowded around by journalists and cameramen for his first doorstep in the role of housing Minister.
Hotels and families
Murphy was questioned on his predecessor Simon Coveney's commitment to end the use of commercial hotels to house homeless families by July (except in limited circumstances).
Nearing the end of his time as Minister, Coveney refused to budge on the July deadline, even as the odds mounted and it looked as though the goal could not be met.
When questioned today, Murphy was more cautious with his language. So far, he has not committed fully to the deadline, but has also refused to say it won't be met.
"I think it's important that we set ourselves ambitious targets when we look at any of the problems that we're facing at the moment, " Murphy told reporters.
"Be it homeless families, be it homeless individuals, be it people trying to find affordable places to rent or to buy.
That's what we have to do, set ambitious targets and then do what we can to drive those targets.
His comments were similar to what he said on RTÉ's The Week in Politics on Sunday, when he refused to commit fully to meeting the target.
Murphy yesterday met with the heads of the four Dublin local authorities. He said that he met them to find out "exactly where we are in relation to meeting that target and what we need to do to meet that target if we can".
"And that's what I'll be focusing on everyday this week ahead of that deadline next week," he said.
Murphy said there would be an announcement tomorrow around new funding and measures to assist homeless families living in commercial hotels and B&Bs.
"New energy"
The minister fielded questions around planning issues, the cost of building new units and funding for housing.
He said that he had been instructed by the new Taoiseach Leo Varadkar to "come in and to redouble our efforts".
#Open journalism No news is bad news Support The Journal

Your contributions will help us continue to deliver the stories that are important to you

Support us now
He said that the Housing Action Plan Rebuilding Ireland – launched 11 months ago by Simon Coveney – was a "fantastic piece of work" but that his focus was now on what additional measures needed to be taken to address the current housing crisis.
"That's what I'll be doing over the next couple of weeks to see what new things we do need to do directly to increase supply as quickly as we can," he said.
Murphy – who was Varadkar's campaign manager in his bid for Taoiseach – used some of the language his party leader had uttered in his campaign and after.
"This is about bringing a new energy to key government portfolios and departments," said Murphy.
"To bring in fresh eyes, to make sure we drive the continued implementation of Rebuilding Ireland which is working very well and this is an example of that," he said, referencing the 70 new social housing units.
Murphy's predecessor Simon Coveney and current minister for state at the department Damien English have both previously told TheJournal.ie that Rebuilding Ireland is "working".
A year after the plan was launched, however, and homelessness in the country is the highest it has been in decades.
Figures for April show that there were 1,302 families with 2,708 homeless children staying in emergency accommodation in Ireland, as well as 4,972 adults.
Ambitious targets may be important, but unless those targets begin to yield results and a reduction in numbers soon, Murphy's good news days will be short-lived.