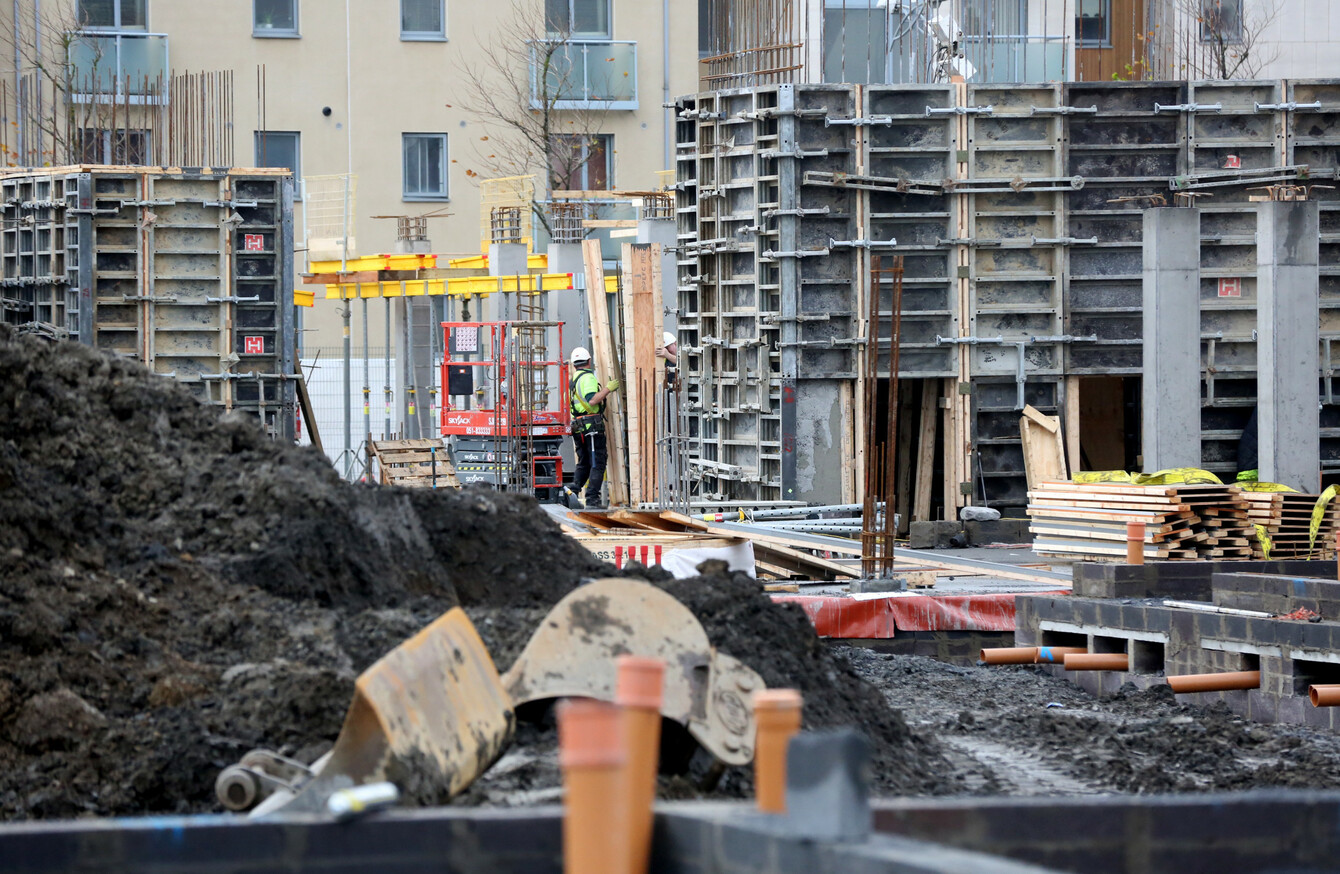 Image: Sam Boal via RollingNews.ie
Image: Sam Boal via RollingNews.ie
OVER 3,500 NEW homes have been built in the first three months of this year, according to newly-released figures from the CSO.
The report showed that there has been a steady increase in the number of homes being constructed in the last two years but that a serious decline from 2011 to 2013 caused a significant knock-on effect to the housing supply.
The CSO said that the number of new dwellings declined from 6,994 in 2011 to 4,575 in 2013. However, over the following four years the numbers of new homes has increased steadily each year to stand at 14,446 in 2017, a year-on-year increase of 45.7%.
In the first quarter of 2018, there were 3,526 new homes built.
Kieran Culhane, senior statistician at the CSO, said that the reliability of data has been a central issue when discussing the housing crisis. He said that new data collection methods used by the CSO have allowed the body to give a more accurate picture of the crisis.
Culhane explained the new system for calculating new homes:  "The core problem has been that no single, authoritative data source exists. Those administrative data sets which are available are fragmented and tend to either over-or under-represent actual new dwelling completions in any given time period, meaning that taken in isolation, none can provide an accurate count.
"For the first time, the best available housing related data sets have been combined and linked using innovative new data analysis techniques, to produce the most comprehensive and accurate count of new dwelling completions currently available. Some limitations remain, but the CSO has identified these and is working with key stakeholders to further refine and improve the accuracy of future analysis."
There had been confusion surrounding this data when the Housing Department confirmed it could not say exactly how many houses had been built in a certain time.
Data was made available from the Department of Housing, Planning and Local Government (DHPLG), and the ESB Networks (ESBN) domestic connections dataset to publish "a proxy indicator for the number of new dwellings built".
At today's launch of the report, the CSO announced that there was a 4,825 difference in the number of new ESB connections in 2017 and the number of new dwelling completions.
In 2017, there were 19,271 new ESB connections but the CSO found that only 14,446 of those were new dwelling completions.
The ESB connection administrative system is designed for recording connections to ESB networks and not for counting the number of new houses.
To produce this report, the CSO linked data from ESB Network domestic connections, Building Energy Rating data sets, revenue data, as well as census stats.
The CSO found that the ESB connections "dataset remains the most comprehensive available for estimating new dwelling completions".
But this method has its drawbacks. The CSO said a significant level of construction in the student accommodation sector in recent years is not included in this series. These are usually connected to the ESB network as commercial connections and are therefore not included in the ESB domestic connections.
The CSO said it wants earlier assignment of Eircodes as this would significantly help them track new builds. It has also called for more dialogue with the housing department so they can produce more concrete data.
Culhane added: "These recommendations will lead to better data availability for policymakers in all segments of the housing sector in Ireland. This report is an important first step in providing more insight based on current levels of data availability and quality. Further engagement with key stakeholders will be essential to agreeing on a roadmap for future developments in this regard."
Commenting on the report, Minister for Housing, Eoghan Murphy acknowledged that questions had been raised about his department's use of ESB connection figures as a proxy for calculating housing completions.
People felt it didn't give a clear enough picture because the connections figure includes both homes coming out of vacancy and newly-completed ghost estates and houses from the Fianna Fail era.  We have that clearer picture now.
According to the CSO latest figures released this week, Irish house prices have increased by 13% in the last 12 months, making it the fastest growing rate in Europe.
With reporting by Adam Daly