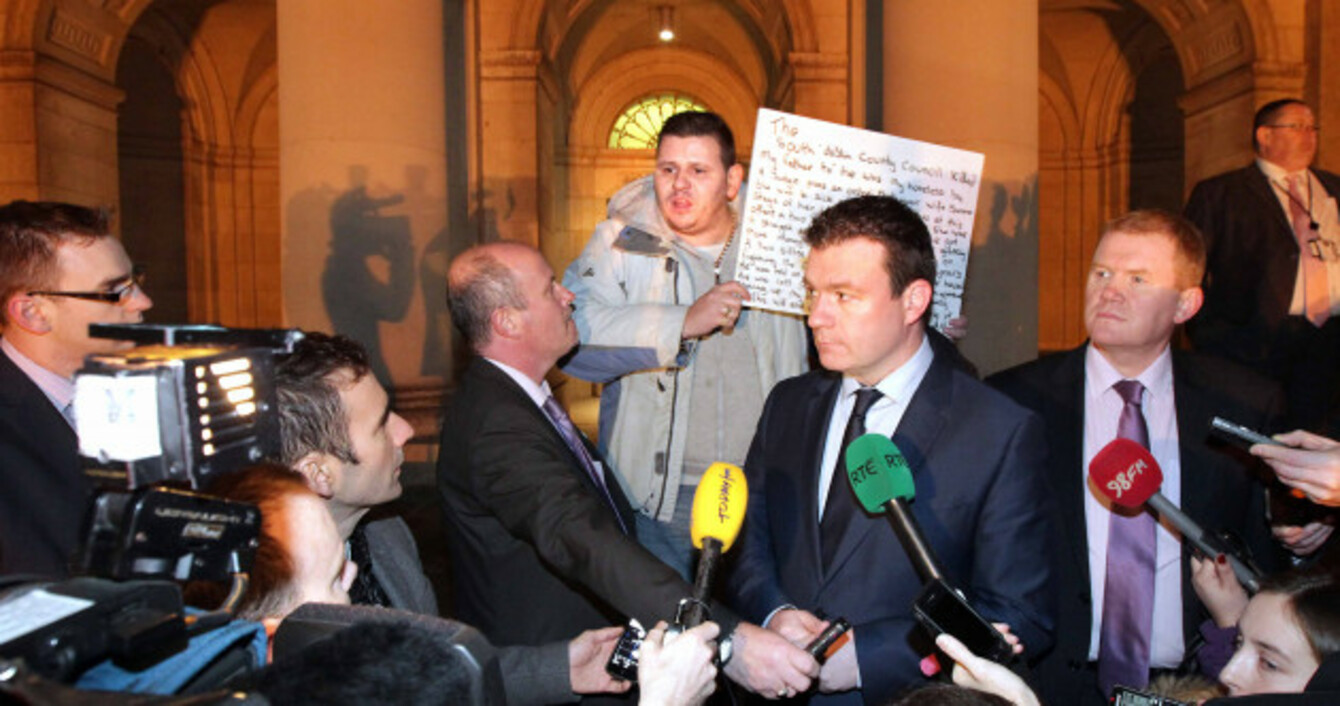 File photo of Alan Kelly at the emergency homeless summit in December.
Image: Mark Stedman/Photocall Ireland
File photo of Alan Kelly at the emergency homeless summit in December.
Image: Mark Stedman/Photocall Ireland
WHEN A HOMELESS man died just a few feet from the Dáil close to three years ago there was a huge public outcry.
The death of Jonathan Corrie on the morning of 1 December 2014 came at a time of a spike in homeless numbers. A record number of rough sleepers had been counted on the streets just a few weeks before.
Christmas was just around the corner and the public reaction and anger was palpable.
Sensing an imminent political crisis, then-Environment Minister Alan Kelly convened an emergency homeless summit, inviting all stakeholders to the table.
Opposition party members, charity heads and officials from across the housing and homelessness sectors met to discuss the growing crisis.
A number of short-term and long-term commitments were made: there were additional beds made available for homeless rough sleepers; 50% of all future social housing allocations would go to long-term homeless; the government reaffirmed its commitment to ending long-term homelessness by the end of 2016.
"Our ambition is that there will be no need for anyone to have to sleep rough in Dublin this Christmas unless they make that choice themselves, for whatever reason," Alan Kelly said in a statement following the summit.
Almost three years later, four homeless people have died in the past 10 days and there are more homeless people than ever before in the state's recent history.
In response to the growing crisis, current Housing Minister Eoghan Murphy (who is now in charge of the homeless brief) will today convene an emergency housing summit in order to try to find solutions.
Housing Summit 
Murphy will today host an emergency housing summit in Dublin with the heads of the 31 local authorities of Ireland.
The purpose of the summit is, in Murphy's words, "to explore new options and to see how we can better join up our response across local authorities but also across health and social care supports" in order to tackle the housing crisis.
The summit differs from the one held in 2014 in that it focused on all of housing, rather than solely homelessness.
Back in December 2014, charity officials and those who had been working for years with homeless people responded positively to Kelly's swift affirmative action in convening the homeless summit.
A 20 point plan was drawn up to tackle the issue. However, as the months progressed the number of homeless people increased significantly, and that good sentiment turned sour.
Figures released yesterday for July show that there were 5,187 adults staying in state-funded homeless accommodation as well as 2,973 children.
This is almost double the number of adults (2,858) who were in the same situation in December 2014, around the time of Jonathan Corrie's death.
The number of homeless children in December 2015 was 880 – meaning it has close to quadrupled in fewer than three years.
Plans
A number of commitments have been made by this and the previous government since the summit on homelessness in 2014.
In many cases these commitments have not been realised.
First, the goal of eliminating long-term homelessness by the end of last year was not met, with the government silently dropping that promise.
Since then, former Housing Minister Simon Coveney repeatedly promised to end the use of hotel and B&B accommodation for housing homeless families by July of this year.
That target was also not met, with Eoghan Murphy rowing back on the commitment when he took ministerial office in June.
Figures for July showed 753 families staying in commercial hotels in the Dublin region, which is down from the peak but up on recent months.
The commitment to end hotel use was contained in the government's Housing Action Plan – Rebuilding Ireland - which was launched to much fanfare last year.
However, the plan has come under strong criticism in recent months, as homelessness has continued to worsen.
Some criticism has been directed at the plan's over-reliance on the private sector to deliver social housing. While Focus Ireland has called for a separate sub-strategy to deal with family homelessness.
Minister Murphy instigated a review of the plan when he took office in June, which is due to be completed this month. He has said on a number of occasions that the plan "is working" but that additional measures were needed to increase housing supply.
Murphy said that the number of people exiting homelessness was significant, but that more people continued to enter all the time.
He said that last year over 3,000 sustainable exits from homelessness were achieved, as well as 900 in the first quarter of this year.
He pointed towards the delivery of new group home "family hubs", which when fully complete will provide more suitable accommodation for over 500 families at an estimated cost of €25 million.
He also said that extra beds were on the way and that new solutions to the crisis would be announced in the coming weeks.
There have been numerous calls across many sectors and from opposition politicians to increase local authority social housing supply, and opposition politicians have criticised government for what they say is its failure to do this.
"The housing and homeless crisis needs action, not words. The time for summits and gestures has long since passed," said Sinn Féin TD Donnchadh Ó Laoghaire.
If Minister Murphy is to be taken seriously on the back of this week's summit, actions must follow; not in the form of yearly plans, or kicking the can down the road for another few months; we need to see action immediately.
The purpose of today's summit is believed to be for Murphy to stress to local authorities the importance of treating the housing crisis with urgency and to come up with viable solutions to address it at a local and national level.
The summit will be held in Custom House in Dublin tomorrow at 11. Minister Murphy is expected to address the media at about 4pm after the event.