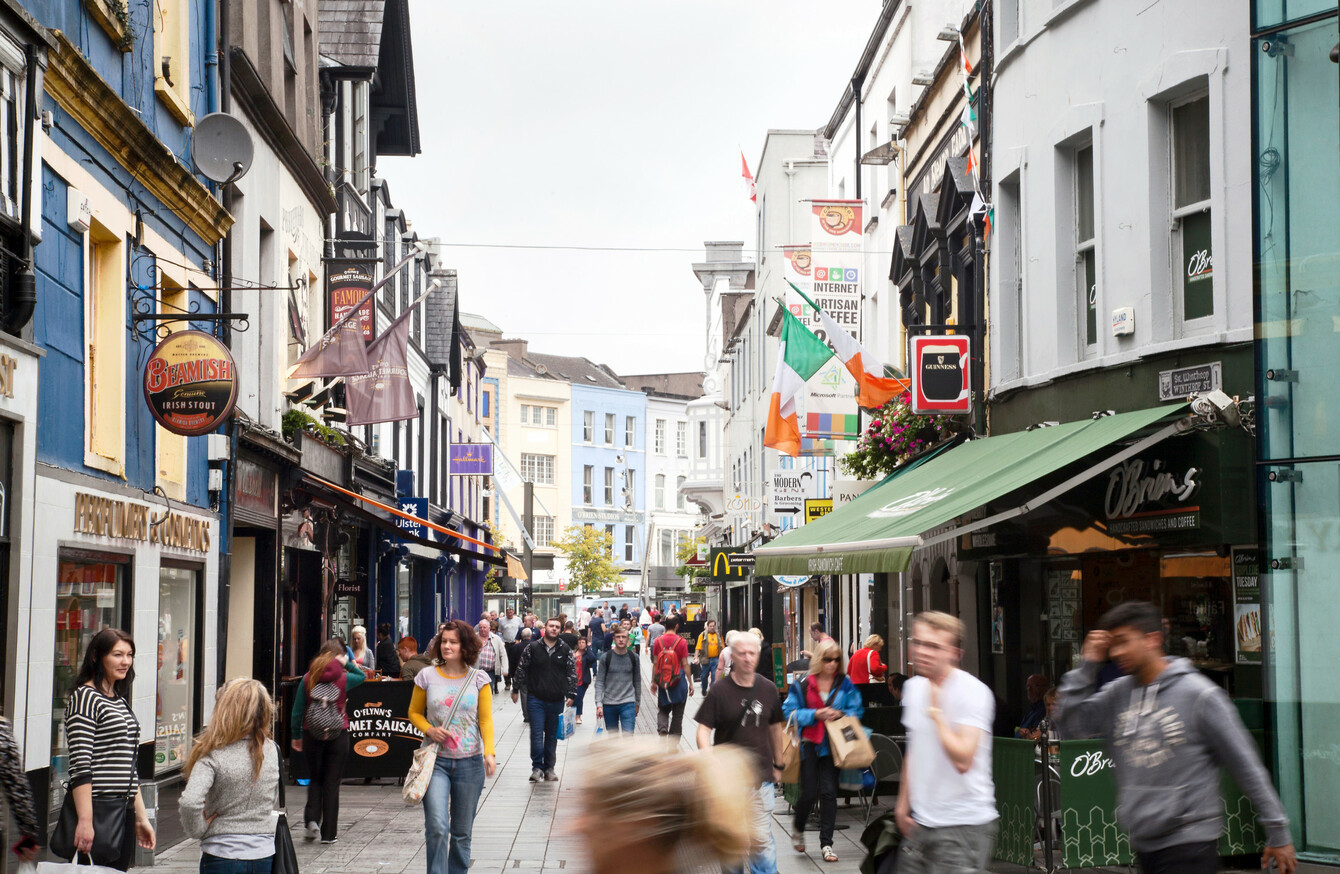 Wintrop Street in Cork City
Image: DPA/PA Images
Wintrop Street in Cork City
Image: DPA/PA Images
BY THE TIME Michael Moynihan left school in 1985 his native Cork was in chaos. 
The city had enjoyed long-term unemployment, underpinned by employers like Ford, Dunlop and Verolme, yet suddenly found itself in crisis. 
"Guys in my class, their fathers were laid off. So it was very vivid to us," says the journalist, whose new book Crisis and Comeback: Cork in the Eighties has just been released. 
"Guys would come in white in the face because the bottom had fallen out of their world."
Despite, as Moynihan puts it, "swaggering" into the decade, Cork's fortunes reversed rapidly when Ford, Dunlop and Verolme all closed within 18 months of each other. 
Rubber manufacturer Dunlop closed in 1983 leaving 850 men and women out of work. A further 800 people were left unemployed the following July when Ford closed its plant in Cork. 
Another blow struck the city in when Verolme closed its operation at Cork Docks in November 1984. 500 people lost their jobs. 
Until then a bustling centre, the city's stability began to falter.
"You went from really secure, traditional industries almost overnight to thousands of jobs being lost," says Moynihan. 
That had a knock-on effect almost impossible to measure within the city.
Dark Chapter
Cork's breweries also looked set for closure in the mid-80s, the English Market survived two fires and was nearly turned into a car park, flagship shops "took a full broadside", according to writer and documentarian Cónal Creedon, quoted in Crises and Comeback. 
Woolworth's, Burtons, Egan's all closed down. The ESB offices were boarded up. 
In piecing together this dark chapter of Cork's history Moynihan interviewed people involved in city life "at every level" – factory workers, politicians and artists – to glean a sense of how the city turned eventually turned its fortunes around. 
Inspired by Once in a Great City: A Detroit Story by David Maraniss, Moynihan felt that the US city's decline was an obvious match for 1980s Cork. 
As the city's unemployment rates rose, so too did its social unrest as religious hysteria and crime increased. "There was chaos," says Moynihan. "People were very much lost in the wilderness."
Uncertainty permeated everyday life. "At college it became more evident," says Moynihan.
You'd have a mind on what you were going to do afterwards and you quickly realised there were literally no opportunities in the city.
Yet with a "spiky self-belief", says Moynihan, coupled with vital tech investment in the form of Apple, which set up in Cork in 1980, the city began its transition into a modern-day hub. 
It is not an exaggeration to suggest that Apple's choice of Cork as a location for its European factory is one of the most significant decisions made in the history of the state, Moynihan says. 
The US tech giant set up in Holyhill, Cork in 1980 and currently employs nearly 6,000 people. 
Weathering the worst in the 1980s and bouncing back again, Cork finds itself prospering, says Moynihan. "You'd certainly hope that the city is better equipped to deal with that sort of eventuality again."
Crisis and Comeback: Cork in the Eighties is out now.