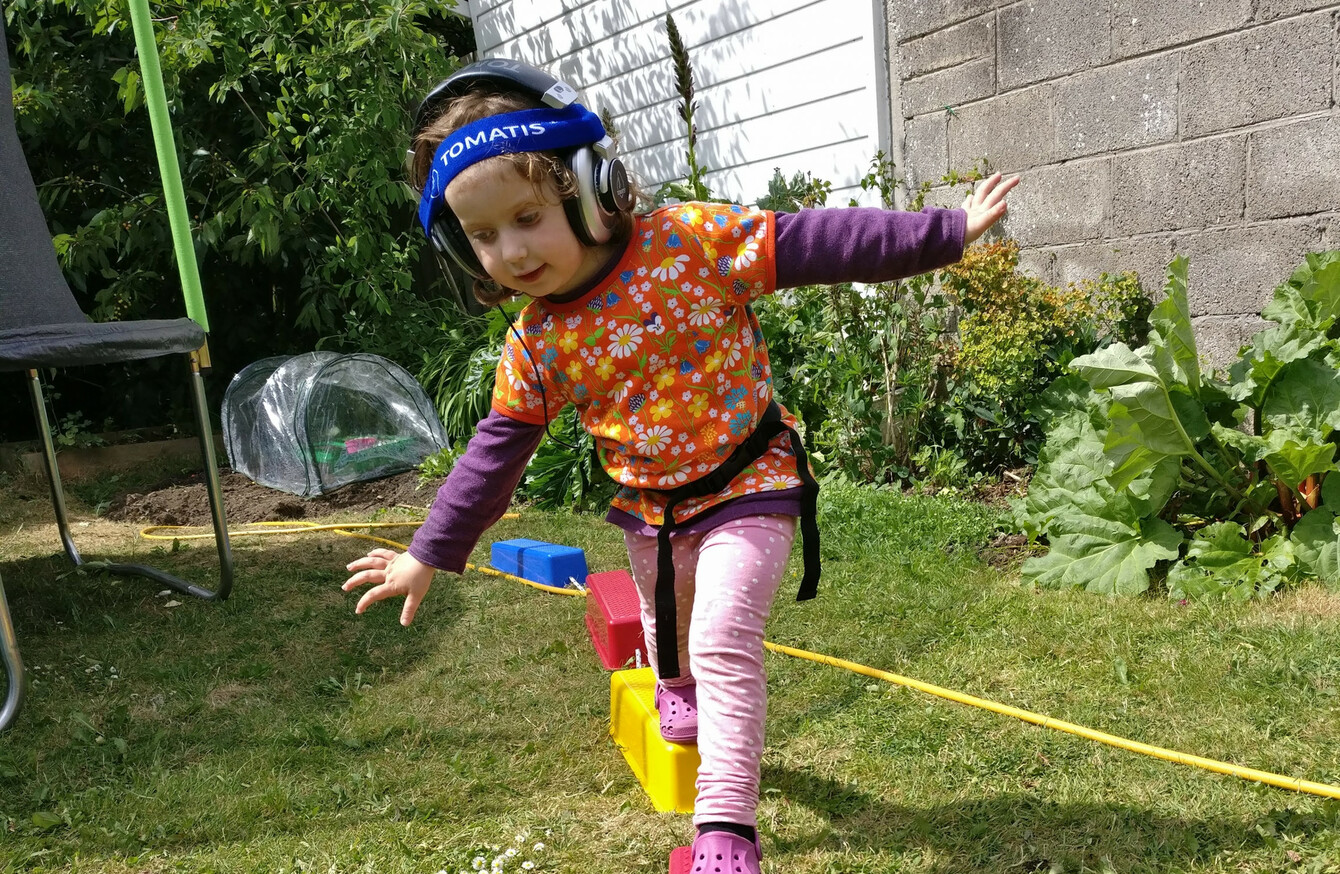 A child taking part in a Cluas programme
Image: Cluas
A child taking part in a Cluas programme
Image: Cluas
RONAN MAHER'S LOVE of music led him to the career he has today. "I always wanted to be involved in music in some way," he told TheJournal.ie. "I started playing the drums in my early teens and eventually went to the Ballyfermot Rock School to do a two year course in Modern Music Performance and Management."
Ronan still loves to play music but after hearing about sound therapy, his career took another turn.
"I very quickly became fascinated by the fact that we could use sound and music to improve how people, and specifically children, interact and communicate with the world around them," says Ronan. The more Ronan explored the principles of sound therapy, the more he became convinced that it was a vocation for him. He was right. Ronan is now Ireland's leading expert in sound therapy and an authority on Auditory Processing Disorder (APD). Cluas, The clinic he established with his father Paschal 15 years ago, is now the country's foremost sound therapy clinic for children.
We asked Ronan how he ended up with his dream job.
How did you make the transition from musician to sound therapist?
When I realised that sound therapy was definitely the path for me, I went back to college as a mature student to complete a degree in Psychology in UCD. After that, I studied Counselling and Neuro Developmental Therapy, then went on to complete my professional training in Sound Therapy. I also did a MPhil in Speech and Language Processing, which was very formative in terms of giving me another perspective on how to look at Speech and Language – a more technical perspective.
What do you now, day-to-day?
My current job is essentially assessing children for auditory processing difficulties and designing sound therapy programs that aim to improve those difficulties. Auditory Processing Difficulties contribute significantly to a wide variety of developmental difficulties such as speech and language delays, dyslexia, attention and concentration difficulties among others. By improving children's auditory processing we can reduce the impact that their developmental difficulties are having and vastly improve their quality of life and their family's quality of life too.
What's your favourite part of the job?
The best part of the job has to be when a parent says something along the lines of, "He's like a different child!". Or when parents almost bound into the clinic and can't wait to tell me all the positive changes that have taken place since I've seen them last – 'He finally called me 'Mum" – things like that are really powerful.
Have you ever been promoted in your current role?
Our clinic is family run, and I worked with my Dad for nearly 15 years building up the clinic. He's recently retired and that has presented many challenges and also many opportunities. It's very exciting to see where I can bring the business now and with new additions to the team here we're very optimistic.
Have you implemented changes since taking over?
Yes we've implemented a few new changes, primarily on the office administration side. Things such as migrating to a more modern CRM, trying to move away from paper records etc. Changes that are streamlining some of our workflow so that we can focus more on the people that we work for.
How do you put your own mark on the role?
The most important aspect of my job is to be able to listen to parents and children and talk to them in way that they understand. I would like to think that I can do that well at this stage, giving parents a new perspective on the difficulties that their children are experiencing while making the children themselves feel at ease and not worried that there is something "wrong" with them.
Essentially I aim to be accessible to parents as their children go through our program in order to guide, empower and help them to help their children develop.
Cluas is Ireland's leading sound therapy clinic for children. They help children to listen, understand and communicate effectively. For more information visit www.cluas.ie or call (01) 400 2016