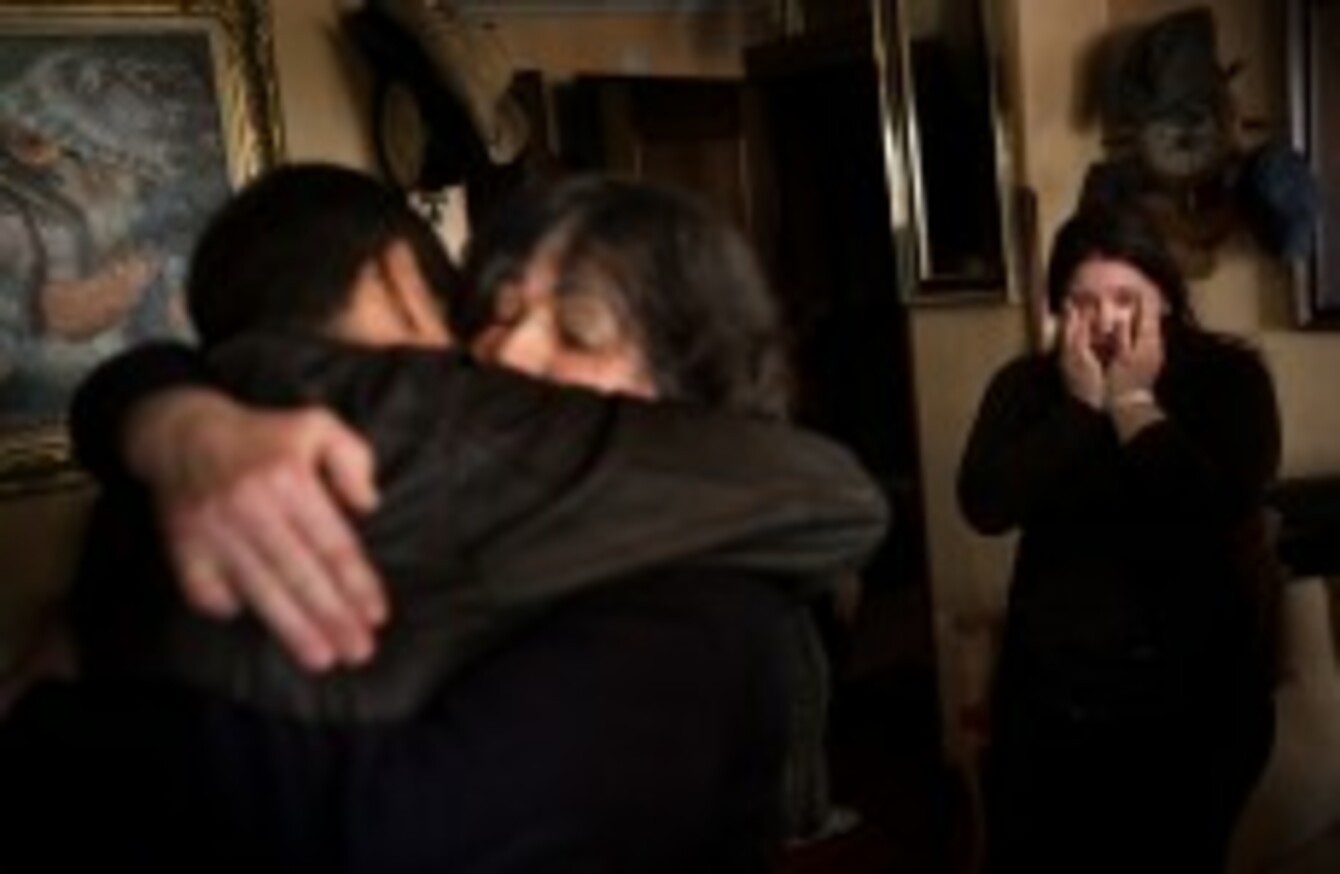 A Madrid family reacts when they hear their eviction has been suspended earlier this month
Image: AP Photo/Daniel Ochoa de Olza
A Madrid family reacts when they hear their eviction has been suspended earlier this month
Image: AP Photo/Daniel Ochoa de Olza
THE WALLS OF the apartment are cracked and patched with damp, but the faded family photographs of Maria Luisa Brana, her husband and their four children, are still hanging.
Eight months ago the five of them – all jobless, like millions in Spain's recession – faced being thrown out for failing to pay their mortgage.
Unlike many families, they have beaten the odds.
With legal help from the PAH, a citizen protest movement fighting against a wave of evictions across Spain, they managed to get their order to leave cancelled.
"No one else would listen to me. You feel powerless. At the same time you know that you owe that money and you feel guilty," said Maria Luisa, a 52-year-old with grey hair and a piercing gaze.
The campaign provided legal support and persuaded the bank to let the family stay in their home and pay rent.
Maria Luisa bought the apartment in Villaverde, a working class suburb of Madrid, in 2005 during Spain's building boom.
Three years later, when the boom went bust, the family was all unemployed and Maria Luisa had €140,000 of debt. Their home was seized by the bank.
She recalls the "shame and anger" she felt as she and her husband, an unemployed cook, and all her grown-up children feared ending up in the street.
"I am not a delinquent," said Maria Luisa, a former food-handler. "I didn't pay because I was poor."
Like many homeowners facing eviction in Spain, she turned in desperation to the citizen-run Platform for Mortgage Victims (PAH).
She now lives on unemployment benefits of €420 a month, "plus what my father-in-law gives," she told AFP.
The family pays a social housing rate of €350 a month secured for them by the PAH, with the right to inhabit the apartment for seven years.
"It's still not much relief. If I get one month behind with the rent, they'll take the apartment," she said.
Economic worries aside, she had a heart attack a few weeks ago.
A member of the Mortgage Victims' Platform (PAH) waits for police to come to a flat earlier this month (AP Photo/Daniel Ochoa de Olza
Under current Spanish law, a bank can pursue a borrower for the remaining balance of a loan if the value of the seized property does not cover it.
"Spain has one of the most unjust laws, which leaves people totally unprotected with their mortgage," said Ada Colau, a spokeswoman for the PAH.
"People did not get into debt on a whim," but were encouraged to by public policies that tolerated banks offering easy loans during the construction boom, she said.
Judicial authorities say banks in Spain have issued 350,000 eviction orders against private or commercial mortgage-holders since 2008. About half are estimated to have been carried out, according to media reports.
A woman waits for the police to come for her eviction in Madrid earlier this month (AP Photo/Daniel Ochoa de Olza)
PAH this month succeeded in getting parliament to consider a new law, backed by a petition with 1.4 million signatures, to end evictions and let insolvent homeowners write off their debts by surrendering their homes.
Over the past four years the movement has campaigned by turning up in crowds outside the homes of evictees and sitting on their doorsteps to try to stop police and bailiffs throwing them out.
It says it has blocked nearly 600 evictions – in various cases, like the Branas', securing a deal for them to stay and pay rent.
Joining the rebellion, unions of locksmiths and firemen have started refusing to help bailiffs open the insolvent homeowners' doors.
"We were leaving families with children in the street. We ended up acting as executioners," David Ormaechea, president of the Locksmiths Union, told AFP.
This month in the northwestern city of La Coruna, firefighters were called to help evict an 85-year-old woman who had defaulted on her rent.
A crowd of protestors gathered outside the apartment to block the eviction. When the firefighters arrived they refused to open the door and some of them joined in the protest.
Fire brigades in other regions have since followed their example.
"The only thing we do is help citizens," said Pedro Campos, a fireman in Madrid.
"We only enter a home when there is danger inside. Getting a woman of 85 out of her home is not a situation of danger."