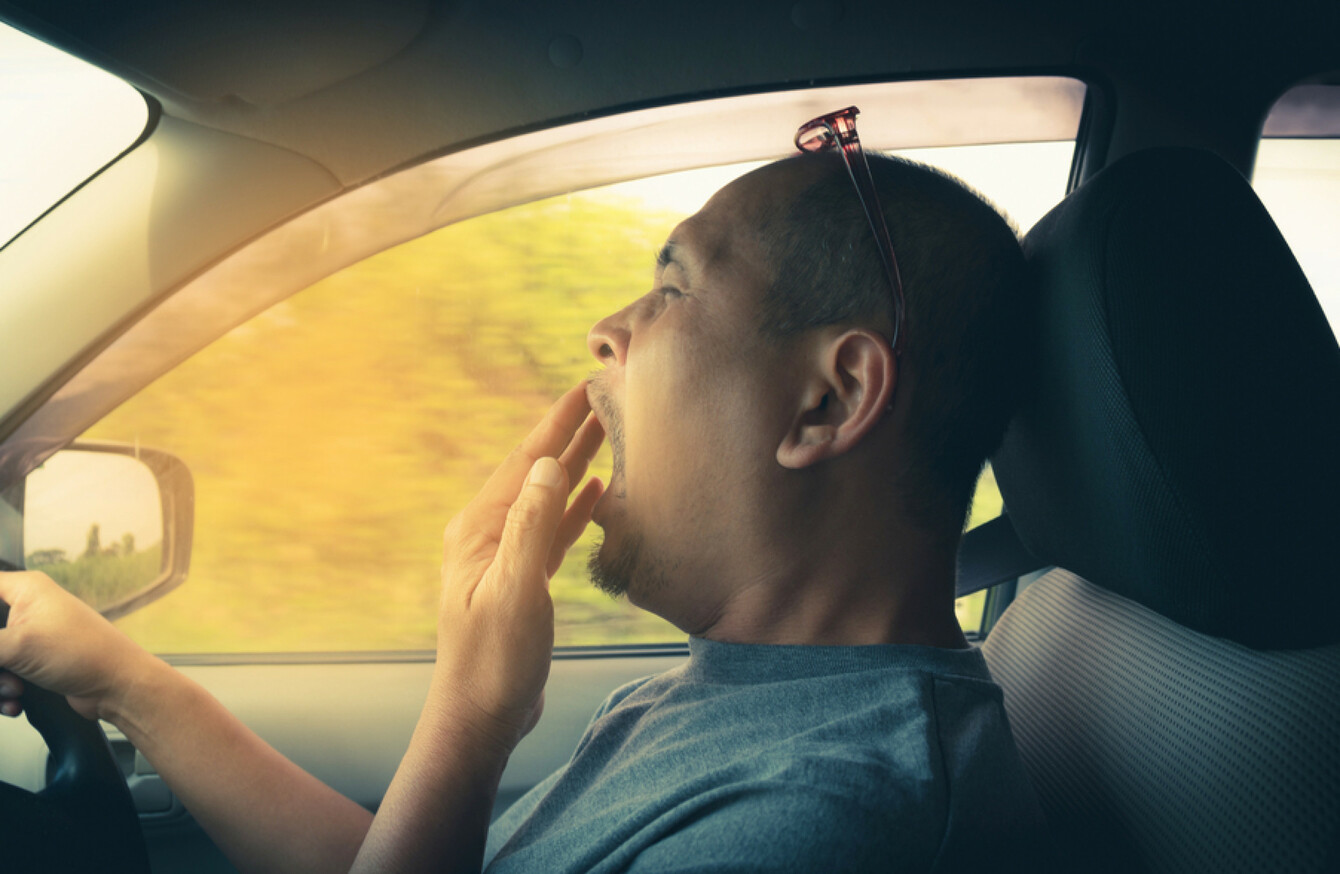 Image: Shutterstock/Krisana Antharith
Image: Shutterstock/Krisana Antharith
SCARY STATISTIC ALERT: in Ireland, over one in 10 motorists have fallen asleep at the wheel, according to a 2014 survey conducted by the RSA.
Drivers suffering from fatigue put themselves at risk of 'nodding off' behind the wheel and they substantially increase their risk of being involved in a crash. It is estimated that driver fatigue is a contributory factor in as many as 1 in 5 driver deaths in Ireland every year.
The only real cure for driver fatigue is sleep, but we know that it is sometimes hard to get the recommended seven to eight hours sleep a night. So what can you do if you find yourself driving whilst tired? Out top tips will help you stay alert until you can safely pull over and get some shuteye.
How to prevent driver fatigue:
Take regular breaks from driving at least every two hours and travel no more than eight to ten hours a day. If you are travelling with somebody, try and share the driving load between you.
How to recognise the signs of driver fatigue:
Difficulty in concentrating on the road and frequent blinking and involuntary closing of the eyelids.
Distracted thoughts and highway hypnosis i.e. no memory of the last few minutes of driving.
Your head feeling heavy and lolling to the sides.
How to fend off driver fatigue:
1. Take a coffee-nap
The best way to fight fatigue is to take what is called a coffee-nap. A coffee-nap is more effective than coffee or naps alone.
First you need to buy a cup (or two) of coffee and find somewhere safe to take a nap. If you don't drink coffee grab a can of energy drink or cola, you want to aim for about 150mg of caffeine. Drink up quickly and then set your alarm for 20 minutes and close your eyes and drift off.
By the time you wake up the caffeine will be ready to kick in and keep you buzzing.
When you wake up, go for a quick walk and stretch out your body and get some fresh air.
Following a nap, you may feel slightly groggy so make sure you take it nice and easy on the road for the next 20 minutes or so. Don't rush or drive at high speeds as these cause mental strain and even more fatigue.
If you can't pull over for a nap, caffeine alone should do the trick and if you can't get your hands on caffeine a nap will still do wonders in the fight against fatigue.
#Open journalism No news is bad news Support The Journal

Your contributions will help us continue to deliver the stories that are important to you

Support us now
2. Listen to talk radio
Listening to conversation on the radio is better at keeping you alert than listening to music. So ditch the playlist and turn the dial to a chatty station.
3. Cool it down
Turn the air-con down so the car is on the chilly side rather than nice and warm. Warm air can cause drivers to feel lethargic and sleepy. Keeping it cool will keep you more alert.
4. Open the window
Get a blast of cold air on your face by sporadically rolling down the window. The fresh air will wake you up and keep you focused.
5. Eat noisy food
Apples, celery, carrots and other such crunchy snacks are great for long car journeys as the sound of the food crunching actually helps people stay psychologically engaged and attuned to their surroundings. Just avoid sugary treats as the sugar can cause highs, lows and crashes which can all lead to fatigue.
Remember, the only way to avoid the danger of driver fatigue is to make sure you get enough rest – and take breaks over long journeys.
Want to make sure you don't miss out on anything going on in the world of motors? Like us on Facebook and and follow us on Twitter for the latest updates.