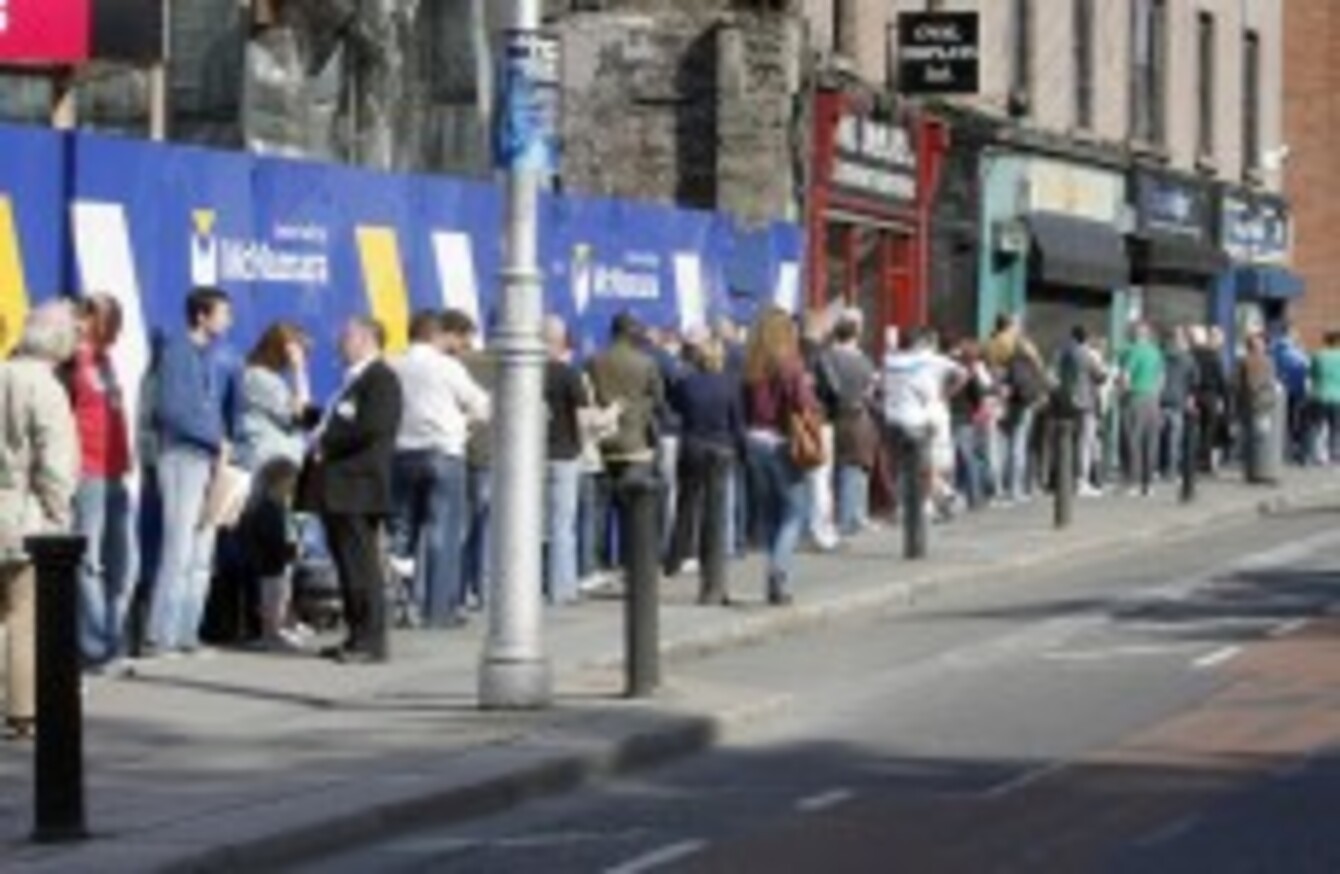 People waiting for the dole office at Bishop Square in Dublin to open. The unemployment rate is currently 14.2 per cent
Image: Mark Stedman/Photocall Ireland
People waiting for the dole office at Bishop Square in Dublin to open. The unemployment rate is currently 14.2 per cent
Image: Mark Stedman/Photocall Ireland
PUBLIC SECTOR JOB creation is "generally unsuccessful" in boosting the job prospects of unemployed people in Ireland, according to new research from the ESRI.
The research, which looks at  how best to improve job prospects for the unemployed,  also found that schemes which subsidise employers to take on workers, similar to JobBridge, can be effective but need to be carefully planted to avoid subsidising jobs that would have been created already.
The study questions the role of Solas, the new government training agency that will replace Fás, saying that it is "unclear" how exactly provision of training will be organised between the relevant agencies: the Department of Social Protection, Solas, and education and training providers.
The study tracked unemployment benefit claimants across a number of different countries to find out what incentives were most likely to lead to sustained employment.
The authors of the paper – Dr Philip J O'Connell, Dr Elish Kelly and Dr Seamus McGuinness of the ESRI – noted that Ireland is already investing huge amounts of money into programmes to encourage unemployed people back to work, and that given the high levels of unemployment and the fiscal crisis of the state, "it is essential that this investment achieves the best value for money":
We need to identify and allocate spending to hose active labour market programmes that do most to enhance the employment prospects of those who participate in them
The key findings of the study are that the most effective way to help people get back to work are:
Targeted subsidies to encourage work experience in the private sector
Retraining workers for sectors where skills are in demand
Providing training in how to conduct a job search
Some kind of assistance in searching for jobs
The study entitled 'What Can Active Labour Market Policies Do' is part of a special series of ESRI studies aimed at using available evidence to examine issues related to the ongoing economic crisis in Ireland.