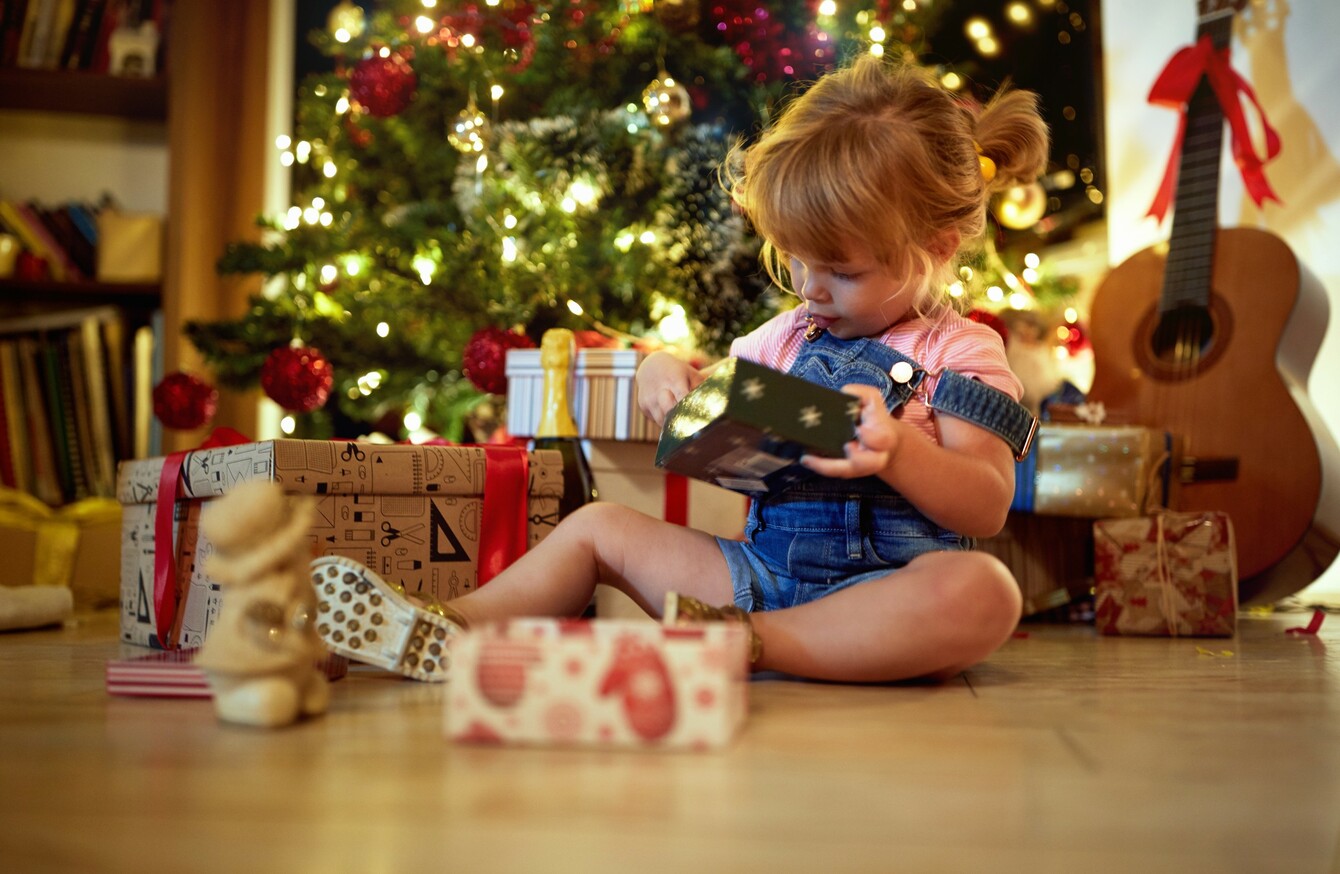 Image: Shutterstock/Lucky Business
Image: Shutterstock/Lucky Business
BY THE TIME your little one reaches toddler and preschool age, they're well able to tell you what they want. And that's where the trouble starts, from dealing with tantrums to navigating playdates. That's why it can be so helpful to hear how other parents are getting through it all.
Our Toddler and Preschool Parents Panel is made up of parents with little ones from 24 months up to age five.
With Christmas nearly upon us, the gift-giving season can be a tricky time, with parents, grandparents, friends and family wanting to shower your little one with pressies. We asked our parents panel for ways they try to keep the gift-giving from getting out of control, whether it's their own under-the-trees routines or presents from family and friends.
How do you keep Christmas gift-giving from getting out of control? 
Here are some of the best answers: 
There were a few Kris Kindle loyalists: 
I am delighted to say that a couple of years back my husband's family adopted a Kris Kindle system for the cousins and now instead of buying and receiving eight presents, there is just the one for each child.
Grandparents on both sides tend to give us a bit of money to spend on what we know the boys would love or something they need. Now, this doesn't stop me from completely going back on my own promise to only get them three presents each and losing the run of myself in the weeks before the event itself.
- Kaisu Healy
The Kris Kindle system is great when there's a large amount of cousins, and we do that within a few consenting circles, which helps. There also happens to be a lot of birthdays around Christmas, so we just resign ourselves to a no-steak-dinners January (not that we have them very often anyway!). Turn on the jingles, eat gingerbread and enjoy the festivities.
- Sadhbh Ni Ogain
You could ask family and friends to buy a specific category
So far, we haven't gone mad buying Christmas presents for our twins, but this is only their third Christmas. I ask family and friends to buy clothes, books or jigsaws. My parents give us money to buy something they need, but my husband's parents give them a few presents, which is nice as we stay with them over Christmas.
- Joanne Burke
Or book an adventure with cousins
We went down to one salary this year so in an attempt to not go too overboard we agreed to focus on making memories with the cousins and booked an off season few nights in Centreparcs in the New Year. Helpfully my in-laws are booking an activity each for the kids as their Christmas gift.
We always go with the "Something you want, something you need, something to wear and something to read" over Christmas. My parents give us money so that's the something to wear taken care of and then they ask Santa for one gift and one surprise and myself and my hubby do the books which we open Christmas Eve. 
- Tracy Kilgallon
Some parents just give in to the tidal wave…
We've just had to embrace the craziness, the girls are very lucky to have all their grandparents in their lives as well as a great granny. They consider it their mission to spoil the girls at very opportunity and I've given up trying to stem the tidal wave of gifts that Christmas brings.
- Nicola Barry
Our biggest hurdle for every occasion is the in-laws. They love buying toys of all shapes and sizes, more so to see the momentary joy on the boys faces than anything else. I'm constantly trying to say to them just buy something decent that will hold its novelty value, or just add to a collection that they already have. They rarely take my advice!
- Michelle O'Brien
#Open journalism No news is bad news Support The Journal

Your contributions will help us continue to deliver the stories that are important to you

Support us now
And others ask family members for annual passes
This year we have asked our families to get the kids vouchers for day trips to Imaginosity or petting farms, that type of thing. My aunt and uncle got us a family pass to Dublin Zoo last year and it was an amazing present which we have used so much over the year. Before we had kids and when our nieces and nephew were younger we used to always take them to the Panto as their Christmas present. We have lovely memories, so I think days out and experiences are great gifts. 
When it comes to what we are going to get the kids for Christmas we are taking the approach that Santa will bring them one or two small things and a book each (he hasn't got room for big things in his sleigh) and we will get them one big(ish) present each from us. This is the first year that Tara (3) has asked for something specific (a unicorn teddy) from Santa so we are on a big learning curve. 
- Deirdre McCormack
You could make a wish list rule
Our rule is the kids can ask for one thing and a surprise. And because of the no-ad TV on RTE junior and Netflix, they just don't see adverts. Thank God! I know that won't last long…
For friends and family who ask for ideas for what they want, I keep a list of things throughout the year that I think would be good for them to have (that they don't have yet) to foster independent play – it's also handy for birthday lists. (Examples include skipping role, microscope, dressing up clothes, binoculars etc). My mother is the worst for overindulging, but she lives abroad and sees them rarely, so I let her at it. 
- Emily Lewis 
Or choose family gifts instead
At the moment I am frugal enough with Christmas presents for our son, opting instead to spend on us as a family. He is lucky to have all he needs so he gets some chocolate, Lego, mindless boy "stuff" and books.
- Cliodhna Kerrigan
When all else fails, buy them their wish list
Our twin girls turned two in June, so they are just getting their heads around Christmas and presents! Twin 2 wants a "bike like daddy's" and Twin 1 wants "chocolate"!
We have bought two balance bikes and helmets but are keeping it very modest apart from that. There will be plenty of Christmas wish lists in future that are more expensive than "chocolate"…
- Ger Lowry