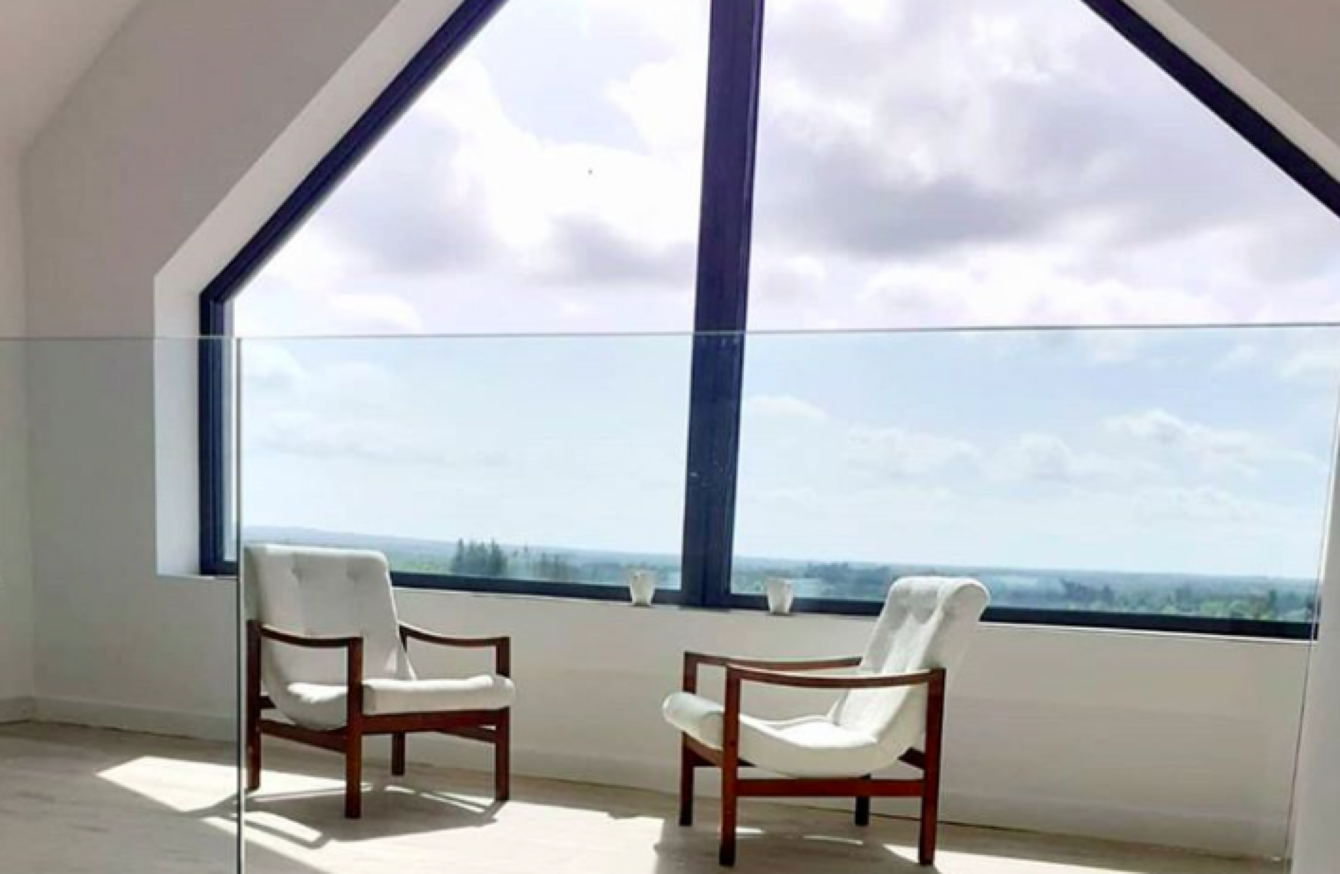 Image: Instagram/contemporary_inthecountry
Image: Instagram/contemporary_inthecountry
About you
Name: Katie Duffy (@contemporary_inthecountry)
Age: 32
Occupation: Primary school teacher
About your home
Location: Co Mayo
What type of house is it? A self build home. The project began in 2017.
How many bedrooms and bathrooms? Four bedrooms, four bathrooms.
When did you move in? February 2020
Who lives there? Myself and my fiancé Henry.
Tell us a little more…
What made you choose this home design over others?
We wanted to design a home with modern and traditional elements that worked well with the site and the country landscape around us. Our house is nestled amongst mature trees and it sits on a hill overlooking pasture fields. 
What's your favourite part of your home and why?
That would probably be our living room, which has a vaulted ceiling and a glass mezzanine. You can see for miles through the triangular shaped window on the mezzanine. It's a real treat to sit and look out at the ever-changing view and landscape depending on the seasons. We have a pair of upcycled 1960s armchairs up there and nothing sitting and relaxing with a coffee on a Saturday or Sunday morning. The vaulted ceiling has a great impact when you walk into the living area.
What's one part of your home you don't like so much, or that causes challenges?
The living area of the house has large glass areas and the sunlight just beams in, so one challenged we encountered during the summer was figuring out how to keep our home cool.
How does an average day start in your home right now?
I typically get up around 7am after I've hit the snooze button on more than one occasion. I like to set the alarm a little earlier than I need, to ease myself into getting up! From then I have an hour to leave the house for work. I go straight for the shower in our ensuite bathroom and then I make my way to my dressing room where I'll get dressed and pop on some makeup. Once I'm all set, I head to the kitchen for breakfast. Henry is generally on breakfast duties and I cook dinner. It works well for us as I get home earlier from work than Henry.
#Open journalism No news is bad news Support The Journal

Your contributions will help us continue to deliver the stories that are important to you

Support us now
How does an average day end in your home right now? 
I arrive home from work around 4.30pm and like to fit in some form of exercise before dinner, usually a gym session or a walk. Dinner is prepared around 6pm and we sit down to eat the at the dining table around 7pm when Henry arrives home. Weekdays can be quite busy, so we really enjoy catching up over dinner. After washing up, we move to the living area where we watch some Netflix or browse through social media while having our last cuppa of the day. Around 9.45pm I usually check on our indoor plants (dotted all around the house) and give the leaves a little spritz before bed. They love a little TLC! We tend to have lights out by 10.30pm on weekdays.
What's one thing you'd do differently if you were designing your home again?
Overall I'm very happy with our design, but if we were designing again, I would give more consideration to our utility room. Having lived in the house for a while, I'd really appreciate a boot room which would help keep all the everyday items such as coats, shoes, bags, hats and so on organised. It'd be lovely to be able close the door and hide the mess!