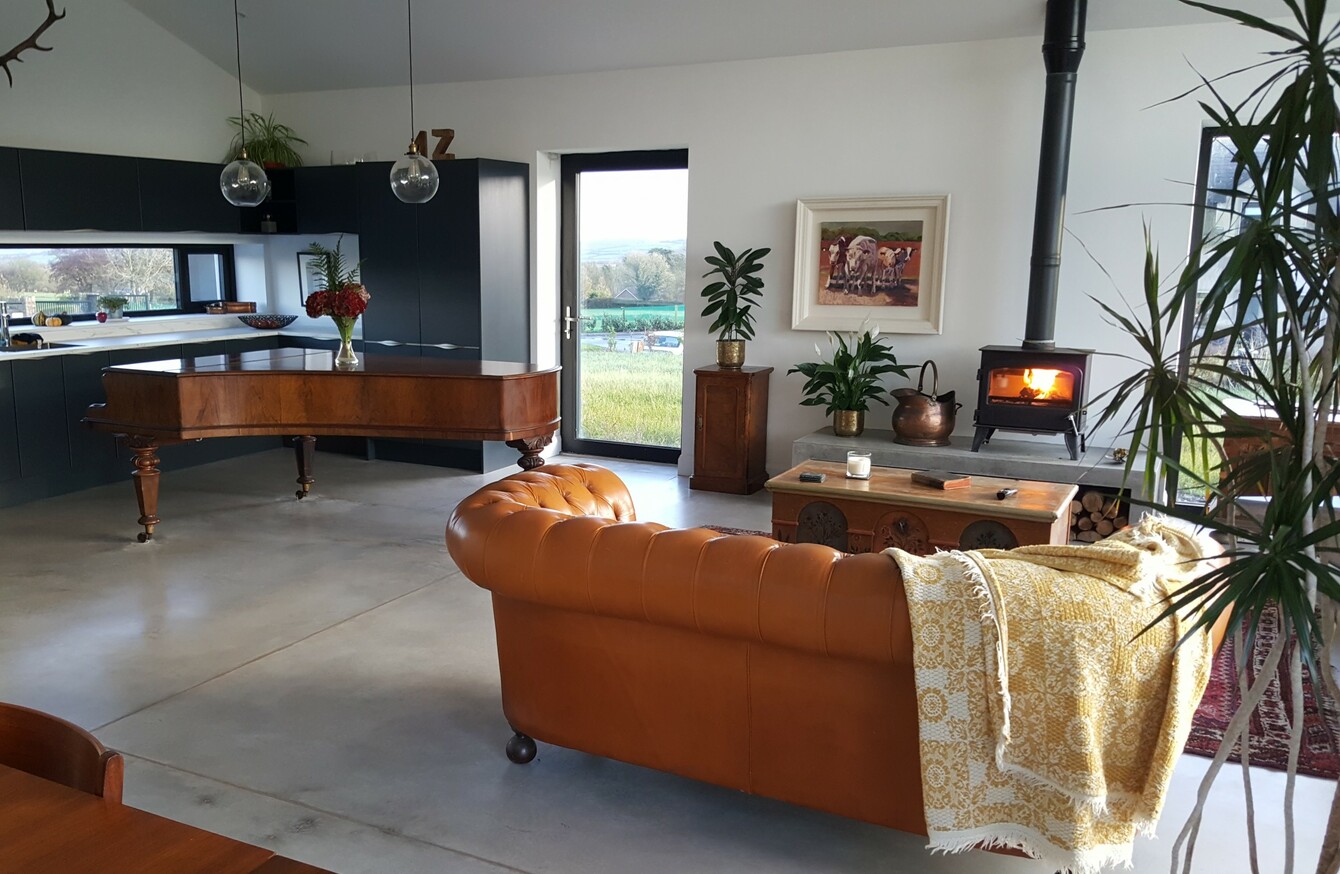 The kitchen and living space, with an antique piano in lieu of an island.
Image: David O'Brien
The kitchen and living space, with an antique piano in lieu of an island.
Image: David O'Brien
About your home 
Where? Cork  
What type of house? I call it a contemporary dormer bungalow.   
How many bedrooms and bathrooms? Four bedrooms and three bathrooms
When did you move in? 21 September this year
About you
Name: David O'Brien
Age: 33
Occupation: Co-owner of a coffee shop called The Workshop  
Who else lives there? Two housemates. 
What made you choose this home over others?
I was very fortunate to have inherited a site near my family home, so I was able to build something bespoke. When I met with my architect, we were able to come up with a design that was unique, interesting and very much to my style. The main priority was a sense of space and natural light.  
What is your favourite place in your home?
Definitely the open plan kitchen, living and dining area. It's a fantastic space with buckets of natural light. It's great to have a few friends over for the evening for a few drinks, have the stove burning and have some music playing in the background. This room has light from every direction so it's lovely to see it change throughout the day.     
Is there any part of the home you don't like?
The garden. I didn't have any budget left over to do the driveway, patio or garden. When I win the lotto, I'll sort all of that. I wouldn't change anything inside the house, I was very fortunate to be heavily involved in the build myself, so anything my gut was telling me to change, I did! My builders were excellent and very accommodating to deal with.  
Is there any part of your home that makes it unique?
I think the style of my home is unique. The bones of the house are very contemporary, with white walls and polished concrete floors throughout the ground floor. However, 90% of the furniture in the house is either an antique or vintage piece. I am a big fan of antique and vintage furniture, I love the craftmanship, the background story of where it came from, and giving it a new lease of life.
I admire how old pieces sit in contemporary settings. Perhaps the most unique piece in the house is the kitchen island which is a rosewood grand piano from circa 1880 that still works. I actually bought this piece seven years ago and the kitchen area in the house was designed around it.     
Take us through an average day in your house, room by room.
My favourite day of the week has to be Sunday. 
8.30am: Wake up and make some coffee before heading off to a local car boot sale or auction. I try not to spend too much and buy only things that I need for the house, I'm not very good at doing this but getting better! 
11.30am: I like to give the place a good clean after I get back, throw on a wash in the washing machine and get on with the mundane tasks while blaring some music. 
1.30pm: In the afternoon, I try and have some friends or family over for lunch and a catch up or maybe go somewhere local, we are very lucky in Cork to have a huge variety of great restaurants in the city and surrounding areas. 
6.00pm: Cook dinner, light the fire, and relax on the couch watching Netflix or, when it's on, giving out about the people on Room to Improve.    
Is there anything you'd do differently if you were doing it again? 
Building a house is very stressful – the budget starts to spiral, there are delays on everything and people are always asking the dreaded question: "when do you think you'll be in?"
If there was anything I'd do differently it would be to have tried to enjoy the process more and celebrate the progress, however, this is easier said than done when you are in the middle of it.