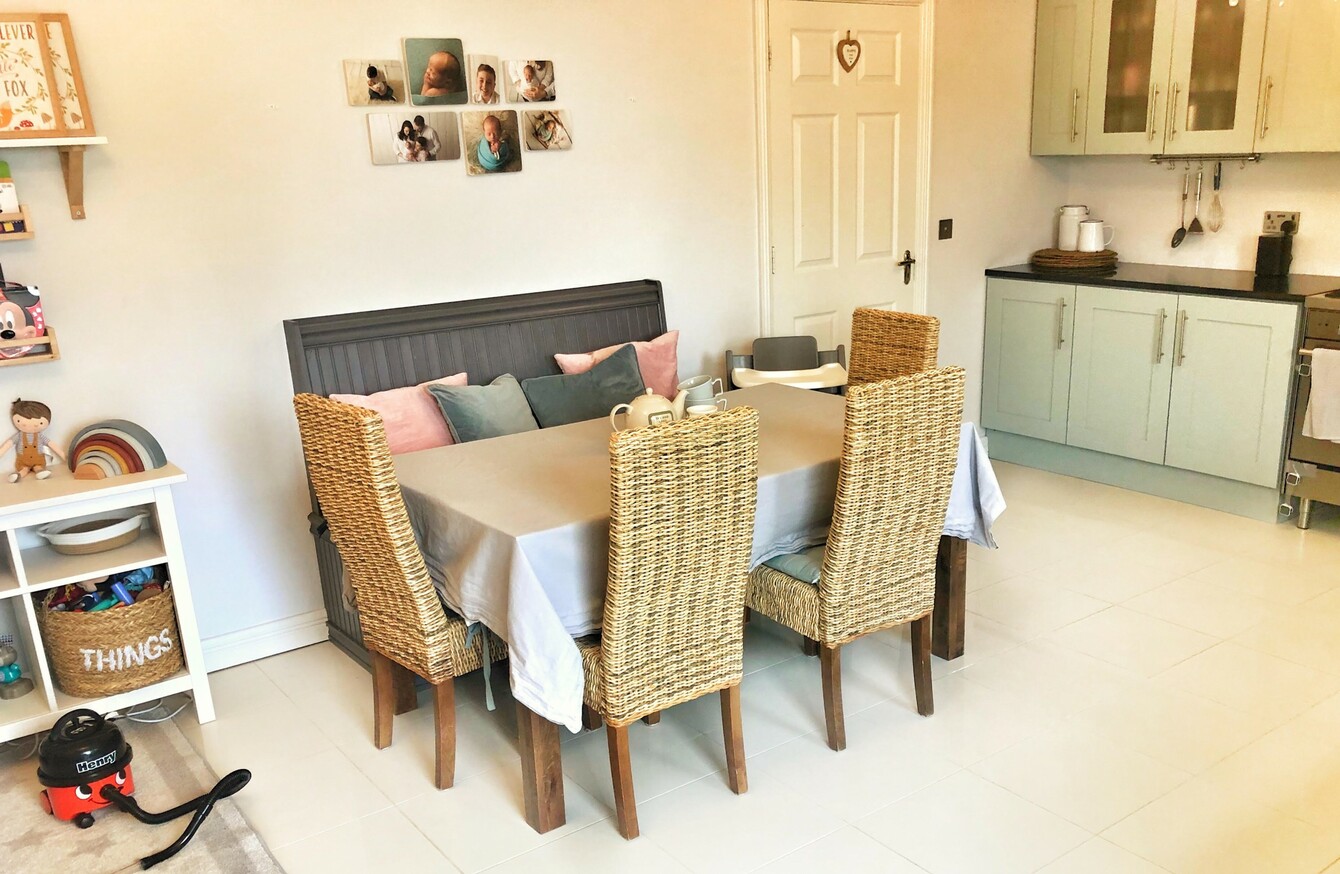 Image: Gráinne Regan
Image: Gráinne Regan
About you
Name: Gráinne & Patrick Regan
Age: Both 39
Occupation: Area Manager for a skincare company and Quantity Surveyor
About your home
Location: Just outside Tuam, Co Galway
Type of home: Bog standard semi-d
How many bedrooms and bathrooms? We have 4 bedrooms, 1 bathroom, 1 shower room and a downstairs toilet.
When did you move in? I bought this house from new in 2007
Who lives there? Currently 2 adults, 11 year old Odhran, 12 month old Patrick and a new baby due in January
What made you choose this home over others?
When I bought this house, almost every penny went on the deposit. When I moved in I had a lot of secondhand furniture from friends and family that were throwing it away or whatever was on sale. Not everything matched! But slowly over the years we've been able to invest in some lovely pieces.
Our home comes into its own at Christmas. Both of us adore Christmas and our decoration collection is getting slightly out of hand! 
What's your favourite part of your home and why?
We both agree that the kitchen is our favourite room. We have recently given it a huge makeover and it was a real labour of love, but now it's the family's favourite spot! It's a place for family gatherings, catch ups and of late also a home office due to Covid.
It gets very little light during the day so we chose really bright colours when painting the walls and units, and it's made such a difference. 
We have a play area on one side so that is great when friends with children visit. Everyone can relax as the babies are right there beside us exploring while we have our tea and a catch up.
What's one part of your home you don't like so much? 
The biggest challenge any family has in a smaller house will always be storage. You can never have enough, especially with children and a huge Christmas decoration collection.
We have utilised every area we can. Patrick has added extra shelving to the hot press, floored out the attic, built a bench in the kitchen with plenty of storage underneath. We have smart storage units under the stairs and have recently added large presses in the utility room. However we could do with more!
What's the most unique part of your home?
Currently we have filled almost every room with children, so at the start of the year we hunted down a vintage Thomson Glen Caravan to convert into a 'man cave'/guest house for visitors. We will try to keep the vintage theme but also modernise it to a really luxurious standard for anyone who'd like to visit.
How does an average day start in your home right now?
Our days like most families are very busy. Alarms start at 6.30am but most of the time that is after our one-year-old human alarm arises! Then the Nespresso machine gets called into action, and the house comes alive! I do feel sorry for our neighbours at times.
There are calls up the stairs to see if teeth are brushed, are you dressed, what's taking so long… but we all end up in the kitchen, usually to two or three different breakfasts. Now we are back to school, there's a lunch to be made, a baby bag to be packed and usually a lost shoe to be found!
#Open journalism No news is bad news Support The Journal

Your contributions will help us continue to deliver the stories that are important to you

Support us now
How does an average day end in your home right now?
Our days start to wind down once dinner is over at about 7 – I tend to cook so Patrick and Odhran clean up the kitchen and I bring little Patrick up for his bath, which is a very messy affair! We put his baby bath into the big bath but somehow I still end up soaking! 
Everyone starts to get their PJs on around 8 and we snuggle up on the couches in the living room and usually watch 20 mins of Coco or Despicable Me. Then it's time for Little Patrick to hit the hay. Odhran heads up to his room at about 8 and gets to write or read for a little while.
At around 9, Patrick gets the kettle on and we usually have tea and our catch up, this is one of my favourite times of the day and usually involves a lot of laughing. Then even though we swore in the morning we would go to bed on time tonight, we stay up too late and head to bed exhausted and swearing yet again we will go to bed earlier tomorrow…
What's one thing you'd do differently if you were designing your home again?
Would I say we are in our dream home? Definitely not. We are making it as beautiful as we can but our long term dream is to eventually renovate a cottage. We are always on the lookout for one around this area and hopefully someday soon we will get our dream. A huge stone fireplace, roses growing around a stable door and old stone walls.