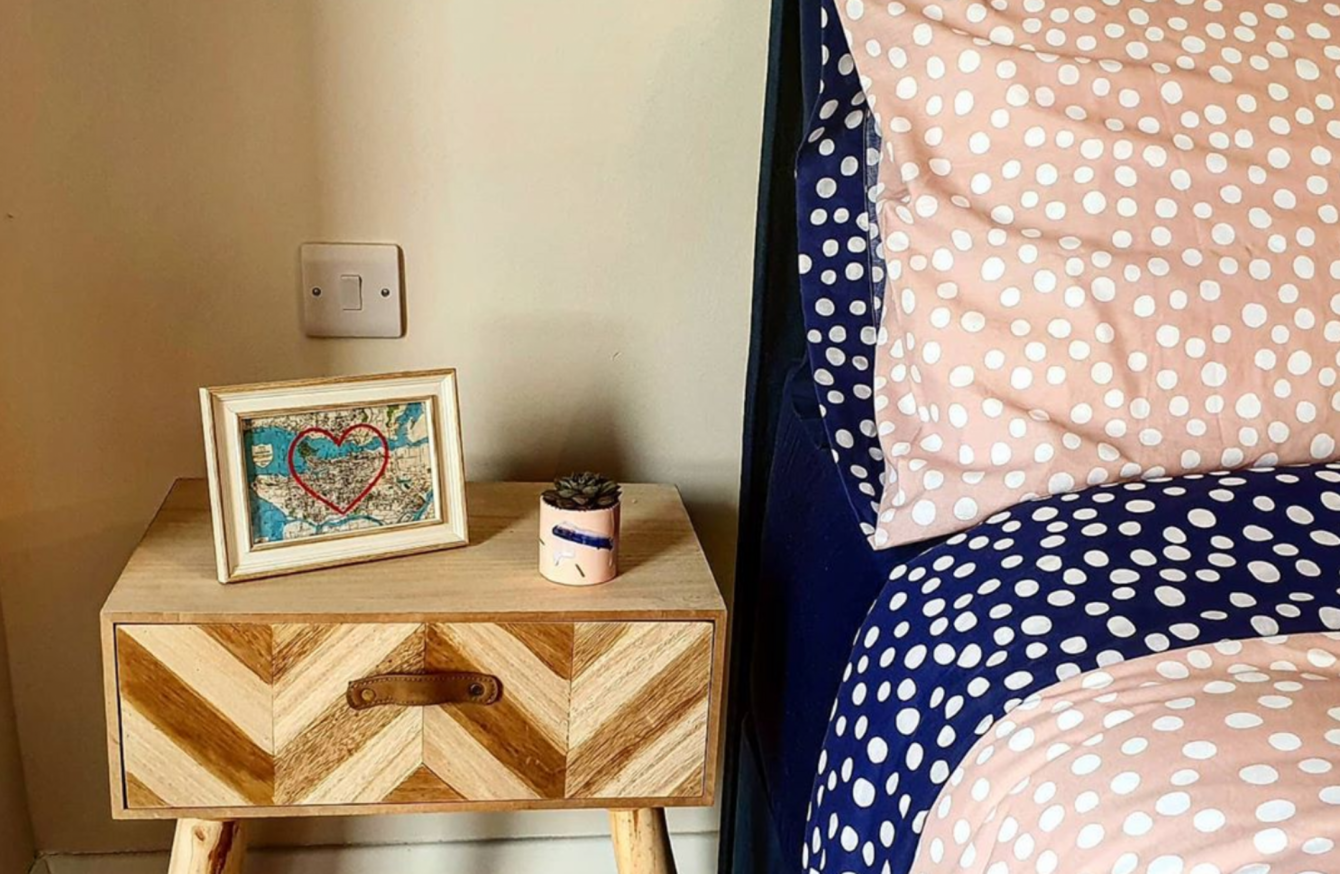 Part of Emma's home in Waterford.
Image: mynavyhome via Instagram
Part of Emma's home in Waterford.
Image: mynavyhome via Instagram
About your home 
Where? Tramore, Co. Waterford.
What type of house? Semi-detached new build. 
How many bedrooms and bathrooms? Four bedrooms, three bathrooms. 
When did you move in? We got our keys in December 2019 and moved into the home in mid-February this year 
About you 
Name: Emma Dunne 
Age: 30 
Occupation: Optometrist 
Who else lives there? My boyfriend Stephen
What made you choose this home over others?
We waited nearly two years for this house. We chose it over others in the estate as it had the biggest garden. I grew up in Tramore and love living by the sea, I couldn't imagine not living by the sea.
We had viewed other new builds in Tramore, but our builder was very obliging as we made some changes and they had no problem with that. 
What is your favourite place in your home?
Our kitchen and dining area. We went bold with a matte navy kitchen, so we decided a glass table would keep the light in the space. My uncle Noel Whelan makes bespoke furniture so he made us a gorgeous round table with oak legs and a glass top.
We have pocket doors into the living room so it really opens up the space for entertaining.
The bathroom comes a close second in terms of favourite places. We went all out with a jacuzzi bath and blue Moroccan tiles, it's like a little oasis in the house. Any excuse to use a bath bomb! 
Is there any part of the home you don't like?
I am happy with most areas of our home but I would love a bigger hot press and utility room. Also, as the house is a new build it feels quite bare at the moment so I want to fill it with colourful art and homeware. I'm treating it like a blank canvas. 
Is there any part of your home that makes it unique?
We are the only house in the estate with a utility room! I also have lots of lovely art pieces by my Mam, some are prints of photographs she took, oil paintings and her unique pebble art. She was the inspiration behind my idea to have a gallery wall, as I plan on 'borrowing' so many of her pieces.
How does your day start and end in your home? 
My day starts at 7am: That's when my first alarm goes off. I like to press snooze a few times before hopping into the shower. The bright blue and white tiles in the ensuite wake me up! Then I pop down to the kitchen and start prepping some food.
And it ends around 11pm: Lights out! Our bed is a Respa divan and it is the hands down the best bed I have ever slept in. We stayed at the G Hotel for my 30th birthday and we joked that the bed was so comfortable we would have the buy the same one…. so we did!
Is there anything you'd do differently if you were doing it again?
Start saving sooner. I have expensive taste apparently – everywhere we went from picking baths to tiles to beds, all the shop assistants told Stephen this every time. 
I would say though to anyone buying a new house, just enjoy the journey and whatever decision you make for the interior you will like, because it's your house!