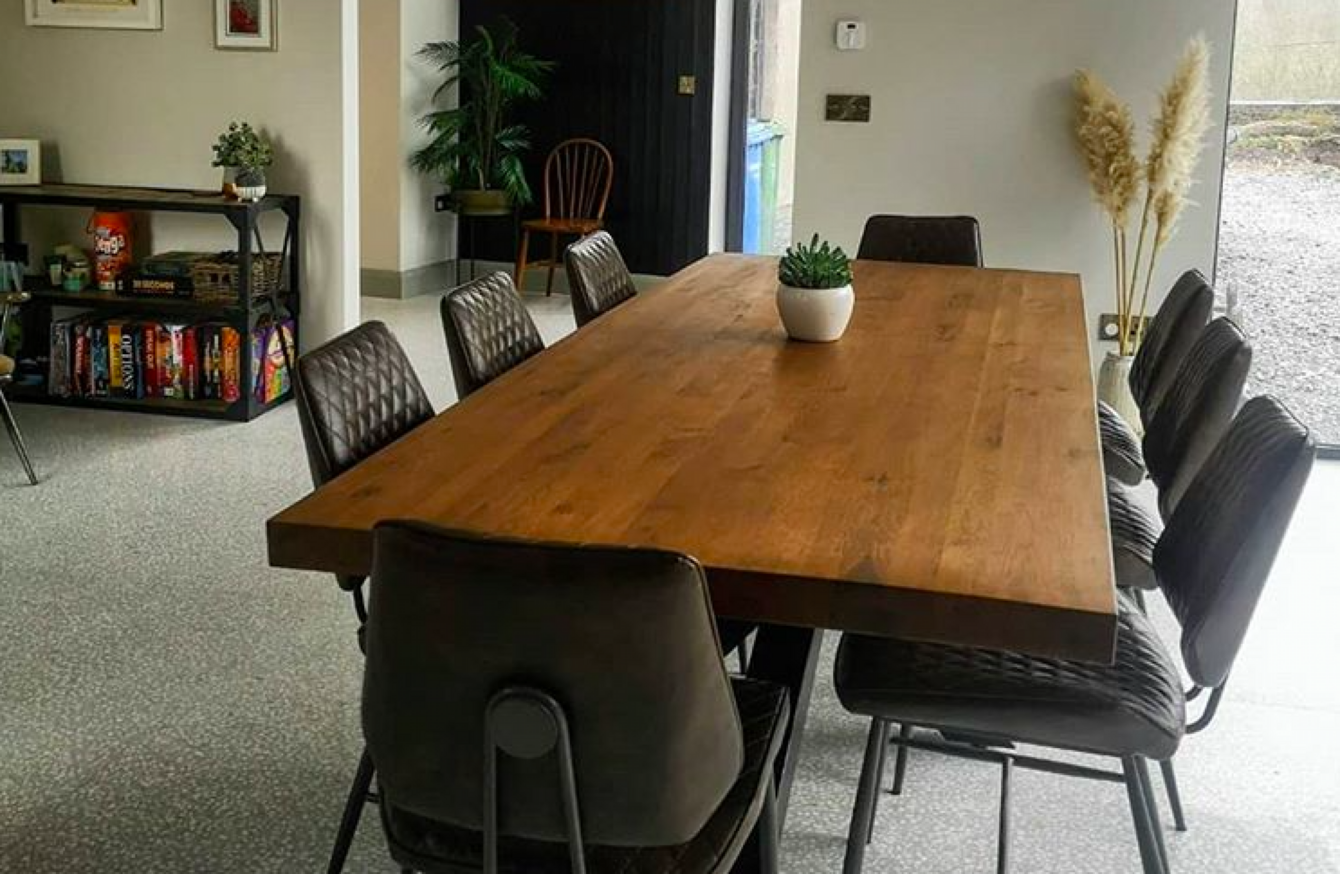 Image: Instagram/rachelhobbsdesign
Image: Instagram/rachelhobbsdesign
About you
Name: Rachel Hobbs (@rachelhobbsdesigns)
Age: 35
Occupation: Interior designer
About your home
Where is your home located? Cork
What type of house is it? A renovated 200-year-old farmhouse.
How many bedrooms and bathrooms? Four bedrooms and two bathrooms.
When did you move in? We began renovations in September 2018 and moved in during December 2019.
Who lives there? Myself, my husband Rob and our three children: Rocco 5, Indie, 3 and Forrest, 1.
What made you choose this home and location over others?
We saw the potential for what this place could be for us, not just the house but the space around it. The location was remote enough feel like the countryside, while still giving us everything we needed. 
What is your favourite place in your home?
I love our dining area. It's a central space in our home and was designed to have a big enough dining table to host our family and guests. For the kids, there's floor space for train tracks, a racing line between the hall and kitchen and an area for dancing. Plus, it includes one of my favourite design features : a panelled wall.
Is there any part of the home/the build you don't like so much?
We spent a long time on the design process and really thought through each aspect as much as we could. As a result, I'm more than happy with it all at the moment, but it's still a work in progress. Right now we're working away on the outside area.
Is there any part of your home that makes it unique?
Our floor net [hammock-style netting between floors, which is strong enough to sit or lie on] is one of the stand out features. It's in the landing area looking down to our hallway and we installed it instead of a bannister. We wanted the landing to be an additional room that could be used frequently, rather than a walk through space. 
How does an average day start in your home right now? 
We all wake up about 7am and down to the kitchen. At the moment I either work or exercise until 8.30am. My husband will sort breakfast, porridge all round for our brood and then start work himself in our home office. We only moved into our home in December after being in a mobile home while we renovated – the last few months would have been a very different experience if we were still in the mobile!
#Open journalism No news is bad news Support The Journal

Your contributions will help us continue to deliver the stories that are important to you

Support us now
How does an average day end in your home right now? 
We have dinner in the kitchen and dining area about 6pm, and then it's winding down, playing in the family room and gearing up for bedtime. The two older children have a bedroom each, but they usually sleep in the same bedroom, and Forrest is in our bedroom still. We've a family bathroom where they can be as messy or as clean as they need and our own bathroom suite. When they're asleep we try clean up the kitchen area, and then have some down time in the sitting room before bed.
Is there anything you'd do differently if you were designing again?
There'll always be hindsight and things you may have done differently, but a house build like this never stops I think, and an interior can always be updated easily with fresh paint, new furniture or fabrics. We had a lot of hands on involvement in the building process. It's an all-consuming process, and worth it completely with your house developing in front of you.