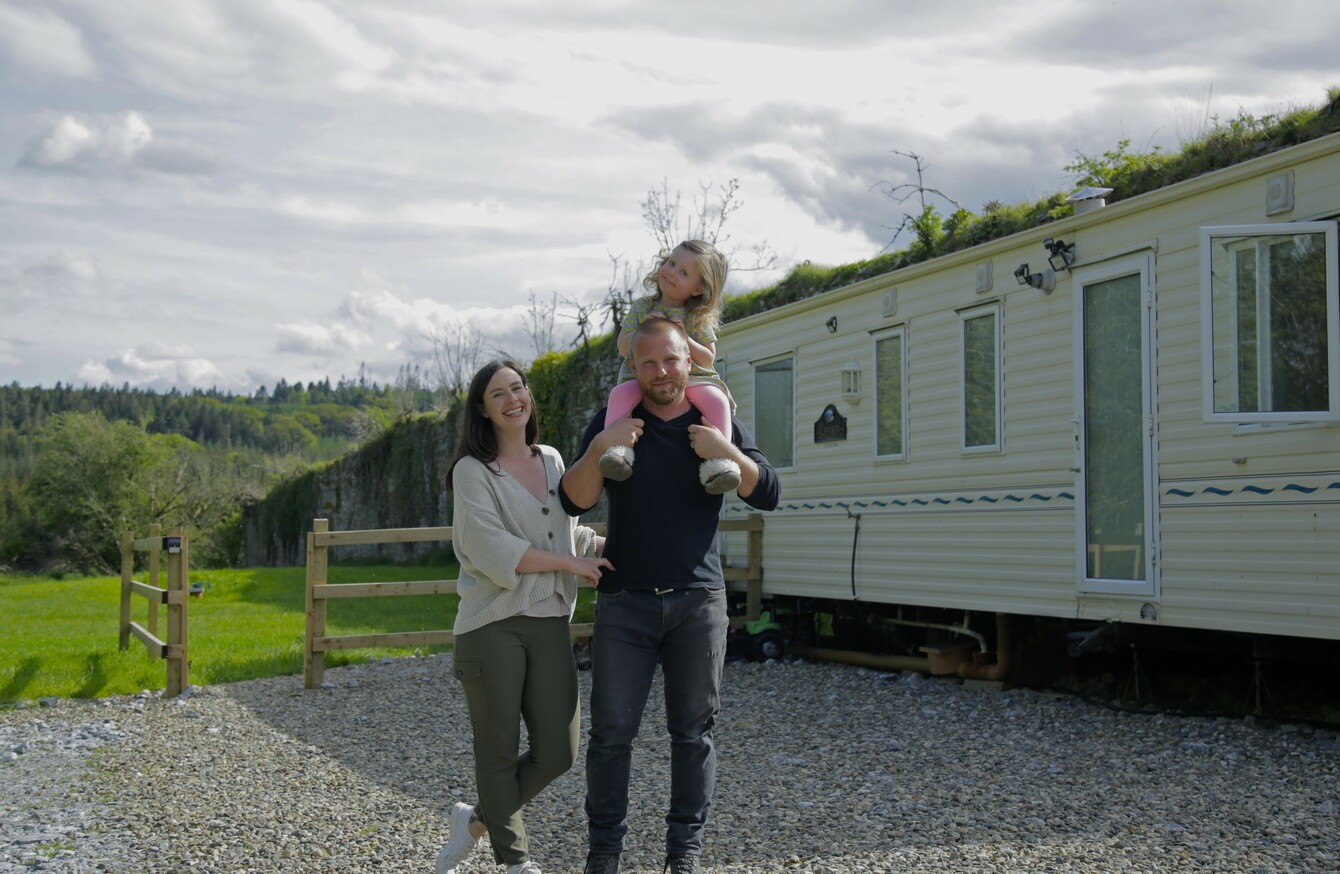 Image: Suzanne Dolan
Image: Suzanne Dolan
About you
Name: Suzanne Dolan (@notsomobilehome)
Age: 31
Occupation: Makeup artist
About your home
Location: Galway
What type of home is it? We're living in a mobile home (37ft x 12ft to be exact!) on land we bought three years ago, while we wait to build our new home.
How many bedrooms and bathrooms? 3 bedrooms, one toilet, one shower room.
When did you move in? We bought it in mid-August 2019 and moved in early October.
Who lives there? Myself, my husband Roman, and our three year old daughter Juno. Oh, and our cat, plus five fish.
What made you choose this home over others?
The mobile home solved a lot of problems for us. When we bought the land to build our future home on, we were renting elsewhere. We had issues with the architects and were delayed starting the build. Meanwhile, rent was increasing on our current place, so eventually we decided to buy a mobile home and move onto the land while we built. That way we could get Juno signed up to school, get rid of the monthly rent, and get started on our big house.
Construction of the house has been delayed due to lockdown, but Roman is spending his free days building the garage! This land was an old walled garden, and we've been trying to start our own kitchen garden here too.
What is your favourite place in your home?
I would say the kitchen: I love to cook, and this is one of the most functional kitchens of any of the places we've lived in. When we first bought the mobile the kitchen seemed fine, it had plenty of cupboards and a gas cooker. But once it arrived on site we realised how dark it was, and saw that there was a lot of unused space hidden behind a fake fireplace, so we started taking it apart.
The gas cooker was swapped for a safer electric one, and we have lots of worktop space now, which makes the whole mobile feel bigger. Design-wise, I bought the cheapest doors from B&Q and a can of matte black paint. I think the end result has a sense of style you don't tend to see in mobile homes.
Is there any part of the home you don't like?
If we were planning on living here longer I would probably paint the exterior of the mobile and box it in, because I don't like seeing all of the pipework underneath. But because it's only a temporary home it seems unnecessary! 
Is there any part of your home that makes it unique?
I'd like to think the entire interior is unique! We have added interlocking wood panelling in all the living spaces which acts as extra insulation and soundproofing, but which also allows us to hang pictures and shelving securely.  
#Open journalism No news is bad news Support The Journal

Your contributions will help us continue to deliver the stories that are important to you

Support us now
What's an average morning and afternoon like in your home right now?
We start the day around 6.30am thanks to an energetic three year old. My husband and I take turns on breakfast duty, so if it isn't my morning, I go to the spare room (hilariously known as my walk-in wardrobe), get on my spinning bike, then shower, get dressed and have some coffee.
We don't have a dining table, so we use a nest of tables between the threes of us. It's not elegant but it works and the tables can be tucked away when we're not using them. We spend the rest of the day with the door wide open, in and out to the garden and the rest of the site. My main occupation at the moment is keeping the child alive and entertained!
How does an average day end in your home right now?
Cooking and eating is a massive part of our evening! The living room/kitchen space is where we spend 99% of our time at night. Juno goes to bed around 7pm, so once the toy carnage is tidied away we'll make dinner. The great thing about the layout is that our kitchen is so open and social. We can chat while preparing food, and the glass of wine is always in easy reach! We might watch a movie, do some building or work admin, then bedtime is normally around 11pm.
Is there anything you'd do differently if you were designing/decorating this home again?
I think we would have clad the outside as well. It would make it warmer and stronger – we have had lots of storms this year. Other than that I don't think we would change much else. It functions so well, it's practical, easy to clean, with loads of storage and is quick to heat. We are entirely our own out here. It's a very fortunate situation to be in.