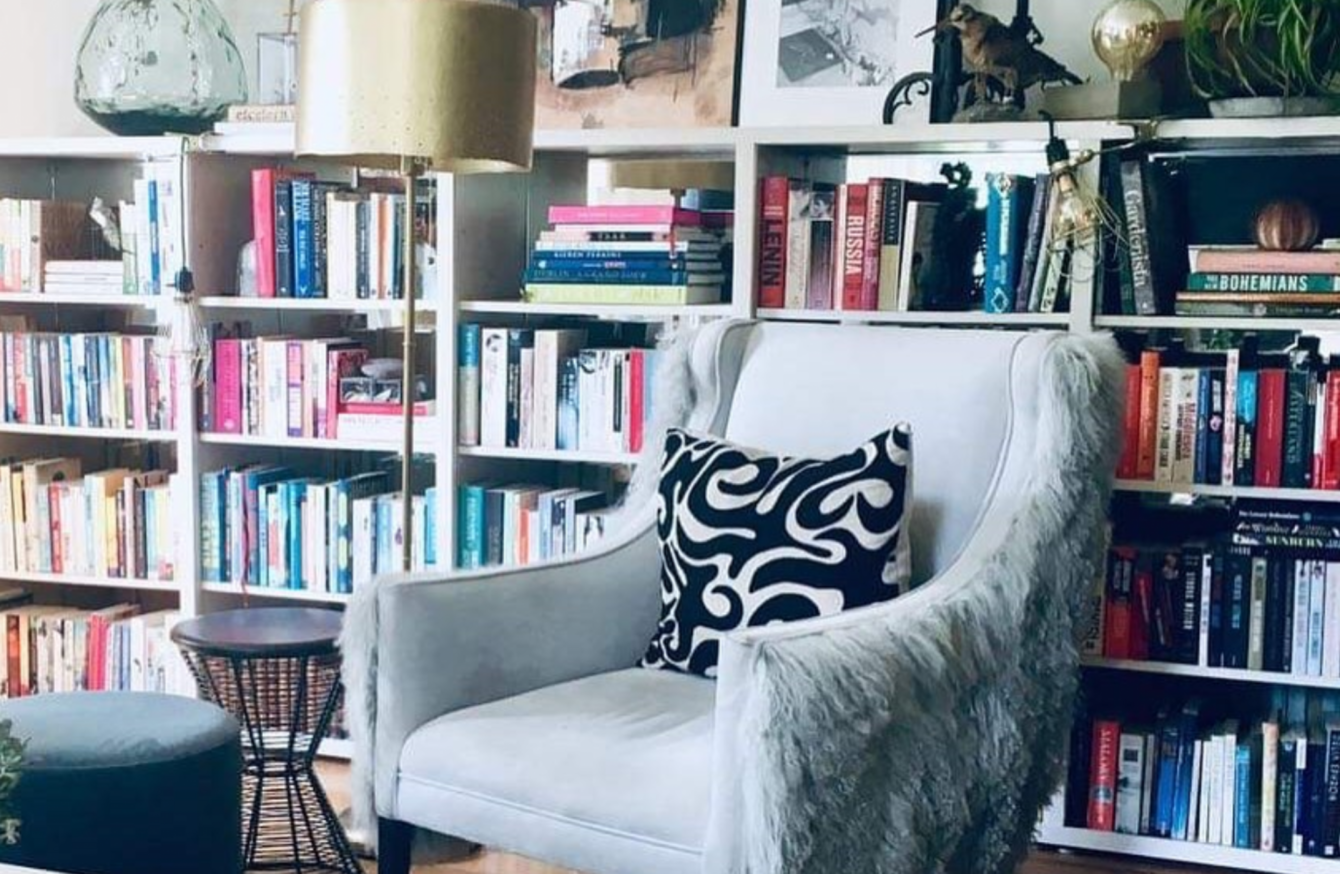 Naomi's bookshelves in her home.
Image: Naomi Young/Instagram
Naomi's bookshelves in her home.
Image: Naomi Young/Instagram
About your home
Where? Kells, Co Meath 
What type of house? A 20-year-old townhouse in a development sympathetic to the surroundings and on the grounds of an old house and converted stable buildings.
How many bedrooms and bathrooms? Three bedrooms and three-and-a-half bathrooms
When did you move in? Two years ago 
About you
Name: Naomi Young
Age: 37
Occupation: I'm taking a career break after a life-threatening illness, which left me in hospital for five months. I'd love to explore something in the design field in the future.
Who else lives there? My rescue dog Pippin, who firmly believes it's his house!
What made you choose this home over others? 
I was looking for something relatively close to family that had at least some of the period features I've always lusted after. I love how peaceful and safe the location is here.
When the perfect period gem just wouldn't materialise in the location I wanted at a price I could afford, it was a compromise I could live with to move here.
What is your favourite place in your home?
If I ignore the en suite and dressing area, my bedroom is probably the closest to being finished. As I need a lot of rest, I love how private, quiet and peaceful it is.
I'm also super happy with how I made my least favourite element – the long empty wall – into a feature I love by having a faux chimney breast built and sourcing a period mantle.
Is there any part of your home that you don't like?
I wish the garden was larger and not so overlooked. Although I am a complete gardening novice, I would love to have space for a cutting garden, as I love flower arranging. I've just taken on an allotment with the aim of growing flowers, fruits and vegetables. 
I'm also not a fan of how fragmented the small kitchen and separate dining room are. Someday, I envision a much better flow to the downstairs layout, with a kitchen-diner.
Is there any part of your home that makes it unique?
I'd like to think all of my collections do. I love amassing art, books, lighting, furniture, sculpture and other objects.  I love junk shops and auctions. No matter where I am, I'm a magpie!
Take us through an average day in your house, room by room.
9am: I do a meditation before getting up.
10am: I try to eat a healthy breakfast and have some fresh juice.
11am: I take my very naughty dog for a stroll.
12pm:  Time for some physio.
2pm: I can usually be found pottering in my garden or the allotment. Weeding seems to be a never-ending task at the allotment – just when I think it's under control, they seem to multiply! I have yet to completely dig my plot, let alone fence it. However, I have done the important things, like planting pretty hydrangeas.
4pm: This is generally when I do some tasks around the house. I would love to say I begin or end a job, but I tend to flitter between things. I'll see an image somewhere and be inspired to start a project but finishing them is less fun. At the moment I am rehabbing an antique desk I bought at auction.
6pm: I attempt to cook a healthy dinner, even though I hate both healthy food and cooking! I always have to force myself to clean up the resulting carnage.
7pm: Eat said healthy meal. Clean up yet more mess this has created. Try to prepare smoothie ingredients for breakfast ahead of time.
8pm: Time to catch up with friends.
10pm: Watching TV or reading before bed.
Is there anything you'd do differently if you were doing it again?
It's not so much a case of what I would do differently as what I still need to do – a lot of the house is still untouched.
There might actually be a benefit to having to work slowly, given how frequently and drastically my hypothetical plans change. I would probably be on about my tenth iteration of most rooms at this point otherwise. 
The layout of the eventual kitchen-diner is in constant flux. I just can't make up my mind about things like where to situate the entrance or the island/peninsula dilemma (I really want an island, but I'm not sure if the room lends itself more to a peninsula).