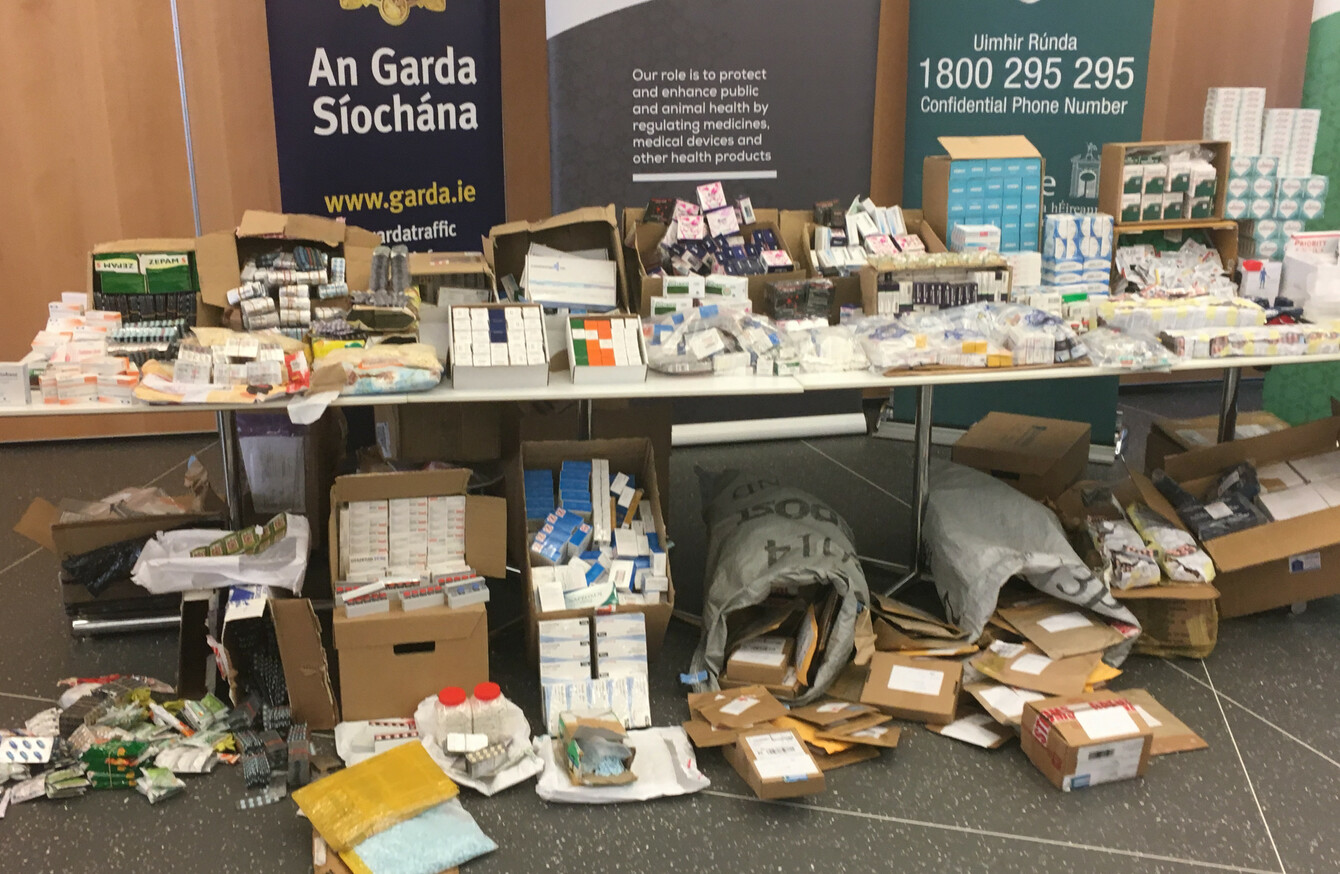 Some of the medicines seized.
Image: TheJournal.ie
Some of the medicines seized.
Image: TheJournal.ie
OVER €850,000 worth of counterfeit or illegal prescription medicines have been taken off the streets this year as Revenue, gardaí and the Health Products Regulatory Authority (HPRA) conducted Operation Pangea.
It is the tenth year of the Interpol-backed initiative which has seen 200,000 different medicines seized – up from 60,000 last year.
The drugs taken off the streets included:
Sedatives: 76,000 units
Anabolic steroids: 72,000 units
Erectile dysfunction: 23,000 units
Antibiotics: 2,600 units
Analgesics: 2,500 units
Slimming:  2,300 units
Cognitive: 1,600 units
In total, more than 1,000 individual packages containing tablets and capsules were intercepted. The main countries of origin for these packages were India, China, Latvia, UK, Moldova, Cameroon, Pakistan and the US.
A total of 20 search warrants were executed jointly by the HPRA, gardaí and Revenue. This led to 38 websites being forced to either close or cease selling products into Ireland. Eight social media pages and 18 advertisements on online auction sites were also taken down during the operation.
Dr Lorraine Nolan, chief executive of the HPRA, said this year's operation had been highly successful with a substantial increase in the volume of products detained.
She said that increased intelligence had led to the large increase in the number of drug seizures.
However, Nolan warned that many of the drugs which were recovered under the operation posed a significant health risk to those who were going to use them.
She added: "The products we have detained are prescription only medicines for a reason – people should only be taking them under the care of their doctor and in the knowledge they have been supplied by a regulated and trusted source such as their local pharmacy.
There is no guarantee as to what is contained in these products we have detained or under what conditions they have been manufactured.
"We continue to urge members of the public not to use unverified and unregulated sources such as the internet to buy prescription only medicines or other illegal health products."