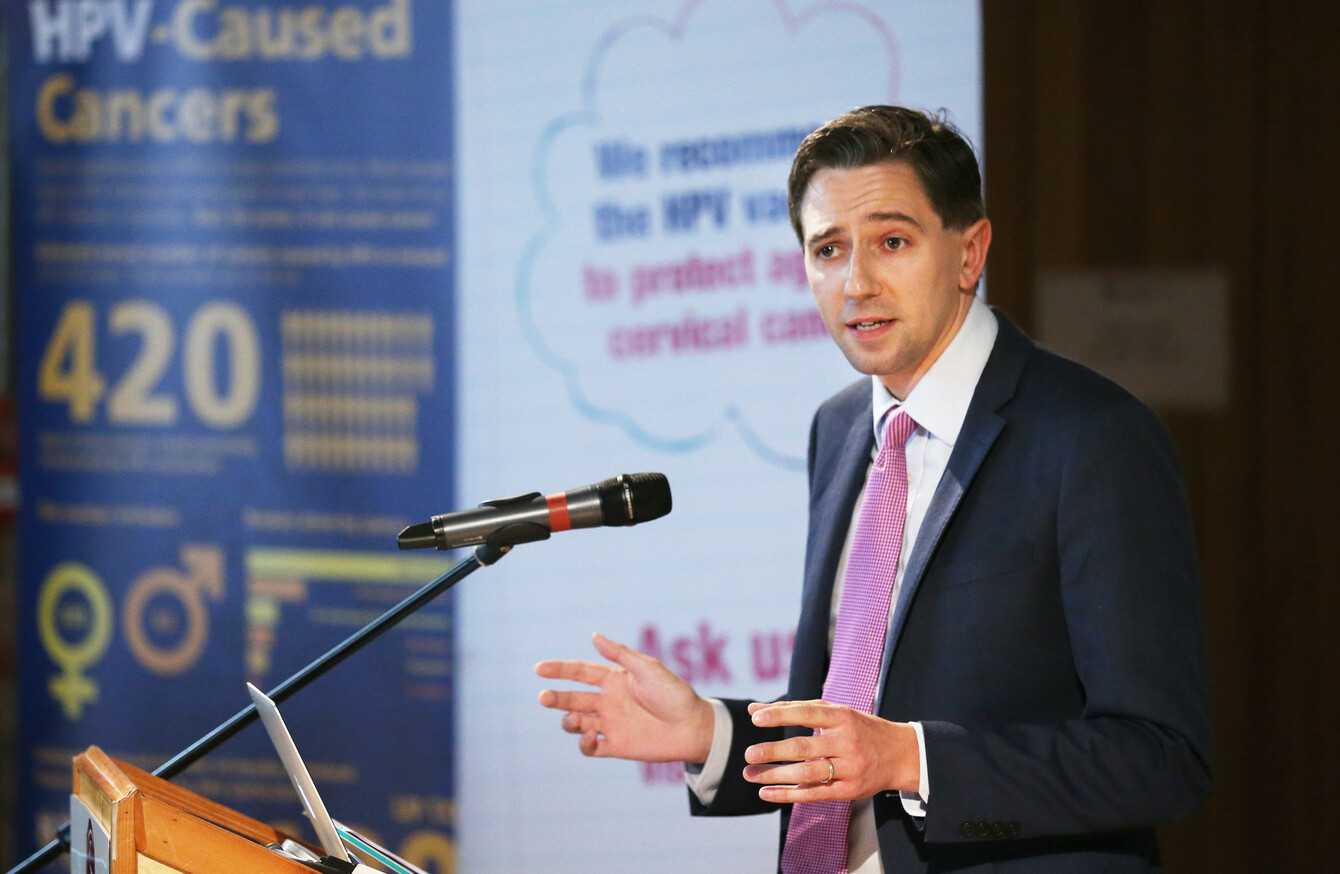 Image: Sasko Lazarov/Photocall Ireland
Image: Sasko Lazarov/Photocall Ireland
HEALTH MINISTER SIMON Harris is to tell his counterparts in Europe about the dangers of spreading anti-vaccination myths. 
Attending a council meeting of EU health ministers today where vaccination will be a key focus, Harris is expected to warn other member States of how scaremongering, such as linking the measles vaccine to autism or the HPV vaccine with serious side effects can have negative, and potentially long-lasting, consequences.
"The efficacy of vaccination is well documented. The virtual eradication of Smallpox and elimination of Polio; increased protection for women and girls against cervical cancer; protection of the vulnerable against influenza – all are due to vaccination.
"There have been attempts to spread fear and scaremonger. This came to light here in when there was an attempt to link the HPV vaccine with serious side effects. This continues to be a problem for Member States," Harris will state. 
In his address to other ministers, Harris will state that the spread of myths online is an issue that Ireland is not been immune to.
However, due to the efforts of the HSE and like-minded groups such as the HPV Alliance, Ireland is seeing some of the negative trends being reversed. 
The minister will note that anti-vaccination campaigns led to a significant drop in uptake rates of the HPV vaccine.
However, due to HSE promotion of the HPV information campaign there has been an increase in uptake rates to 65% in 2018.
Harris will warn other member States that they must be "cognisant of the pitfalls of relying on social media for health advice".
"Unfortunately, there are numerous examples of the devastating impact this scaremongering can have – both in terms of loss of life and reduced quality of living -outcomes made all the more heartbreaking and frustrating because they are avoidable.
#Open journalism No news is bad news Support The Journal

Your contributions will help us continue to deliver the stories that are important to you

Support us now
"Like other countries, Ireland has seen declining vaccination rates lead to measles outbreaks, affecting children in particular. Such outbreaks and reductions in vaccination rates serve as painful reminders of the scale of the ongoing challenge to promote the benefits of vaccination. It is incumbent upon us to use every tool at our disposal to do so, including the internet and digitalisation," Harris is due to say. 
The health minister believes targeted action, informed by reliable information and data, in turn supported by appropriate information systems, is required to respond to such outbreaks.
He says targeted action countered the effects of an anti-HPV vaccine campaign which caused the Irish uptake rate to fall from 87% to just 50%.
"I am delighted that this trend has been reversed – last year 65% of eligible girls were vaccinated, which is largely due to the efforts of Ireland's Health Service Executive."