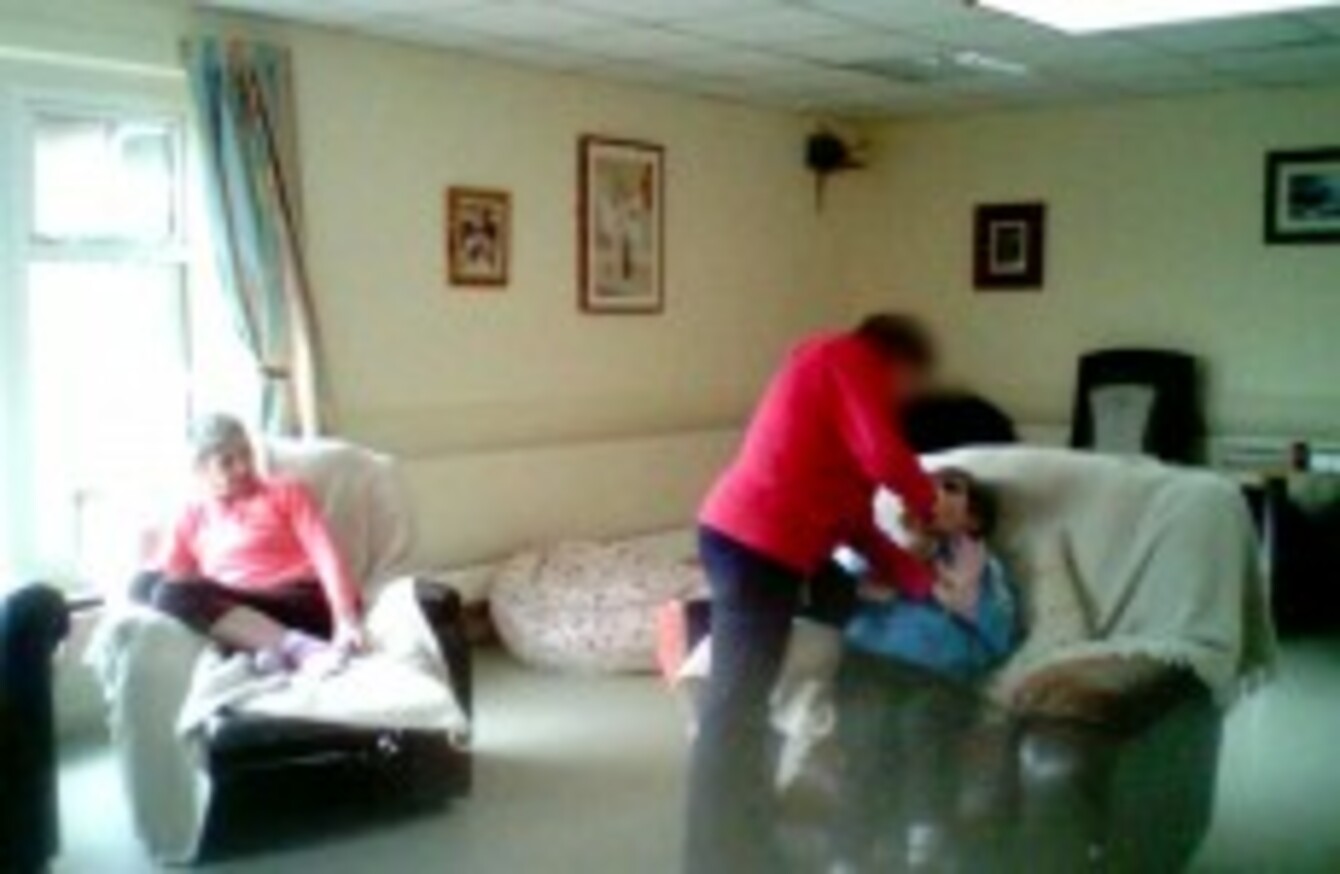 Updated 5.40 pm
"A DETACHED, ISOLATED and ill-informed central management" at the HSE is part of the cause for the disturbing scenes uncovered in the Áras Attracta care home according to the Irish Nurses and Midwives Organisation.
The INMO described the abuse broadcast by RTÉ Prime Time last night as "unacceptable, deplorable, and objectionable". They say the practices are in part because of the failure of the frontline staff involved, the Health Information and Quality Authority (HIQA) and the HSE.
"In relation to intellectual disability services, the HSE has adopted an overt approach of reducing staffing levels, " the INMO said this afternoon. "Too many service related decisions are dictated by a detached, isolated and ill-informed central management."
The union adds, however, that none of this excuses "the individual actions of staff on last night's programme."
Speaking at Leaders' Questions in the Dáil today, Enda Kenny said he cannot give any guarantee that the abuse of some residents at the centre in Swinford, Co Mayo is not being repeated in other care homes.
Kenny said he found the footage "frightening, sickening, infuriating" and added: "I find it absolutely sickening."
Kenny said that in response to the revelations the HSE is convening a meeting next Tuesday to examine whether similar conditions exist in other care homes.
"Can I give a guarantee to the house here today that this has not happened in some other facility? I don't know. Am I supposed to know? I suppose you can say yes.
"So we have to put in place a situation whereby the minister and the HSE have a continuous stream of up to date information."
Fianna Fáil leader Micheál Martin called for an immediate independent inquiry which the Taoiseach "wouldn't rule out" but he noted that there are currently ongoing garda investigations.
The report, by RTÉ's Investigations Unit, included footage captured by a researcher working undercover at the home's 'Bungalow Three'.
It focused on three women in particular — showing how they were threatened, struck and otherwise bullied by nurses and care assistants on duty.
Nine staff members have been suspended since RTÉ made a report to the HSE and gardaí last month.
Measures being considered
Speaking after the footage aired last night, junior health minister Kathleen Lynch Lynch said further processes were needed, in addition to HIQA inspections, to make sure there's no repeat of such scenes.
"Maybe it will take putting in place the type of undercover person that you put in," Lynch said.
There are over 900 [such homes] around the country. I refuse to believe that Áras Attracta is the only one where people are not safe tonight. I think a lot of them are very good but I couldn't give people reassurances on that.
HSE director general Tony O'Brien told RTÉ Radio 1′s Today with Sean O'Rourke they will consider sending undercover staff into centres randomly, 'as many as necessary' but ruled out covert filming.
"I don't think it will be appropriate," he said, "I think it would be wrong for the health service to being covert filming in people's homes."
However, CCTV that can be viewed externally is not being ruled out.
O'Brien described the footage was "truly awful", and compared it to what took place in industrial schools such as Goldenbridge or Letterfrack.
Amongst humanity, there are some people whose true values you only find out when they have power, and the opportunity to abuse that power.
He added that he wanted anyone working in the health service who thinks it is acceptable to behave like the workers in the RTÉ programme "to be afraid".
We will leave absolutely no stone unturned to ensure there is no where that abusers can feel safe working in the health system.
O'Brien also defended the HSE placing staff off-duty without suspending their pay, as proper procedure must be followed, and ruled out him or other senior staff resigning over the revelations.
Following the publication of a damning HIQA report on the care home, staff had been given more than 100 hours of training.
However John Dolan, CEO of the Disability Federation of Ireland said the abuse shown in the secret footage was not about a lack of training.
"People with disabilities, regardless of their health condition or where their place of residence may be, are entitled to high quality services, where those charged with supporting them are not the source of fear or hurt to them," he said.
These are some of the most vulnerable people in our society who are unable to defend or speak for themselves, and it is disgraceful that these serious shortcomings in their care have taken place.
'Something has gone wrong'
Also speaking after the report's broadcast last night, HSE Director of Social Care Pat Healy said he was "disturbed" by what he had seen.
Highlighting a range of measures announced yesterday to ensure such events never happen again, he said that in spite of actions taken earlier in the year to address previous problems at the home "clearly something has gone wrong".
Asked how the HSE could be certain there weren't other 'Bungalow Threes' around the country, Healy said that undercover inspections and undercover filming were being looked at as ways to address that.
He acknowledged that HSE chief Tony O'Brien had already raised the suggestion in a letter to senior staff.
The HSE is to hold a national summit next week in response to the revelations detailed in the report.
- additional reporting from Hugh O'Connell, Nicky Ryan and Rónán Duffy.
First published 9 December 2014