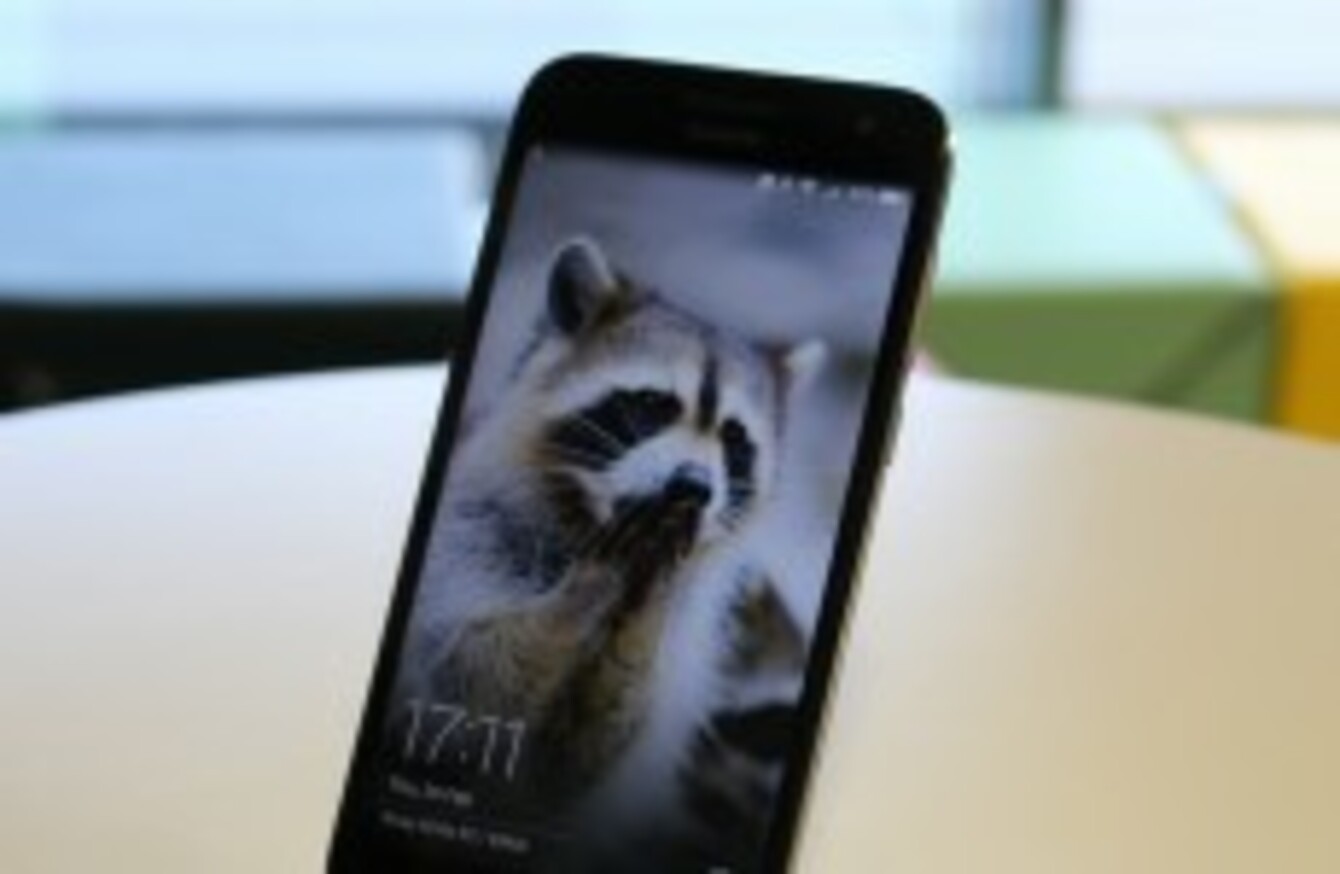 Image: TheJournal.ie
Image: TheJournal.ie
Rating - 7/10
Verdict - A good mid-range device that offers a lot of original touches but is let down by some performance issues.
IF YOU'RE NOT familiar with Huawei, then you're going to hear about it more over the coming months.
Having worked in the background for a while in corporate and research (it's a major player in the broadband sector here), it's started a major push for consumer devices with a mixture of smartphones, wearables and other devices in store.
The Ascend G7 is the first push towards achieving that. It's a low-price, mid-range device that tries to balance both price and quality but does it succeed?
Look and feel
Using a mixture of metal and plastic, the G7 is both large, probably one of the largest mid-range devices with a 5.5-inch screen, and quite nice to hold. It's mostly metallic with the only plastic casing at the top and bottom of the phone.
The reason for this is because it has two antennas at the top and bottom of the phone. When one is in use, the other is free to search for a connection if it drops. It doesn't really interfere with the overall feel of the device, but it is a little noticeable.
And you know what? It's actually quite nice to hold. The screen juts out a little, but it means your finger off doesn't hit the ridge when you want to do an extravagant swipe left or right. More importantly, it's sleek to hold. It mightn't be the same as an iPhone or HTC One, but it's certainly a step up from plastic.
Software
Running on Android KitKat, the software is rather close to what Android is like with its own small changes here and there and a vast collection of different styles to choose from.
Dragging down the notification screen brings them in chronological order instead of prioritising them, and the side of the screen you drag down either brings up notifications or quick settings.
Two taps of the volume button takes a quick photo (with a timer just to show you how fast it was) and drawing gestures to bring up specific apps are all neat little touches that do add to the experience.
There are a lot of nice little touches here and there, but the core isn't as solid.
While playing a game like ZigZag, for example, the phone does experience slow down (which actually made the game easier but that's another story), while certain programmes like Chrome and Photos would crash unexpectedly.
Also, there are a number of pre-installed apps included which you probably won't use, but can't remove. Annoying when you're looking for space.
The camera is pretty solid and includes a few nice options like Afterfocus, which allows you to refocus a photo after taking a shot.
It also takes a somewhat different approach with selfies, adding a panorama mode (really taking your main photo and two other ones to the side) which is useful and the standard beauty modes that exist with the Ascend P7 are also here.
Overall, the camera quality is pretty good and it is fun to shoot rapid-fire shots just to see if it will capture them properly. Most of the photos below were taken with the quick shot option and provided you're not too fussy about quality, they're pretty good.
Hardware
Keep in mind that this is a mid-range device so while it's not as powerful as its more illustrious rivals, there's more than enough to keep you going. For one, the Android software runs smoothly, switching between apps and notifications screens with ease.
Yet that makes the above software problems all the more head-scratching. For all the power it boasts, it can falter with performance with certain games and apps, which is jarring.
Something worth mentioning is the call quality. It's nice and crisp and whether your thoughts about the dual-antennas, it does seem to have an effect. The battery life is pretty good as well with a day and a half usage being reached through normal use.
Huawai Ascend G7

Huawai Ascend G7

Huawai Ascend G7

Huawai Ascend G7

Huawai Ascend G7

Huawai Ascend G7 Camera

Huawai Ascend G7 Camera

Huawai Ascend G7 Camera

Huawai Ascend G7 Camera
Is it worth getting?
It's flawed but make no mistake, the G7 is a great mid-range device. It adds a few new twists to the formula, is genuinely fun to use, and has some nice hardware. There are a few stumbling blocks though, performance being a major one, but not enough to slow it down.
The mid-range market has become rather interesting and with the likes of the Xperia Compact Z3 fighting for space, you're pretty much spoilt for choice.
Pros
- Great design.
- Impressive level of customisation.
- Some nice original touches like app gestures.
Cons
- Performance can falter at certain moments.
- A lot of bloatware on it.
- Camera brightness can be a little inconsistent.
The Huawei Ascend G7 costs €250 (SIM-free) and is available in Meteor, eMobile, and Carphone Warehouse. It will be available in Three and Tesco Mobile from 1st March.