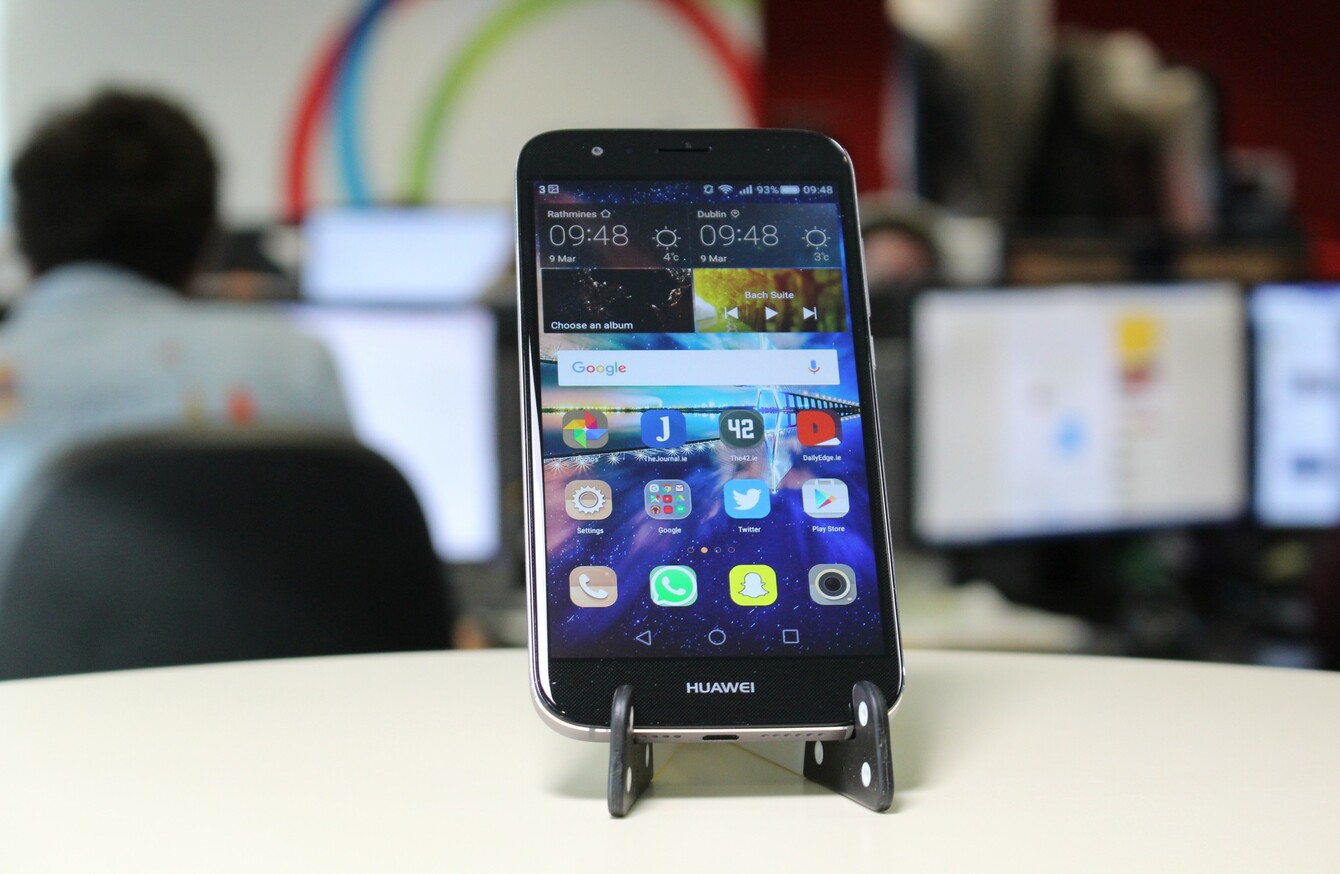 Score: 7/10
Verdict: Another solid device from Huawei with a nicer design but its iOS-like look might not appeal to everyone.
HUAWEI IS CARVING OUT a reputation as a manufacturer with a solid range. While it's eclipsed by the likes of Apple and Samsung, the third-largest smartphone manufacturer is making inroads on the market.
The latest version to arrive is the GX8, a mid-range device that is aimed more towards Pay As You Go (PAYG) users. The company is well-known for its affordable mid-range devices but how much does this improve on previous devices?
Keeping the basics in place
With more smartphones sporting a metal frame, it's probably no surprise that they're becoming somewhat heavier thanks to the materials use and the larger screen they need to have. In the case of the GX8, it's that bit heavier than the norm although not significantly.
The overall design itself is a small departure from the glass and plastic design previous versions used, opting for a metal casing. It's not the most eloquent device out there, but it ditches the blocky rectangular look of previous versions. A welcome change from the all-glass design previous versions used.
Uneven alliance 
Those of you familiar with Emotion, Huawei's version of Android, will likely notice how it tapers the line between the Android build it's based on and a number of features associated with iOS.
Here's it's more of the same. You have the widgets and apps that are very much Android, but alongside that you have square apps icons, a chronological notification, quick search by swiping down on the home screen and quick settings screen combined and music controls.
But there are other nice touches like one-handed use which is activated by swiping the virtual buttons left to right. It's a simple idea but it's an accessible one and handy when in a pinch.
In some ways, the many touches Huawei places on its software work nicely with few hiccups but in others, it can be an awkward fusion between iOS stylings and Android's core.
App icons can look somewhat awkward if they're not already square while Huawei's own take on the standard apps and extra features, while nicely designed, range from the useful to the odd like mirror and magnifier.
The screen is nice and large, taking up 5.5-inches, but doesn't end up being unwieldy. The resolution of the screen is generally solid and you'll find few problems with it.
The camera is decent but nothing to write home about. While it does its job, it usually opts for underexposed photos when in auto mode requiring you to tweak settings a bit. The Apple-like focus icon and ISO toggle do help, but it's more of the same as with previous versions.
There are two new modes for the camera. The first is food mode (photo comparison above), effectively a filter which changes the temperature somewhat, and makeup, a selfie mode which can superimpose changes to your face. This mainly consists of eyelashes and smoother, brighter skin, but neither mode bring anything major to the table.
Huawei GX8 photos

Huawei GX8 photos

Huawei GX8 photos

Huawei GX8 photos

Huawei GX8 photos

Huawei GX8 photos

Huawei GX8 photos
The other areas of importance are the battery and fingerprint scanner. While it's not as comfortable as other examples, the fingerprint scanner works quickly and is quite accurate while the 3,000 mAH battery means you'll comfortably get through the day on it
Should you get one?
While it's a solid performer, recommending the GX8 is only applicable if you're looking for an iOS-like interface on a budget.
While there are many little touches here and there which help it, the design choices mean there's some friction between what it wants to do and what it can do.
Said choices are minor in the greater scheme of things, but it depends on what you're looking for. If it's specs, then it's up there with the best of them but you will have to accept it won't be faithful to Android.
Pros
- Nice large screen and style.
- Good balance between price and specs.
- Some clever design choices like one-handed use.
Cons
- Fusion between iOS/Android sensibilities can be awkward.
- Camera can veer towards underexposure.
- Bloatware includes some odd choices like magnifier and mirror apps.
The Huawei GX8 costs €360 (SIM-free) and is available in Meteor, eir, and Tesco Mobile (coming soon to Three).