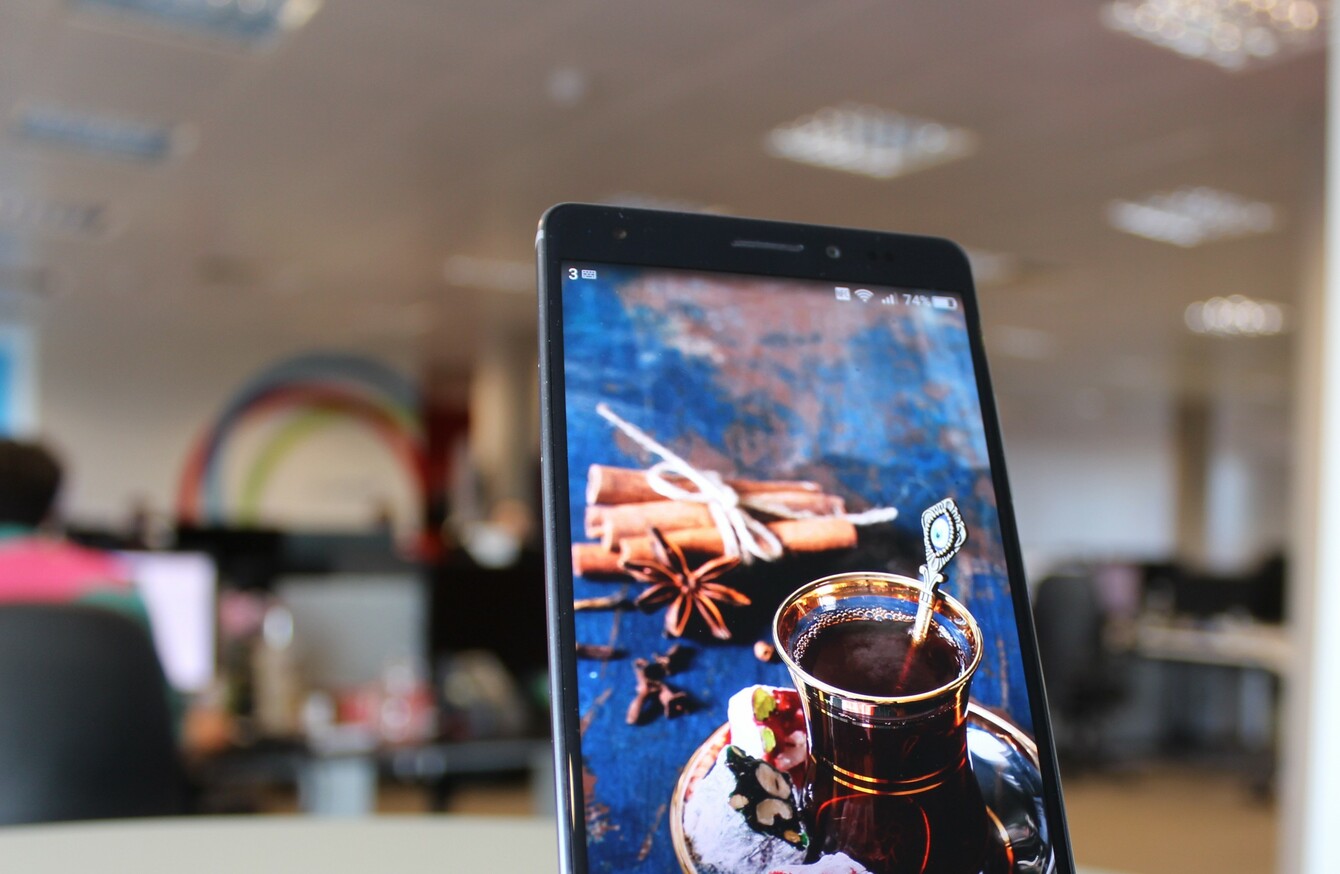 Score: 7/10
Verdict: Good hardware, good camera, but it's left in no-man's land between affordable and flagship.
IT'S BEEN A BUSY period for Huawei. At the start of the year, it had the mid-range GX8 before releasing the P9 shortly after. After that, many companies would be happy to keep it at that but now the Mate S, a device that nestles itself in-between the P9 and GX8, has also been released.
Announced back in September, it has only made its way to Ireland in recent weeks but how does it fare in a crowded market?
Getting the right build
To its credit, the Mate S is a well built device. It shares more in common with the higher end Huawei devices including the impressive Nexus 6P.
If the design wasn't rough around the edges, a somewhat literal criticism as the flat sides does make it less comfortable to hold, it would be up there with the best of them.
Yet despite that, it does feel rather compact considering it's a 5.5-inch device and it's one of the stronger parts of what is a very solid build.
The fingerprint scanner is probably placed a little too high for easy access but it does bring it with a number of ideas. Things like swiping it down to bring up notifications may seem insignificant but they're useful. 
Great hardware, same old problems
If there's one part that the Mate S really excels, it's performance.  You can have numerous apps open and it won't have much problem keeping up with whatever you throw at it.
In day-to-day use, you certainly won't have any trouble running the more intensive games and titles like Lara Croft GO are incredibly smooth to play. Combine that with a sharp 1080p screen and on the surface, it shapes up pretty nicely.
Yet one of the major cons, and one that's been covered here enough times, is Huawei's software Emotion. In short, it follows Apple iOS's template, but uses Android and is generally inconsistent with its ideas. When they work, they're usually Huawei's own ideas, but it falters when it tries too hard to be iOS.
There are other elements that have potential but don't quite make it like split-screen mode which is limited as it only works with Huawei's own apps. The lack of third-party integration is a missed opportunity for it.
The other annoying part is its insistence on telling you to shut down apps to conserve battery life. Using only Spotify yet getting a notification telling you to turn it off to conserve battery power gets annoying rather quickly.
And those notifications aren't appearing for no reason either. A single charge will just about get you through the day, even when you take its advice.
So much of the Mate S is really repeating what went before it. The software is still running on Lollipop so it feels a little dated when compared to the P9 but even putting that aside, Emotion is still an uneasy union of Android core and iOS looks.
The camera is generally good. The rate in which smartphone cameras have progressed in the past few months means it doesn't match the best ones, but it's still very solid all the same.
It helped that the weather was mostly sunny when testing it as the camera tends to exaggerate the colours a little, something that doesn't fare as well in dull conditions.
#Open journalism No news is bad news Support The Journal

Your contributions will help us continue to deliver the stories that are important to you

Support us now
Huawei Mate s photos

Huawei Mate s photos

Huawei Mate s photos

Huawei Mate s photos

Huawei Mate s photos

Huawei Mate s photos

Huawei Mate s photos
Should you buy one?
The Mate S is one of the better performing devices out there and has the hardware to back it up, placing it on a middle ground between flagship and mid-range.
Yet that could be its biggest stumbling block. It already covers a lot of the same ground as the GX8 and P9 meaning the main question is what your budget is. If this came out before the spring, the decision would be more straightforward, but you can get very similar devices for cheaper or go the extra mile and pay for a higher-end device.
A lower price would make this a more attractive proposition, but you should take a few things into consideration first before you part with your cash.
Pros
- Good, solid build.
- Great hardware and screen.
- Some nice little touches with software.
Cons
- Emotion UI still a mess.
- Battery life iffy.
- Very little to differentiate itself from GX8 and P9.
The Huawei Mate S costs €459 on prepay/starts at free on billpay and is available in Three.