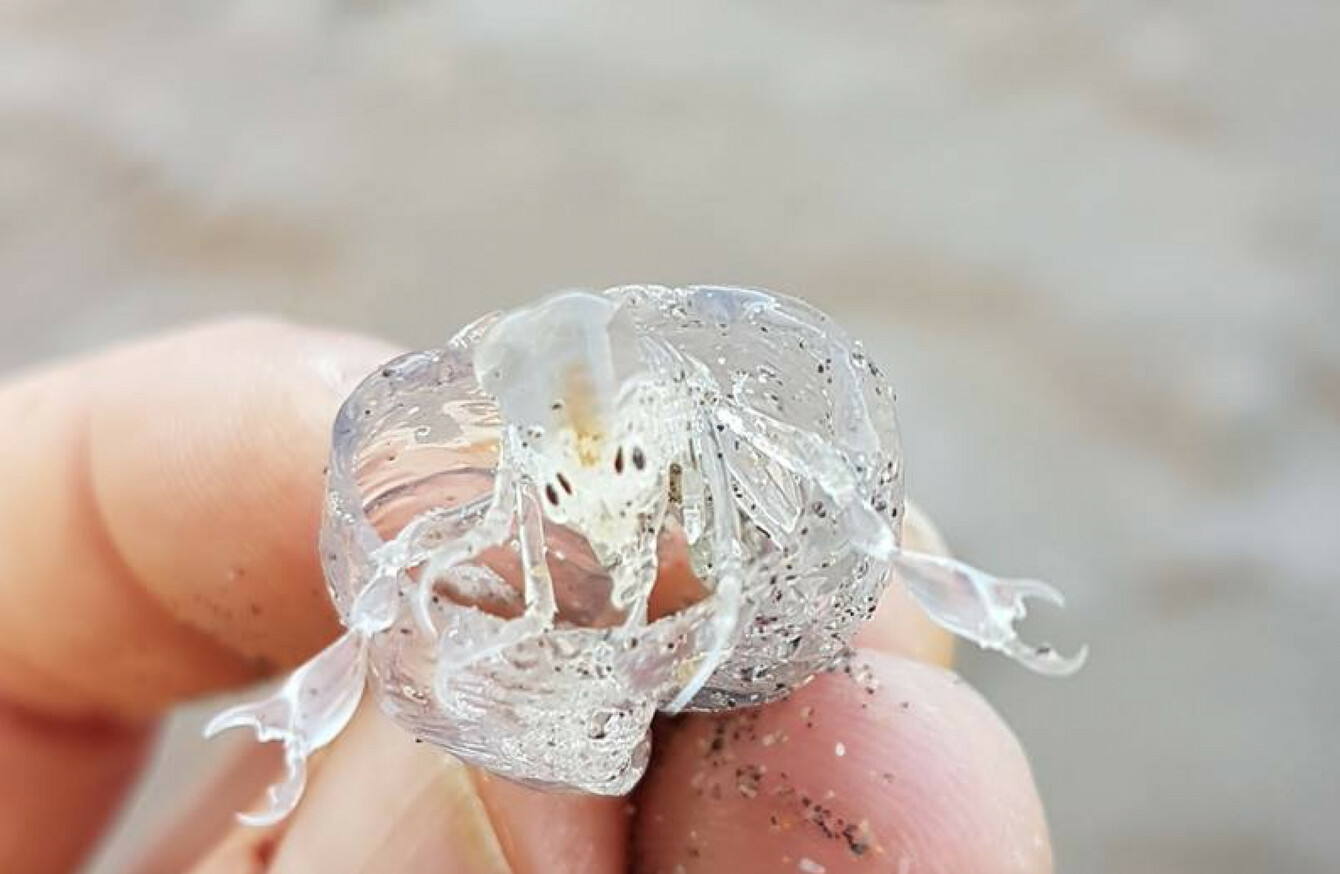 A Phronima on Ventry Beach, Co Kerry
Image: Britta Wilkens
A Phronima on Ventry Beach, Co Kerry
Image: Britta Wilkens
HUNDREDS OF PHRONIMA – said to have inspired the chest-bursting creature in the film Alien – have washed up on a beach outside Dingle, Co Kerry. 
Found throughout the world's oceans – except in polar regions – these parasites swim in open water and were discovered last week along Ventry Beach outside Dingle by local Britta Wilkens.
Wilkens noticed that hundreds of these translucent, "barrel-riding parasites" had washed up along the shore. 
Phronima survive by targeting salps - barrel-shaped zooplankton similar to jellyfish – consuming the salp from the inside out and climbing inside their shell. 
"It was the sheer amount of them that was staggering," says Wilkens. "There were about 200 of them on the beach."
Wilkens had previously only spotted one or two Phronima on Ventry beach in the past, she says. 
'It's very unusual'
Phronima bear a resemblance to – and are said to have inspired – the fleshy creature that bursts out of the character Kane's chest – played by the late John Hurt – in the 1979 film Alien. 
Marine biologist Ger O'Donoghue says that there are currently 12 Phronima being kept in quarantine at the Dingle Oceanworld.
"It's very unusual. They wouldn't usually be this far North but sometimes they do get moved up."
The last Phronima were found in 2013, says O'Donoghue. The creatures travel in columns, linked together by the salp shells. 
Technically the salp is still a living organism even after the Phronima climbs inside it, says O'Donoghue.
Once the salp hits fresh air, however, it dies. But the Phronima lives on, he says. 
"The parasite itself still actually lives. It's still moving around at the moment."
"We don't actually know how long it is going to live for. Very little is known about them unfortunately."
Dingle Oceanworld aim to study the Phronima parasites further "if they last long enough."