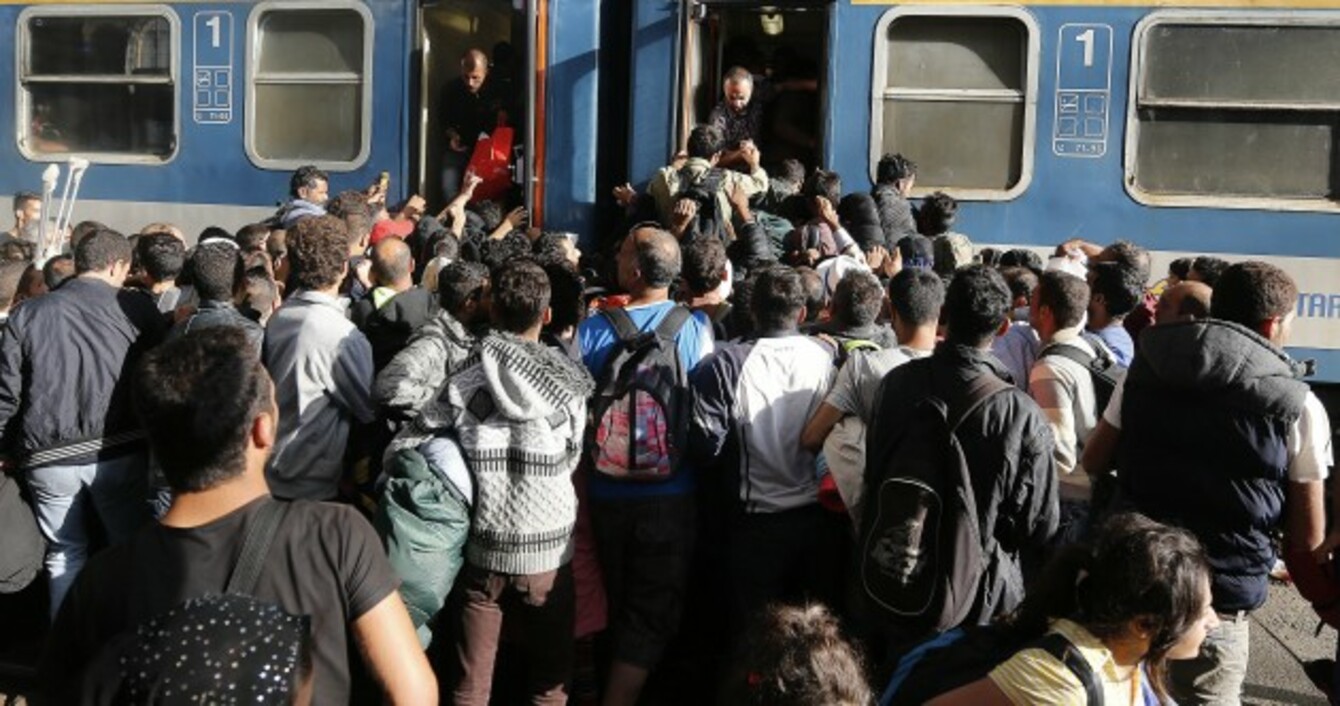 Hundreds of migrants trying to board a train at a station in Budapest, Hungary.
Hundreds of migrants trying to board a train at a station in Budapest, Hungary.
Updated: 9.08pm
HUNGARIAN PRIME MINISTER Viktor Orban insisted today that the migrant crisis is a German problem, not a European one as he defended his government's handling of thousands of refugees flooding into his country.
There were chaotic scenes at a train station in Bicske near one of Hungary's four main refugee camps earlier today as hundreds of people refused to get off a train to be taken to a refugee camp.
When they boarded the train they believed it would take them near the Austrian border but it stopped instead at Bicske where hundreds of police were waiting to remove them from the train and take them to the camp.
The country is a key entry point for tens of thousands of migrants entering the EU but at a press conference with European President Martin Schulz today Orban said:
The problem is not a European problem, the problem is a German problem.
"Nobody wants to stay in Hungary, neither in Slovakia, nor Poland, nor Estonia. All want to go to Germany. Our job is just to register them."
"We have clear cut regulations at the European level," Orban continued. "German Chancellor (Angela Merkel) … said yesterday that nobody could leave Hungary without being registered," he added.
"If the German chancellor insists that we register them, we will, it is a must.
Speaking in a conference in Switzerland after Orban's comments, Merkel said her country was doing what is "morally and legally required, nothing more and nothing less".
Orban is one of a number of leaders refusing to accept the plan for compulsory quotas for asylum seekers. A razor wire fence has been built along his country's border with Serbia in a bid to halt the influx and police have been clashing with people as they attempt to force their way across.
The UN has said most of the people travelling from the Middle East to Europe are refugees, though a small number are economic migrants.
Orban took part in talks with European Commission chief Jean-Claude Juncker and with EU president Donald Tusk who warned earlier that divisions between member states threatens to scupper efforts to find a common response.
Junker is expected to unveil a plan to relocate 120,000 refugees from Italy, Greece and Hungary.
'Greedy'
Meanwhile, a Ukip candidate has come under for reportedly tweeting that a young Syrian boy who tragically washed up on a Turkish beach died because his family were "greedy for the good life in Europe".
Bucklitsch ran in Wimbledon for the right-wing party in the UK general election in May, getting more than 2,500 votes.
A Ukip press officer told The Huffington Post the issue "had been highlighted", but refused to issue a comment as the party were still trying to get in touch with Bucklitsch.
#Open journalism No news is bad news Support The Journal

Your contributions will help us continue to deliver the stories that are important to you

Support us now
Irish response
The Irish government has indicated Ireland will do more to help with the crisis, with Minister for Public Expenditure and Reform Brendan Howlin saying this morning that he was sure we would take more than the allocated quota of 600 people.
Taoiseach Enda Kenny also told reporters that the government will approach the situation with "a flexible mind".
Speaking about the pictures which emerged yesterday of the dead Syrian toddler, Kenny said:
The picture is absolutely shocking. Any parent would see that child in their own arms, the body of young boy, a life lost – that picture more than any I've seen of all the tragedies, may well shock political processes into taking action here, in terms of the streams of migrants and the causes that underlie that.
"I think past experience is that countries will not measure up if they are asked to do so purely voluntarily – it may well be that they are going to have to work out formula to say what numbers are appropriate for each individual country and then get on with having plan and strategy that can deal with that catastrophic human situation in proper and fitting fashion," he said.
The Department of Justice said Ireland will "not be found wanting and as before will do the right and generous thing commensurate with our size and our capacity".
We are open to accepting additional migrants and will participate fully in the range of responses needed to address this global humanitarian crisis.
Portugal also said today it was ready to welcome a greater number of migrants than the proposed 1,500. However British Prime Minister David Cameron is resisting growing pressure to accept a bigger share of Syrian refugees.
Though he said he had been deeply moved by images of the three-year-old Syrian boy, he asserted that the solution is not simply "about taking people, it's got to be a comprehensive solution".
- © AFP 2015 With reporting by Michelle Hennessy.