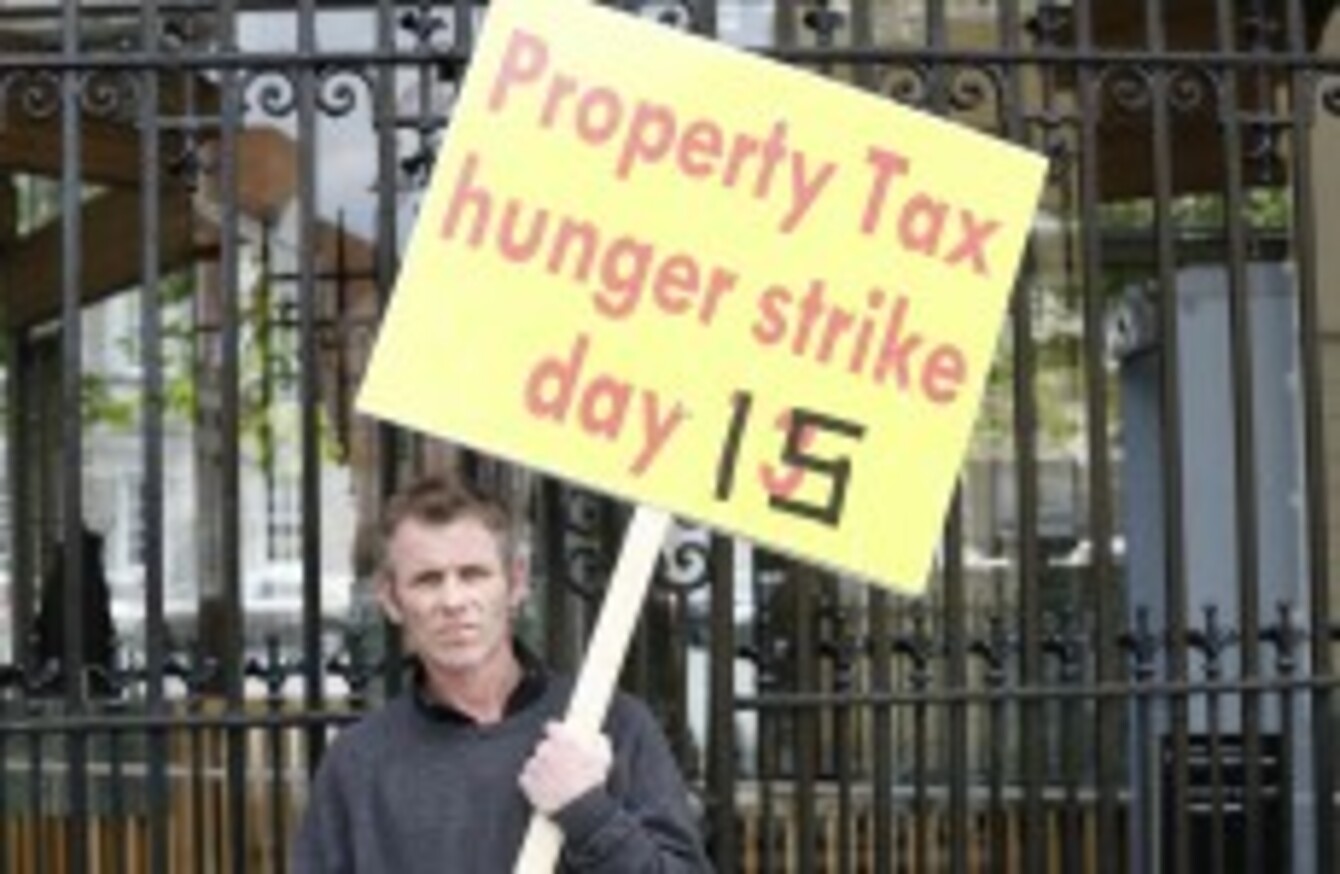 Rochford during his hunger strike, outside the Dáil
Image: Sasko Lazarov/Photcall Ireland
Rochford during his hunger strike, outside the Dáil
Image: Sasko Lazarov/Photcall Ireland
A MEATH MAN who spent 23 days on hunger strike over the property tax before ending his protest on medical advice last month is hoping to send a strong message to politicians with a new action planned for September.
The 45-year-old is planning on forming a human chain around the gates of Leinster House to prevent TDs from entering, and he's calling on "anyone who has an issue" with current government policy to join him.
So far, 595 people have signed up to do so since Rochford set up a Facebook page for the planned event yesterday morning. He has a further 166 'maybes'.
He said the numbers were "not bad" for one day, but that he was planning to drum up further support by speaking to various groups around the country in the coming weeks.
Rochford told TheJournal.ie his number one priority was to stop the Government from heaping more pain on taxpayers already pushed to the brink as a result of the downturn, and he said the coalition had been "walking up and down on the Irish Constitution" since its election.
Asked whether he was fearful gardaí would be compelled to act if protesters tried to prevent Dáil members from accessing Leinster House through any of its entrances, Rochford said there was "no doubt" they would try, but he called for members of the force to join with protesters in a "blue flu" action:
We need the gardaí to join here, and the military too. They're feeling the pain as much as anyone these days.
A home improvement contractor by trade, Rochford says he was not entitled to state support after most of his work dried up in 2008, due to his self-employed status.
He had managed to keep his home in Trim out of arrears, but his refusal to pay the property tax means he's now not entitled to a tax clearance cert – leaving him without the ability to earn an income of any kind.
Rochford met with two Fine Gael TDs after ending his hunger strike action, and says he also had an "unproductive" phone call with Taoiseach Enda Kenny in recent weeks.