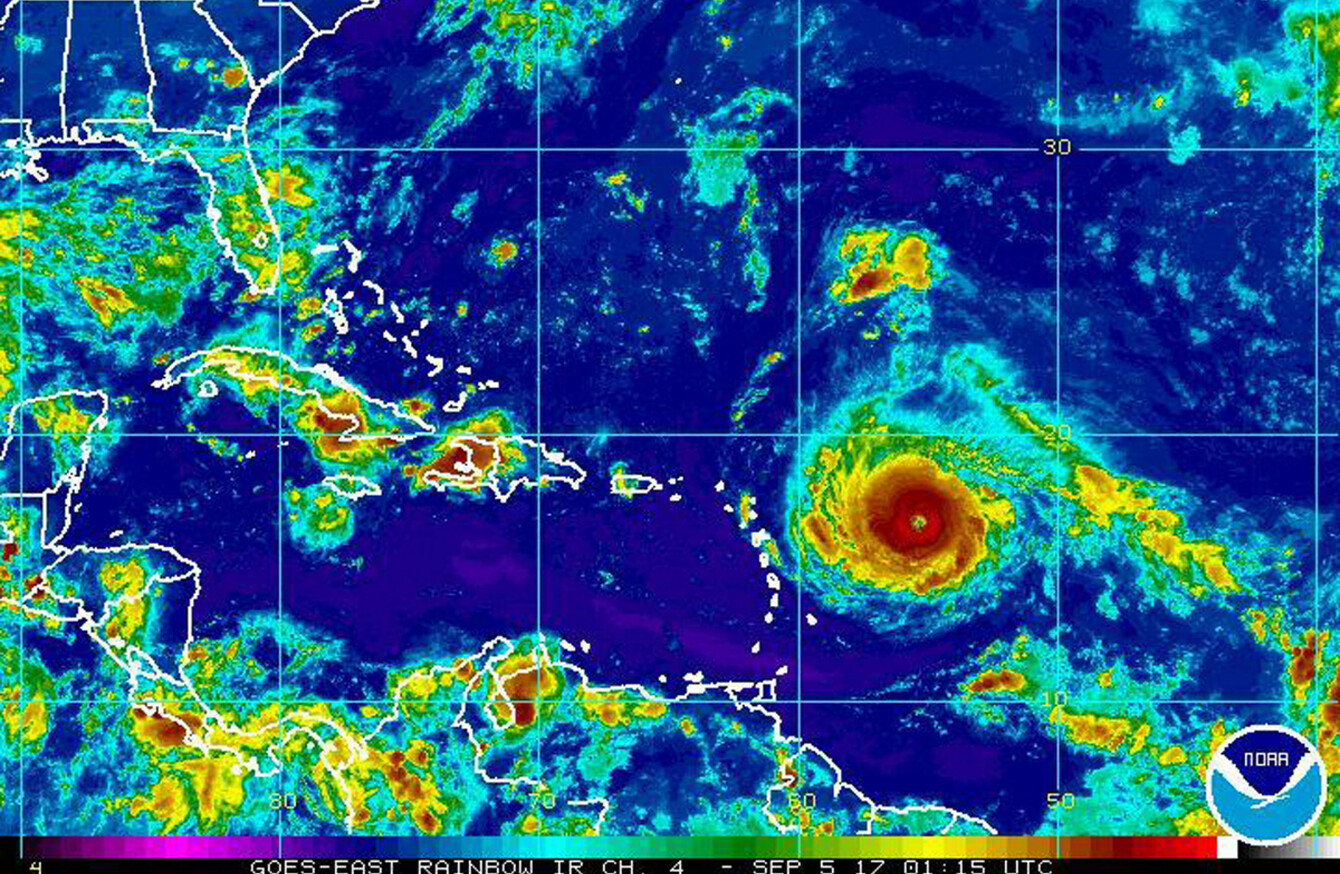 Image: NOAA via AP
Image: NOAA via AP
Updated at 3.10pm
IRMA PICKED UP strength and has become an "extremely dangerous" Category Five hurricane, as it moved toward the Leeward Islands early this morning, sparking alarm and alerts from the Caribbean to Florida, which declared an emergency.
"Preparations should be rushed to completion in the hurricane warning area," the National Hurricane Center said in its 12.00pm GMT bulletin.
The monster hurricane, the most powerful of the five-level Saffir-Simpson scale, is about 440 kilometres east of the island of Antigua packing maximum sustained winds of 280 kilometres per hour.
Irma is expected to make landfall along the string of French islands that includes Guadeloupe late today before heading to Haiti and Florida.
The storm was moving towards the west at 22 kilometres per hour, and is expected to drop between four and 10 and 20 centimetres of rain when it hits land.
"These rainfall amounts may cause life-threatening flash floods and mudslides," the NHC warned.
The storm is also is expected to "cause life-threatening surf and rip current conditions".
Irma, which has triggered alarm and alerts from the French West Indies to Florida, comes after of Hurricane Harvey devastated parts of Texas and Louisiana late last month.
US carrier in position 
A US aircraft carrier with a field hospital and dozens of aircraft able to conduct rescue or supply missions has been positioned protectively in the area, according to Alejandro de la Campa of the Caribbean division of the US Federal Emergency Management Agency (FEMA). Local press identified the carrier as the USS Kearsarge.
San Juan Mayor Carmen Yulin Cruz Soto ordered 900 municipal employees – police, emergency personnel, and aid and social workers – to report for rotating 12-hour shifts.
Even if that island is spared a direct hit, the mayor said, three days of pounding rain will do heavy damage.
Irma's precise path remains unclear. But several projections have it passing over the Dominican Republic, Haiti and Cuba before turning north toward Florida and then possibly swinging up the US East Coast.
Scrambling amid the uncertainty, Florida declared a state of emergency to facilitate preparations.
For now, hurricane warnings have been issued for the islands of Antigua, Barbuda, Anguilla, Montserrat, St. Kitts and Nevis, St. Martin, Sint Maarten, St. Barthelemy, Saba and St. Eustatius; the British Virgin Islands; US Virgin Islands; Puerto Rico, Vieques and Culebra. A warning means hurricane conditions are expected in the next 36 hours.
Anne Laubies, prefect of Saint Barthelemy warned the hurricane posed the greatest danger the island had faced in 20 years with more people endangered in flood-prone areas because of a rise in population.
Long queues of people rushed to get batteries and bottled water, while many cut trees around their dwellings and sought to tie down objects and caulk their windows.
A hurricane watch – meaning hurricane conditions are possible within 48 hours – has been issued for Guadeloupe.
Irma is expected to produce total rainfall accumulations of 7.6-15 cm across the Leeward Islands, with isolated maximum amounts of 25 cm across the northern Leeward Islands.
- © AFP 2017.