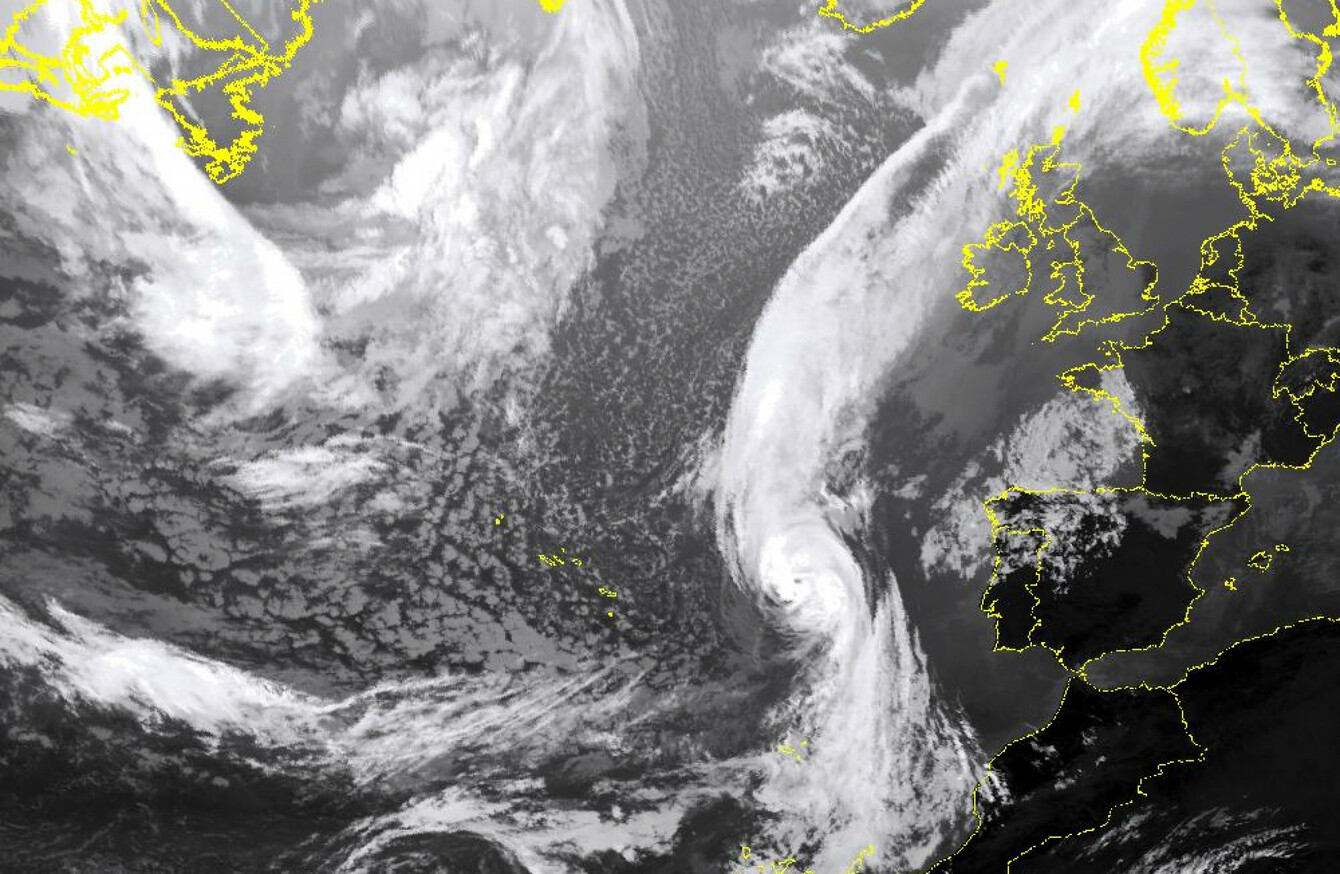 Updated at 0.05am
MET ÉIREANN HAS issued a status red weather alert for the entire country as Ireland braces itself for the arrival of Hurricane Ophelia.
"Ex-Hurricane Ophelia is forecast to track directly over Ireland during daytime Monday. Violent and destructive gusts are forecast with all areas at risk and in particular the southwest and south in the morning, and eastern counties in the afternoon," Met Éireann said on Sunday evening.
"Also heavy rain and storm surges along some coasts will result in flooding.
There is potential risk to lives."
The warning was initially for eight counties along the west and the south of the country before being extended.
The Department of Education said that as a result of the warning all schools, colleges and other education institutions will be closed on Monday.
Meteorologist Joanna Donnelly said in a bulletin that Ophelia could have a serious impact when it hits.
"This is not the remnants of a hurricane, this is an actual hurricane – it's coming our way," she said.
We're looking at devastating impact and the potential for devastating impact for all counties tomorrow.
Ophelia is the most powerful storm to have ever been this far east in the Atlantic. It is due to hit Irish shores at about 6am.
As it progresses from the south up through the country, hurricane force winds and gusts of 120km/h are to be expected.
At the meeting of the National Emergency Coordination Group on Sunday, meteorologist Evelyn Cusack said that at the very least, coastal flooding should be expected due to exceptionally high waves.
There have been widespread bus, flight and ferry cancellations also as a result of the storm.
Guidelines  
Following its meeting, the National Emergency Coordination Group released guidelines for people in affected areas.
Sean Hogan, national director for fire and emergency management, said that that storm was expected to match or exceed Hurricane Debbie in in 1961.
"The nature of the extreme weather conditions are expected to be comparable with or perhaps exceed those of Hurricane Debbie in 1961 when 11 deaths occurred with a similar type storm," he said.
People are being told not to travel in status red areas at the height of the storm unless it's absolutely necessary.
ESB is warning that power outages are likely to occur in certain parts of the country, with contingency planning in place.
People are warned to stay away from fallen cables that may have broken in the high winds.
The orange warning will see less severe winds in other parts of the country, but people are advised to take no risks and remain vigilant.
"Mean wind speeds between 65 and 80 km/h with gusts between 110 and 130km/h are expected, however some inland areas may not be quite as severe," Met Éireann said.
The winds have potential to cause structural damage and disruption, with dangerous marine conditions due to high seas and potential flooding.
Hurricane arrival 
Ex-Hurricane Ophelia is set arrive in Kerry at about 6am tomorrow morning.
Gale to storm force southerly winds will occur with severe and damaging gusts – winds strongest along southern counties with the risk of storm surge here, along with very high seas.
Structural damage is possible anywhere and people are being told that these are life-threatening conditions. Heavy rainfall and localised flooding is also a possibility.
The storm will track northwards Monday night and is due to exit Irish coastal waters before midnight.
Rain can be expected over the country throughout Sunday night.
With reporting from Cormac Fitzgerald and Christine Bohan.