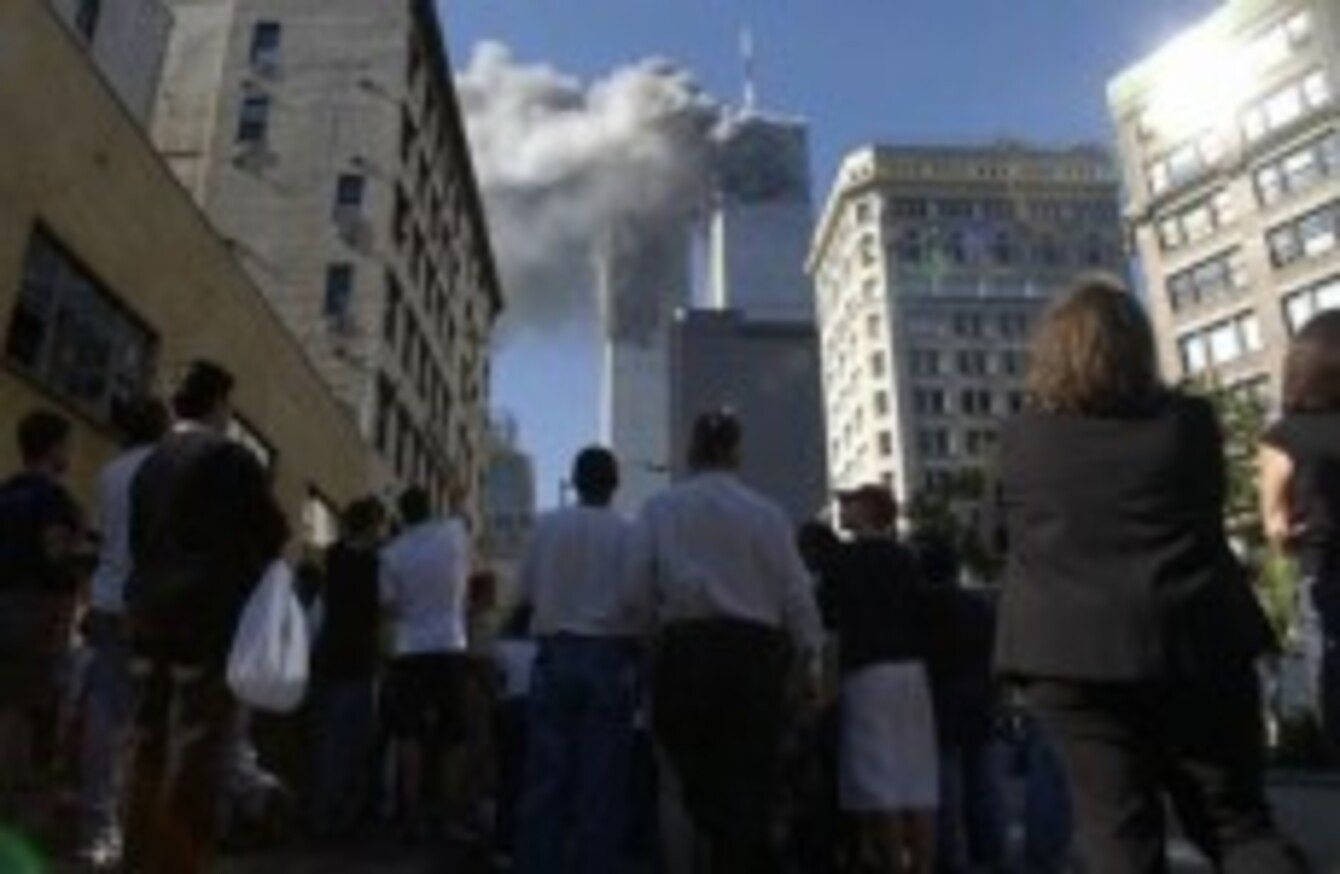 Image: AP Photo/Amy Sancetta
Image: AP Photo/Amy Sancetta
AS DEFINING QUESTIONS go, "Where were you when you heard what had happened on 9/11?" is a major one for this generation (in the western world, at least).
TheJournal.ie has heard from several high-profile Irish people, some of whom have strong links to the US. Tenor Ronan Tynan should have been in the Pentagon that morning but he slept in. Irish publisher in New York, Niall O'Dowd, thought at first that his adopted city had been hit by a nuclear attack. Author Joseph O'Connor was in Berlin – but couldn't believe that the building where he had swum daily in a gym when he lived in New York had tumbled to the ground in one morning.
Irish tenor Ronan Tynan, who will be singing at the NYFD memorial service at St Patrick's Cathedral in Manhattan this morning:
I vividly remember 11 September 2001. I had just sung for the White House delegation the night before in Union Station. There were 1,000 people there including President Bush, his mother Barbara and his wife Laura, as well as Dick Cheney.

The next morning I was to be at the Pentagon to meet up with an Admiral of  the US Navy regarding the 50th Anniversary of the Navy Brass Band. My appointment was at 10.15am but I slept it out and then a call came from the Pentagon to stay in the hotel as there had been a plane crash.

I got back to New York the day after the attack and offered my services as a doctor. I was told there were no shortage of medical staff – but that what they needed was morticians.

So I volunteered and served food to the firefighters and the NYPD the next day, singing for them while I served. It was so sad and the smell and dust was stifling but it didn't matter to those brave men and women. There are not enough of adjectives to describe their greatness.

I sung at countless memorials and funerals in the aftermath; It was the least I could do for a country which has been so generous to me.

Sometimes I would sing at a memorial Mass for a fireman and while the Mass was taken place news would filter through that they had found the body for whom the Mass was for. It was so tragic it's even difficult writing about it. I've just sung for a memorial last night in New York which combined all losses from the FDNY, NYPD, Port Authority and FBI. I don't the families will ever really get closure.

I lost four friends who were firefighters, larger than life men. I will never forget them or that tragic day.
Niall O'Dowd, publisher of The Irish Voice and IrishCentral.com and a prominent figure in the Irish-American community in New York:
I'll never forget it for two reasons. It was the first time I ever voted in America, in the Democratic primary for New York Mayor and I had marked it a special day. On the way home a work colleague called and told me what was happening.
The second was the scene on the roof of my apartment building as we gazed downtown at the massive pillars of smoke. Some people were on their knees praying. Someone else said it might be a nuclear explosion. For the first time I wondered if my life was coming to an end.
Author Joseph O'Connor, who lived and travelled in and wrote about the US throughout the 1990s:
On 11 September, 2001, I was on a book promotion tour in Germany. I remember arriving at the hotel in Berlin and going straight to an interview. The journalist mustn't have known what had happened in New York because she didn't mention it. Nobody did. When the interview was over, I went up to the room and slept for a while. Then I switched on the television.

The screen was showing an aerial shot of one of the towers and at that very moment the building started to collapse, falling in on itself in that cloud of smoke and dust. I thought I must be watching a scene from a film. Then I remember switching channels, and all the other channels were showing the same thing.

I knew the building pretty well because during my first visit to New York, in 1992, I had gone there every day to use the swimming pool in the gym on, I think, the third or fourth floor. So I knew from first hand just how immense and seemingly indestructible that building was. Being inside it, you felt you were inside a town, not a single building. To see it fall was absolutely shocking, like seeing a mountain collapse. I know I'll never forget it.
Eddie O'Sullivan, currently head coach of the US team at the Rugby World Cup:
I was Assistant Coach to Ireland and at Dublin Airport waiting to board a flight to Cardiff to scout a rugby game that evening. I was in the middle of lunch in the restaurant when the waiter came and told me there was a terrible accident occurring in New York. "A plane has crashed into a building", he said. Minutes later he again returned to the table and said, "There's another one gone in!"

Immediately it dawned on me that this wasn't an accident. I rushed to the nearest TV to see the horrors of 9/11 unfolding live on Sky News. It was almost surreal trying to remind myself that this was real and not a scene from a disaster movie. People gathered around the TV in hushed disbelief not sure what to say or do. Nobody will forget where they were on 9/11.
#Open journalism No news is bad news Support The Journal

Your contributions will help us continue to deliver the stories that are important to you

Support us now
Tommy Smyth is a first-generation Irish-American and an ESPN pundit:
I was actually in Bristol Conn in the Clarion hotel. It was Champions League day so I was there to do games on ESPN that day. Treasa my wife called me to say, 'Have you seen the TV – New York has been attacked. I switched on the TV, not fully awake, just as the first tower went down. I thought this must be a horror movie and then I came to the realisation that it was real.

To see the second tower go down… I was stunned and actually got physically sick. So many things came to mind. Over the years it was always a great pride of mine to take visitors to the top of the towers. I had been up them so many times I still to this day cannot understand how they caved in like they did. Also because of my involvement with the New York City Saint Patrick's Day parade and the police and fire departments' GAA teams, I knew so many of the people who were fighting to save people.

I had met Fr (Mychal) Judge (the NYFD chaplain who became one of the first recognised victims of the attacks) many times. At one point, the TV showed him and I knew right away who he was. Then, in a couple of minutes, he was dead. In the aftermath we had a neighbour, John Breen, who is a fireman. His mom is from Cavan (she was actually in Cavan at the time of 9/11). The next day he came walking down the street black from soot and not knowing where he was: He had actually made it home to Wueens. He was in the second tower when it went down. Somehow he  slid down a steel beam to land on top of the pile of rubble.

The disaster was just so raw that for about two weeks after Treasa was doing her news on Ireland Calls, she read a story that said Damien Meehan's body been found. I had known Damien from when he played underage football in GP and that was the first I knew that he was even missing. To this day I always wonder how many more I knew who were killed and I don't even know they are gone.

New York has been home to me for 48 years. I could not believe that it could be ravaged like this in a couple of hours. Would you believe I have never gone to Ground Zero? I just cannot take myself to face up to the reality of what happened on the most horrible of days.