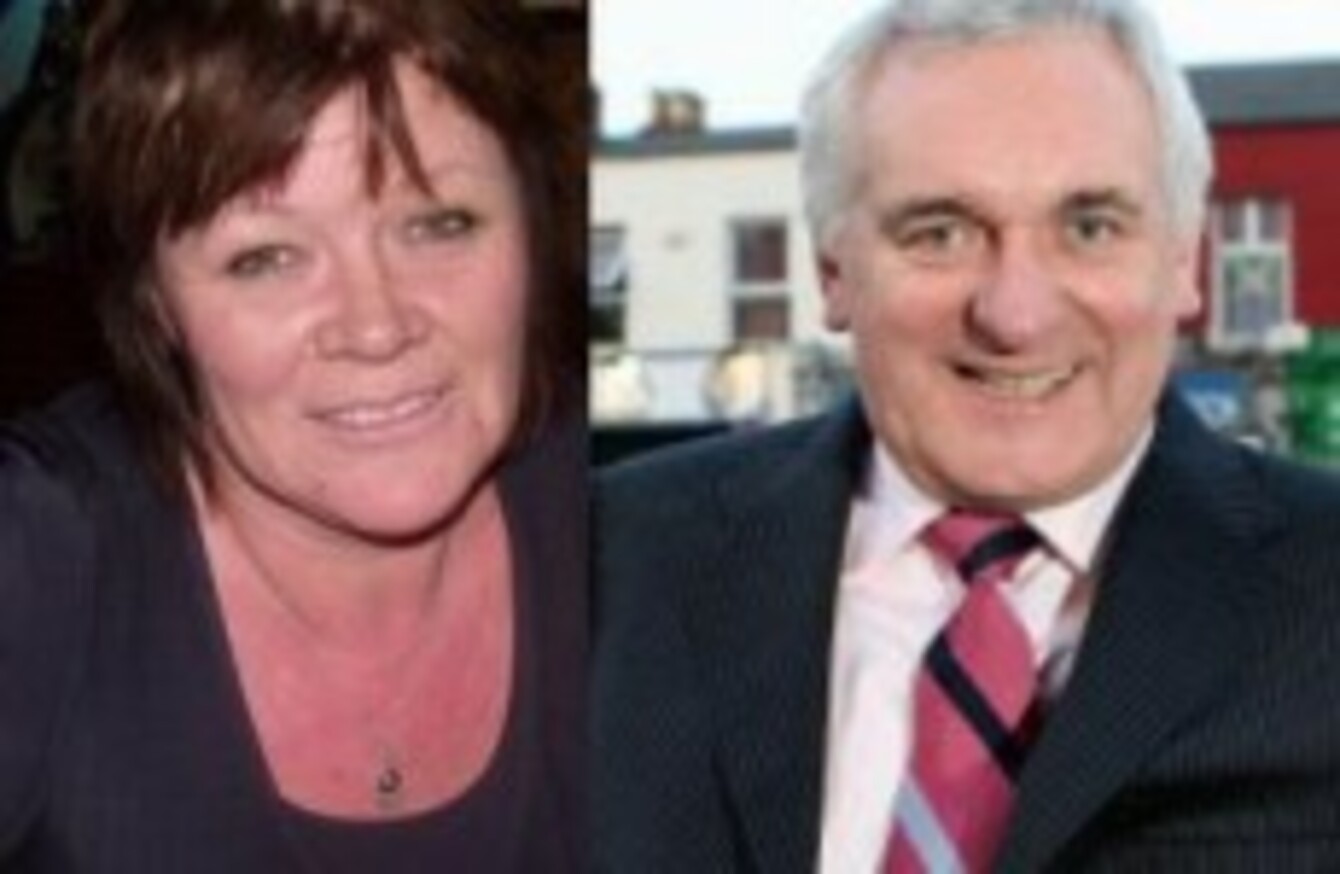 Cllr Joan Collins, left, was incensed by Bertie Ahern's "smug" face
Image: Joan Collins/PA Images/Julien Behal via Facebook and PA Images
Cllr Joan Collins, left, was incensed by Bertie Ahern's "smug" face
Image: Joan Collins/PA Images/Julien Behal via Facebook and PA Images
A DUBLIN CITY councillor who interrupted a radio interview with Bertie Ahern to criticise the former Taoiseach has said she did so because she was "incensed" by his "smug face".
Councillor Joan Collins, who is running under the People Before Profit Alliance banner in Dublin South Central in the upcoming general election, said she had not gone to Leinster House with the intention of tackling outgoing TD Ahern. She told TheJournal.ie:
We were there doing a press call on people's wages at the end of the month and how they have been hit. We were just standing there when Bertie Ahern appeared with his smug face on him doing an interview about his last day in the Dail.

I was just incensed.
Collins interrupted the interview Ahern was doing with RTE News to tell him that he should be ashamed of himself. "Shame on you," she said. "Thank you," replied Ahern.
Collins said that she then had to walk away from the situation because she was so angry.
When Ahern was asked by his interviewer if this was the kind of anger that Fianna Fail TDs were going to face on doorsteps during the election campaign, Ahern answered:
Well it is, but I have to say that outside here this happens every day because people come along here to try and get themselves on TV and radio.
Responding to Ahern's comment about his critics being people who might be trying to "get themselves on TV and radio", Collins told TheJournal.ie:
That's contemptuous. This is an example of people like him living in their bubble. We have to burst that bubble and I'd ask people to just go out on the 25th of February or whenever the election will be and vote.
The interview with Ahern revealed that one of his biggest regrets was that the so-called Bertie Bowl had never been built. As he left the Dail where he had been a TD for 34 years, he said that he "would have loved if somebody somewhere had told me what was going on in the banks in this country but nobody ever did".
On the other hand, he said, he deeply regretted that "little countries like Qatar and Kuwait" were able to build "their ten stadiums and we never succeeded in getting one national stadium". You can watch Bertie Ahern being interviewed on these issues and more on his last full day at the Dail on the RTE website.