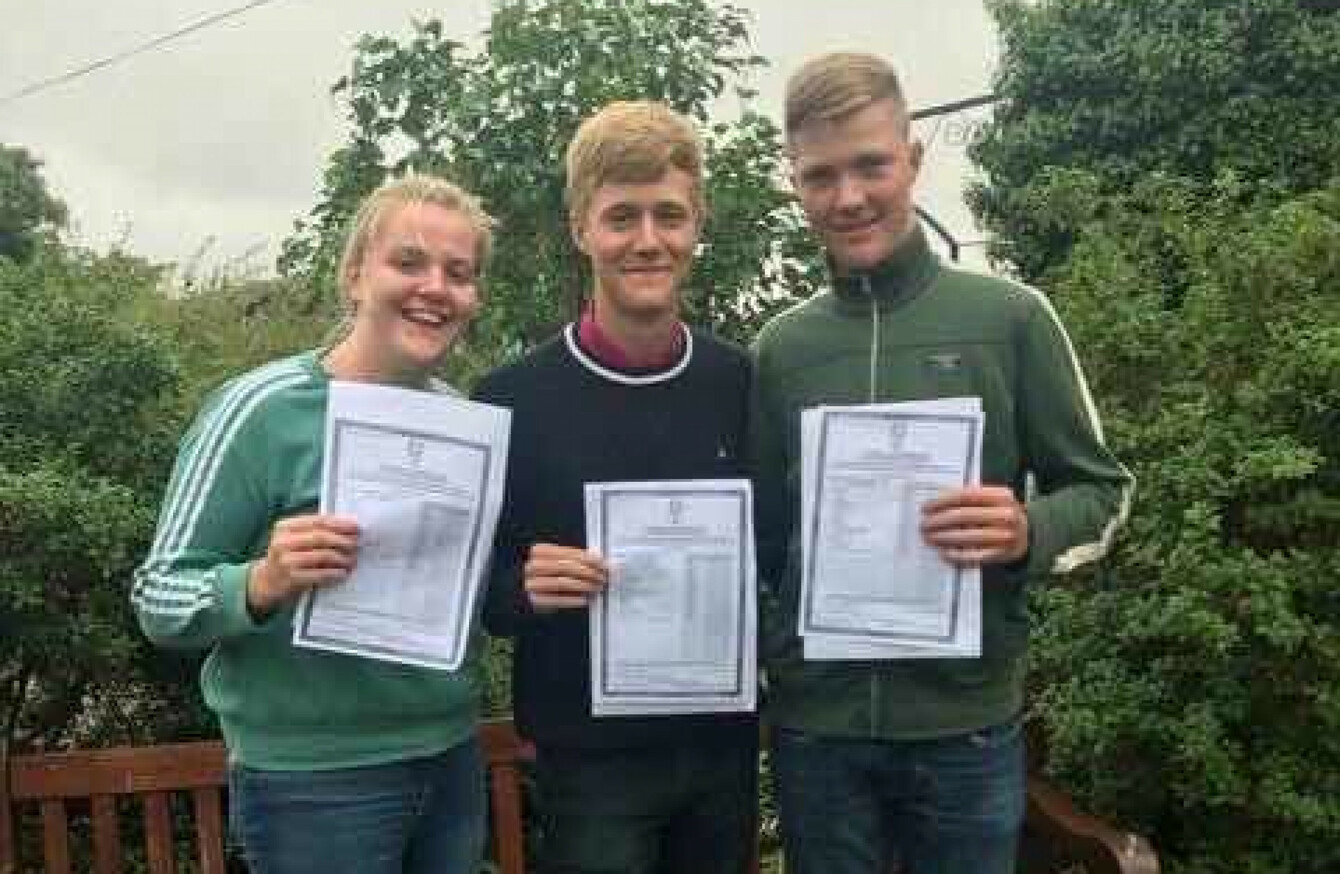 Katie, Liam and Cathal Mariga.
Image: Liam Mariga
Katie, Liam and Cathal Mariga.
Image: Liam Mariga
A TOTAL OF seven Leaving Certificate students out of 57,149  got eight H1s in their exam results today.
One of those seven students is Liam Mariga from Youghal, Co Cork who said he wasn't expecting that result at all.
The 18-year-old describes how he went around the back of the school to open his results and thought there must have been a mistake upon opening the envelope.
"I was really surprised and shocked," the student from Midleton College said.
Liam is a triplet and received his results alongside his sister Katie and brother Cathal, but said there were no sibling rivalries. 

"They were delighted for me and for themselves, they both did really well."
Katie wants to study teaching and Cathal wants to go to Budapest to study veterinary, while Liam hopes to study medicine at Trinity College Dublin.
Liam said he was expecting to get maybe four H1s "but not eight", so how did he do it?
"Start early, don't leave it to the last month," Liam said.
I was working hard during the year, not much outside of school, but in the last few weeks before the exams, I did a lot of study.
Liam is captain of the school hockey team and credits the sport to "taking the pressure off" studying.
"I found that it helped my studies, it meant I was able to take a break and have something to look forward to."
The other students who achieved eight H1s today were from Dublin's Colaiste Padraig CBS, Oatlands College, Christian Brothers College Monkstown, and St Andrews College Blackrock, Cork's Christian Brothers College and Galway's Yeats College.
Here's a break down of how many students achieved a H1 grade:
Results.
The Mariga triplets were only three of 57,149 students who received their Leaving Cert results today, with this year seeing a 2.5% decrease in the number of students sitting the exams.
However, there was an increase in the number of students taking the higher level paper in Irish and Maths.
In English, 2.8% of students achieved a H1 grade, while in Irish it was 4.8% and in Maths it was 5.3%.
The failure rate dropped from 8.1% to 7.9% in Irish and from 6.5% to 5.3% in English. It increased from 9.7% to 9.9% in Maths.