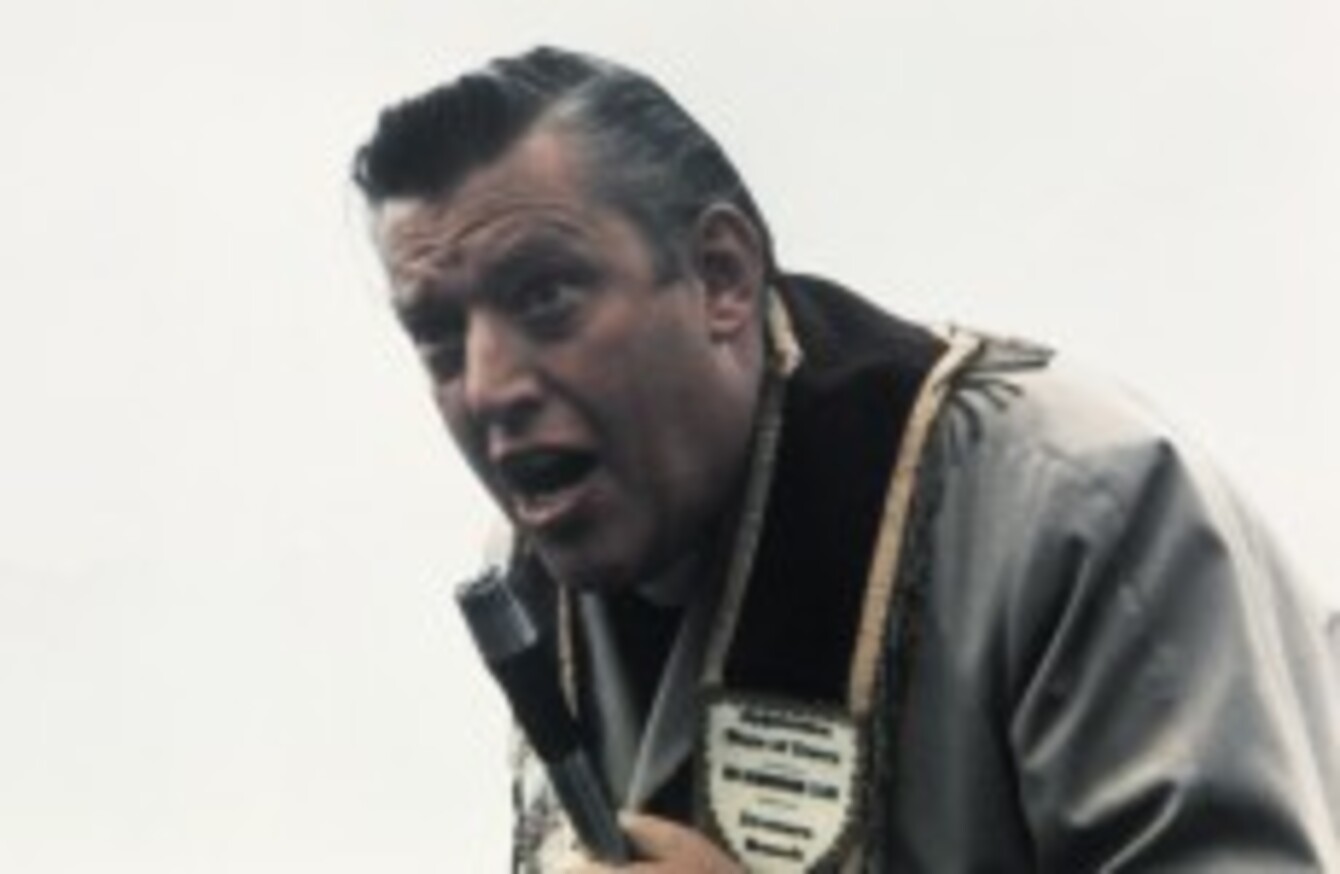 Image: Peter Kemp/PA Wire
Image: Peter Kemp/PA Wire
"THEY BREED LIKE rabbits and multiply like vermin."
Just one of Ian Paisley's unwelcome, vicious statements about Catholics in Northern Ireland. It was made at a Loyalist rally in 1969 and was in keeping with much of what he said during the following three decades.
But as the years rolled on and he eventually took his seat as the First Minister of Northern Ireland in 2007, Paisley said he sensed a relief among people that neighbourliness had replaced hostility.
We take a look back at some of his most famous moments since the 1960s.
Save Ulster from Sodomy
The slogan used by Ian Paisley in the 1970s against decriminalising homosexuality.
Speaking to BBC News, he said: "An outside body who is not committed to the moral values that the people of Northern Ireland are committed to is prepared to say you will legislate perversion and immorality."
Source: MetalAaron/YouTube
Never Never Never
During his infamous November 1985 speech at Belfast City Hall, Paisley, in his own style, boomed at the crowd.
"Where do the terrorists operate from? From the Irish Republic, that's where they come from. Where do the terrorists return to for sanctuary? To the Irish Republic.
"And yet Mrs. Thatcher tells us that that Republic must have some say in our province.
We say, never, never, never, never.
Source: Business and Enterprise/YouTube
John Paul, the Antichrist
Three years later, Paisley heckled Pope John Paul II as he gave a keynote address to the European Parliament.
I denounce you, Antichrist! I refuse you as Christ's enemy and Antichrist with all your false doctrine.
Paisley had also described the pontiff as the "scarlet woman of Rome" and on his death, he said that the "man of sin is now in hell".
Source: nh6central/YouTube
We'll never surrender
At a meeting of Loyalists, he rallied the group to not send a message of being hotheads.
"We are cool, cold, determined Loyalists who will never surrender."
Source: LOYALIST MUSIC/YouTube
Holding onto power 
On believing that Northern Ireland was on the brink of civil war in 1986 as he opposed the Anglo-Irish Agreement, before being thrown out of Stormont. 
#Open journalism No news is bad news Support The Journal

Your contributions will help us continue to deliver the stories that are important to you

Support us now
Source: Sales Consultant/YouTube
No dancing shoes or alcohol
The Reverend was no fan of dancing, equating it to sexual activity.
Line dancing is as sinful as any other type of dancing, with its sexual gestures and touching. It is an incitement to lust.
He also waged war on alcohol, which he described as the "devil's buttermilk". Suspecting them of having taken a sup, he often asking reporters who requested comment to "Let me smell your breath first, son."
The NO man
He opposed the Anglo-Irish Agreement and the Good Friday Agreement. He became known for opposing things and saying no. John Hume recalls this conversation with the Reverend.
John Hume: "Ian, if the word 'no' were to be removed from the English language, you'd be speechless, wouldn't you!"Ian Paisley: "No, I wouldn't!"
Coming Around
"If anybody had told me a few years ago that I would be doing this, I would have been unbelieving," Paisley said following the landmark deal which saw him enter a power-sharing government with Martin McGuinness and Sinn Féin.
"I believe that Northern Ireland has come to a time of peace, a time when hate will no longer rule. How good it will be to be part of a wonderful healing in our province," he added in his first speech as First Minister.
What was unfair?
On the discrimination of Catholics during the Troubles in a 2014 documentary, he said there was some unacceptable aspects of how the system worked in Northern Ireland.
Source: Protestant Irish Republican/YouTube