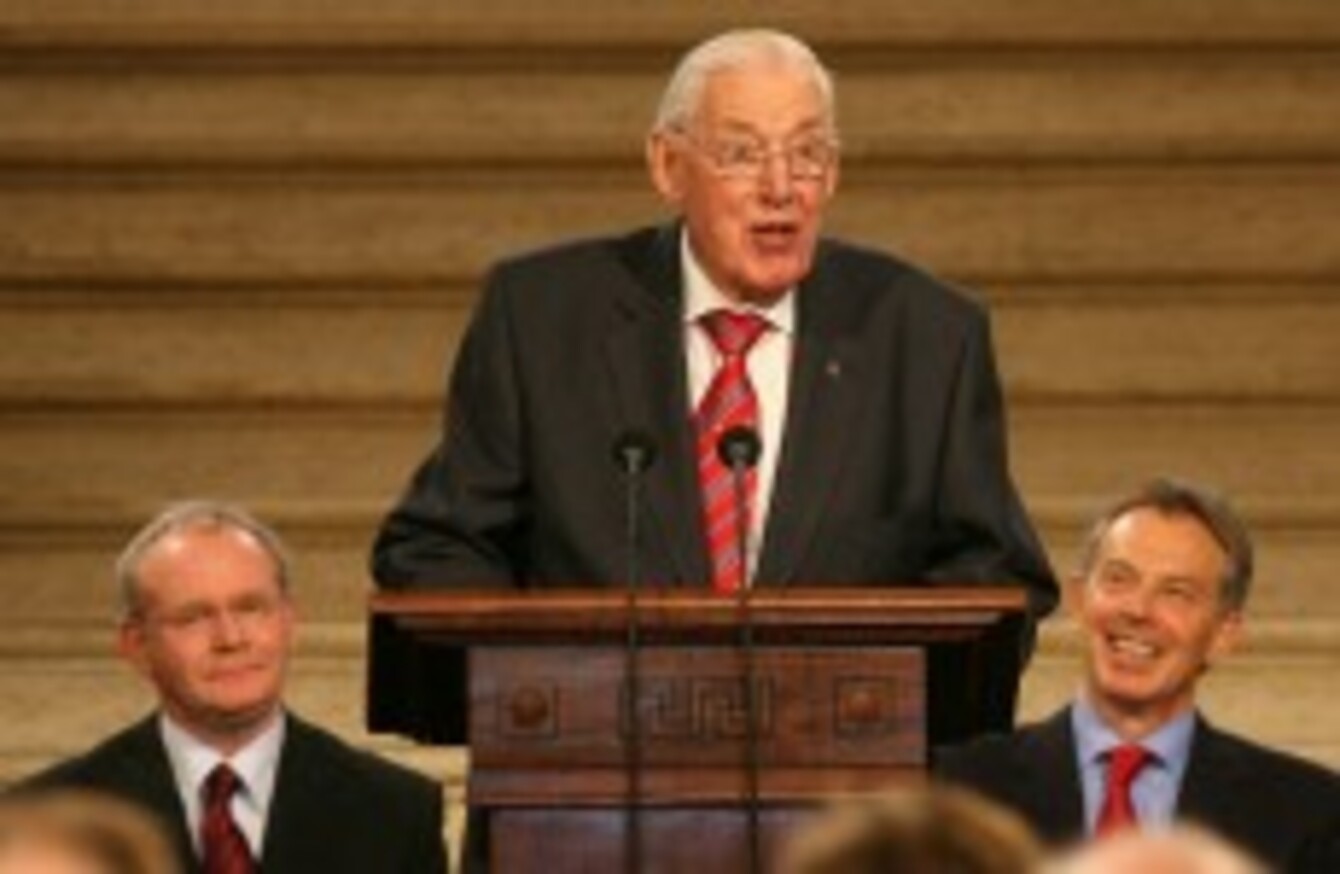 Image: PA Wire/Press Association Images
Image: PA Wire/Press Association Images
THE FIRST MINISTER of Northern Ireland Peter Robinson has paid tribute to his predecessor Ian Paisley, saying that "Ulster will never see the like of him again".
The Stormont Assembly heard speeches from MLA's this afternoon  following the death of the former DUP leader.
Most of the contributions made reference to Paisley's controversial career but acknowledged the work he did to ultimately enter into power-sharing Government.
Opening the tributes, Robinson said that Paisley worked to "ensure lasting peace and stability for the land he loved so much":
As a leader of men, a friend of the people, a servant of the state and the undisputed leader of unionism, Ian Paisley outclassed all around him.
"Ulster will never see the like of him again – he was an exceptional human being," added Robinson.
Deputy First Minster Martin McGuinness began his remarks by stating that, "this is a very sad occasion for all of us".
McGuinness said that he "has very fond memories" of the weekend in 2007 when Paisley and the DUP along with Sinn Féin made a statement announcing that they would share power as the main parties in the executive.
"It was a statement which confounded the international community who had arrived en masse to proclaim another failure in the process," he said.
McGuinness touched upon the transformation that occurred in the North by describing how, "as an 18 or 19-year-old, I along with the rest of Derry, I remember being in fear of Ian Paisley when he came to the city".
"I will leave it to history to decide on Ian Paisley's legacy…I can only talk about my experiences of him," he added.
McGuinness said that, "from the word go we hit it off… Not only did we have a positive relationship, we became friends."
McGuinness also spoke about criticism he has received from within the nationalist community for his glowing tributes to Paisley.
He countered them by saying that Paisley was a "true friend of the peace process":
Whatever about his past, he did a magnificent service for our young people and the future and for that I am proud to be associated with him.
Friendship
SDLP leader Alaisdair McDonnell was one of many to make reference to a warm private friendship they shared with Paisley.
McDonnell said that there are many things that Paisley said and did to which he could never agree with, this did not however effect how they dealt with each other on a personal level.
#Open journalism No news is bad news Support The Journal

Your contributions will help us continue to deliver the stories that are important to you

Support us now
They enjoyed an "enduring personal friendship" for over 40 years he said.
UUP leader Mike Nesbitt said that Paisley was a "huge figure both physically and metaphorically" and that most of his dealings with him came during his time as a journalist.
"Interviewing Ian Paisley, was something as an event, if you had not been admonished by Ian Paisley you could not call yourself a proper journalist," Nesbitt said.
The Alliance Party's David Forde also paid tribute to Paisley but added that the negative aspects to his career "should not be brushed aside".
Jim Allister of the Traditional Unionist Voice said that it was to his "abiding regret" that Paisley's career ended with "terrorists in Government and a system not fit for purpose".
"It was an incredible political journey from being the scourge of Republicans to being the proclaimed friend of an IRA commander," he said.
The funeral Ian Paisley will take place later today.