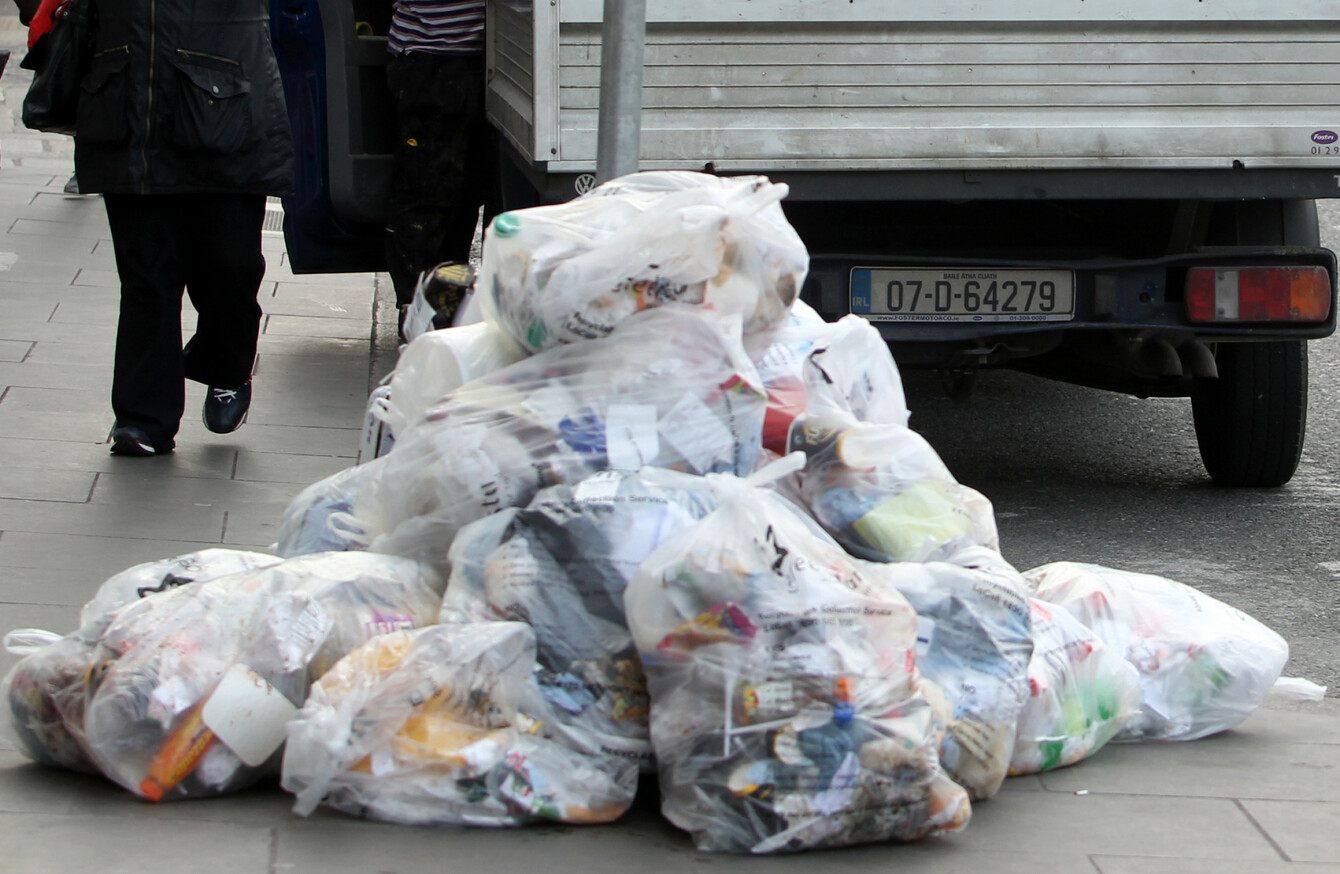 A pile of rubbish bags on a Dublin street
Image: Rollingnews
A pile of rubbish bags on a Dublin street
Image: Rollingnews
ECONOMICALLY DISADVANTAGED AREAS in Irish cities are more littered now than they were last year, an annual survey has revealed.
Research carried out during the summer for the group Irish Business Against Litter found that pockets of Galway, Dublin and Cork were more heavily littered this year than in previous surveys.
It found that while Dublin city centre registered one of its best ever results, the north inner city and Ballymun both deteriorated and were 'heavily littered'.
Cork city's northside and Mahon also showed higher levels of litter, as did Ballybane in Galway city, which was bottom of the rankings.
An Taisce, which conducted the research, reported that Ballybane had "pathways riddled with heavy levels of food related litter", "huge swathes of all manner of litter, as well as discarded bags of rubbish" and dumping near St. Brigid's Church.
Meanwhile there were several blackspots in Ballymun, which suffered from widespread dumping according to the report.
Mixed housing
Conor Horgan of IBAL suggested that a lack of community spirit in the affected areas may be to blame, and said a greater diversity of housing could help address the problem.
"What is often lacking in these areas is a sense of pride in place, which in turn reflects an absence of real community," he said.
"In the frenzy to address our housing shortage, we must be mindful of the need to build communities along with houses. Mixed housing is the long-term solution to our urban litter problem."
Overall, the report found that 77% of the 40 towns and cities surveyed across the country were clean, with 18 of them 'clean to European norms' and a further 13 'cleaner than European norms'.
None of the 40 towns and cities were deemed a litter blackspot, but the five areas in Dublin, Galway and Cork were 'littered' or 'seriously littered' and scored worse than last year.
By contrast, An Taisce complimented Fermoy, saying: "It is rare to visit a town with an almost complete absence of litter, not just in the town centre but in residential and other outlying areas surveyed."
Wardens
Similarly, the report commended Dublin city centre for "a virtual absence of litter" along high footfall streets, and noted how shopping streets were "presented very well".
Horgan argued that much of the problems in Ireland's littered areas were due to a lack of concern about the affected regions, noting that the same sites were found in disarray every year.
"A concerted effort to clean up these areas would contribute greatly to a cleaner environment," he said.
He also pointed to statistics which show that the cost of litter wardens is ten times higher than the revenue collected through litter fines.
While the cost of employing wardens has risen over the past six years, the revenues collected by them have halved from €1.7m to €0.84m.
"By any measure, this represents a pitiful return on taxpayers' money and should be addressed. These resources could be put to better use elsewhere," he added.
Responding to the survey the Department of Communications, Climate Action & Environment said it "broadly welcomed" the findings, but acknowledged the challenges faced by local authorities in tackling litter in populous, urban areas.
The Department said that providing extra funding did not guarantee success in fighting litter, but accepted that doing so could raise awareness, build community bonds, and change attitudes towards littering.