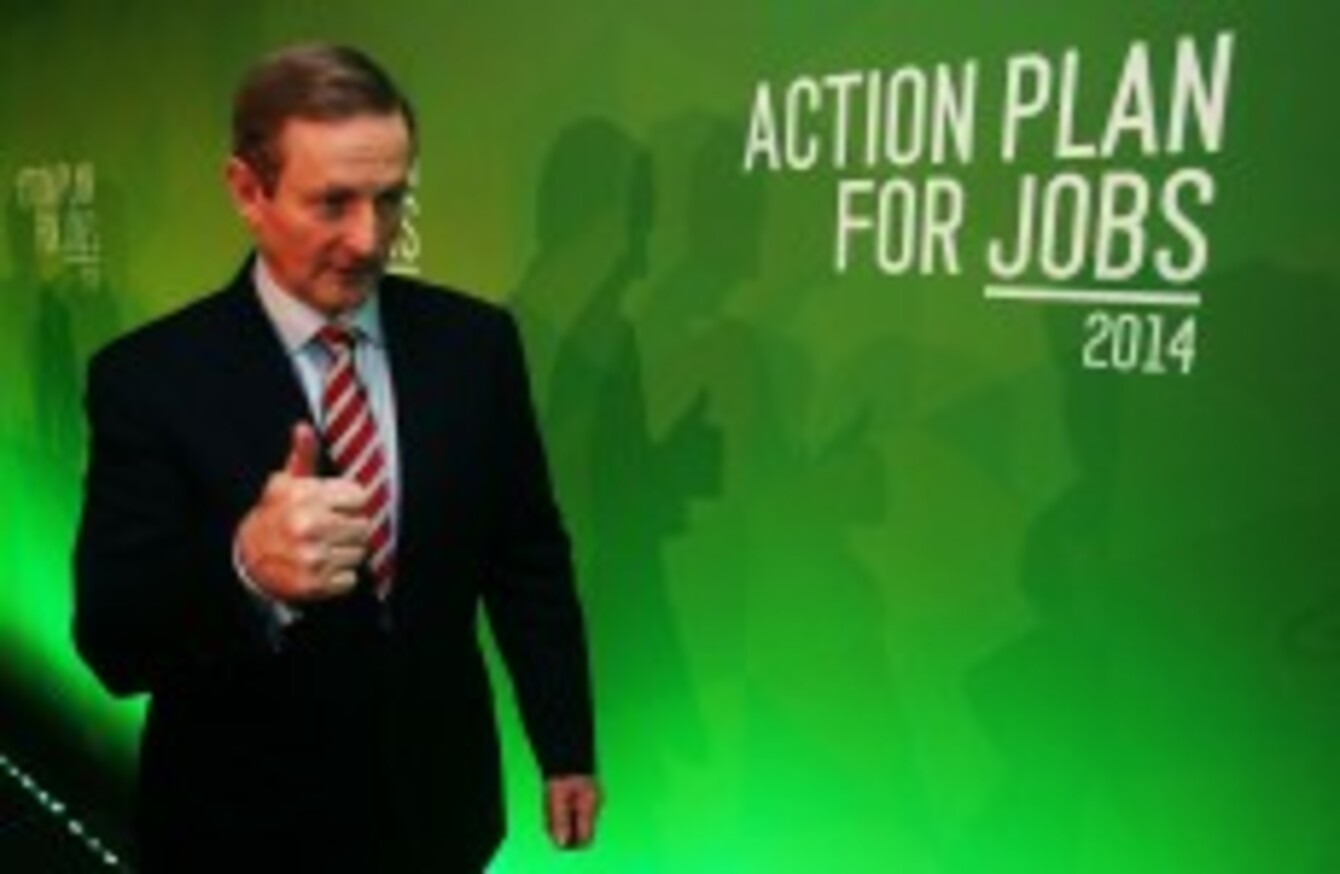 Taoiseach Enda Kenny
Image: Brian Lawless/PA Archive/Press Association Images
Taoiseach Enda Kenny
Image: Brian Lawless/PA Archive/Press Association Images
BUSINESS LOBBY GROUP IBEC has heralded Ireland's "spectacular" economic growth figures as it predicted jobs would soon rebound to levels last seen in early 2009.
The group doubled its growth forecasts for the year and is now predicting GDP will increase 6.1% in 2014, up from the 3.1% figure it flagged in its last quarterly update.
It said Ireland had the fastest-growing economy in Europe and it predicted GDP would be up 4.5% next year.
IBEC, which counts most of Ireland's big businesses and multinationals like Microsoft and IBM among its members, has used the bullish forecast to call for an end to austerity budgets when the government delivers its financial blueprint next week.
"There is no need for another austerity budget, the focus instead should be on creating a better environment for job creation," the latest outlook said.
IBEC's optimistic forecasts follow the Central Bank's positive, but more conservative predictions on Friday.
The state bank pencilled in economic growth of 4.5% this year, significantly higher than its last quarterly forecast of 2.5% for 2014.
IBEC also upped its projections for next year's growth to 4.5%, ahead of its previous 3.9% prediction.
Cut taxes to create jobs
The business group continued its pitch to government to cut employment taxes and "put more people back to work".
IBEC chief economist Fergal O'Brien said tax hikes had pushed the country's top marginal tax rate "way out of line with our international competitors" at 52%.
"Ireland is firmly on the way back and this gives the government options on Budget day," he said.
Other business groups such as the Irish Small and Medium Enterprises Association (ISME) have lobbied for the government to cut the cost burden on employers to help them take on more staff.
Unemployment figures have been slowly edging down from their peaks above 15%, although the Central Bank is predicting the jobless rate will stay above 10% until at least 2016.
READ: We should cap how much people can borrow or risk another property bubble
READ:  €2.1 billion: That's how much extra the government could have to play with now