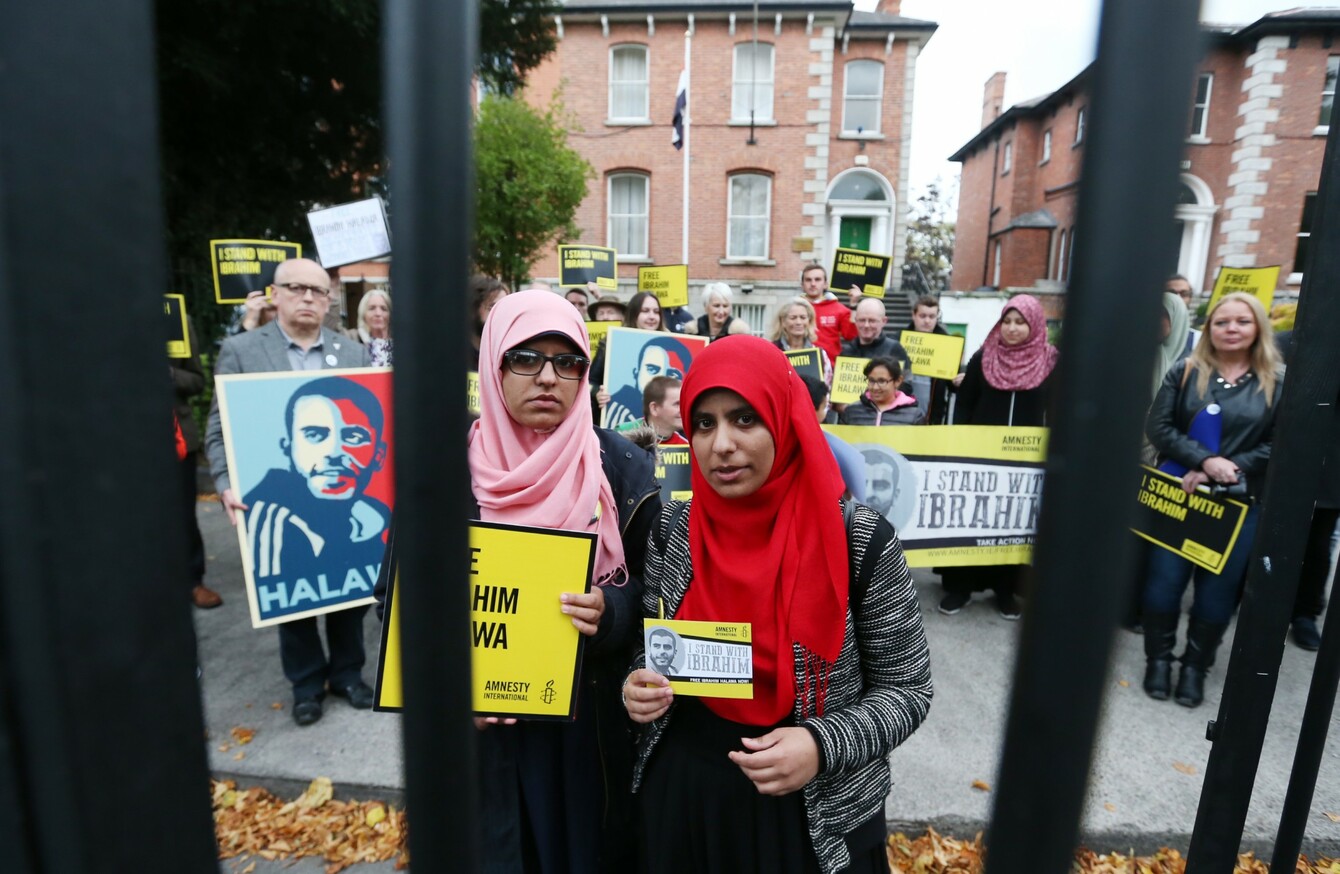 Image: RollingNews.ie
Image: RollingNews.ie
Updated 12.40pm
IBRAHIM HALAWA TODAY has had his 19th trial date delayed – three years after he was arrested for taking part in a political demonstration.
Halawa was arrested and detained at a protest in Cairo in August 2013 held in support of the Muslim Brotherhood which had been ousted from power by the Egyptian military.
He is charged with attempted murder but no evidence has ever been presented in his case. Amnesty International has also said it has seen no evidence against him.
Sinn Féin MEP Lynn Boylan said she is frustrated at the lack of progress in Halawa's case. Boylan added that relations with Egypt "cannot continue while Ibrahim is imprisoned".
She said: "Today, Ibrahim faces his 19th trial hearing, having spent over 3 years of his young life behind bars. The 21-year-old has been convicted of no crime and his arbitrary detention and participation in a mass trial violates both Egyptian and international law."
Boylan said there are a number of options open to President Sisi to release Ibrahim, including the presidential decree and the youth amnesty but in order for him to do so, he must be left in no doubt that normal relations between Ireland and Egypt are threatened.
Foreign Affairs Minister Charlie Flanagan said that he was "deeply disappointing".
"I am deeply disappointed that this case has again been delayed and I am concerned for Ibrahim to whom we are providing ongoing consular care. Ireland's Ambassador to Egypt, Damien Cole, was present in the court for today's hearing and he has given me a report on the hearing.
"Ambassador Cole's report indicates that notwithstanding this adjournment, the judges have indicated a clear desire to move this case forward. Following petitions from defence lawyers today, the hearing was put back to 22 March."
Green Party Deputy Leader Catherine Martin said the delay was disappointing.
"This is a bitterly disappointing blow for Ibrahim after the visit of the Oireachtas delegation recently. We now know that Ibrahim will be returned home to Ireland as soon as his trial finishes, but this is a very hollow promise if a trial never happens. It is vitally important that this process is brought to an end."
With reporting by Paul Hosford