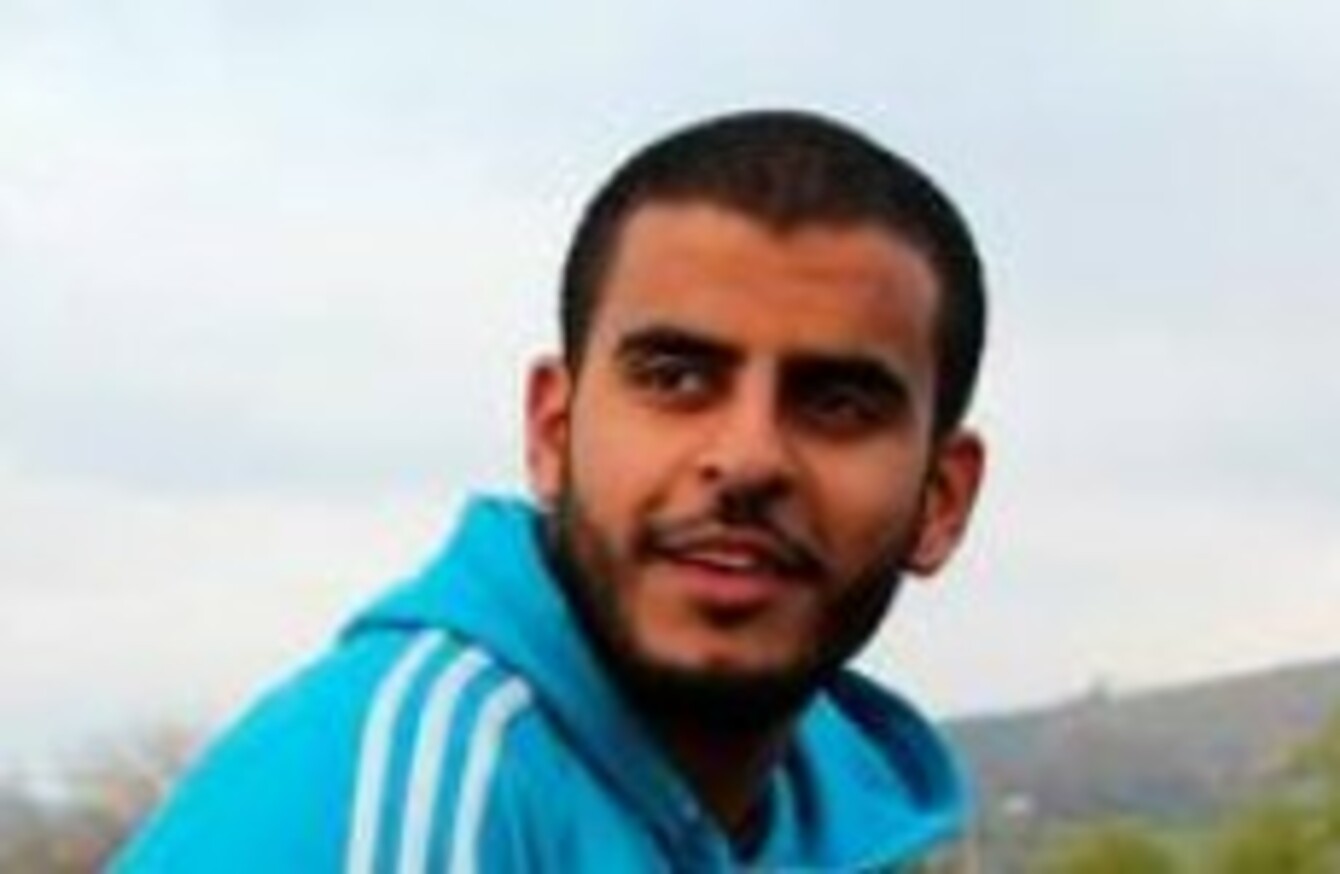 Ibrahim Halawa
Ibrahim Halawa
Updated 2.57pm

THE FAMILY OF Ibrahim Halawa, the Irish teenager said to be facing the death penalty in Egypt, have called for the Taoiseach to intervene in the case.
The 19-year-old from Tallaght has been held for some 18 months at various prisons in Cairo over his participation in a demonstration at the height of the country's political instability.
After his trial was postponed on four previous occasions, he is facing another court date this Sunday along with 493 others as part of a controversial 'mass trial' on charges of murder, attempted murder and participating in an illegal protest.
Ahead of the trial, a protest is taking place outside the Department of Foreign Affairs in Dublin.
Ibrahim's sister Fatima made desperate pleas through social media for people to join their protest. She said her other brother visited the 19 year old who said they are "killing him" in prison.
In a Facebook post she said her brother told her "if we don't do anything now, Ibrahim will die".
Our government must return it's boy back home. Our family is in a state of shock and have no idea what to do.
Foreign Affairs Minister Charlie Flanagan has continued to lobby for a review of Halawa's case and his release, according to the Department of Foreign Affairs.
A spokesperson for the department says Flanagan has lobbied with his Egyptian counterpart, both in face to face meetings and in phone calls, for a review of the charges against Halawa and for his return to Ireland.
The department says Flanagan has also raised Ireland's concerns with the EU's top foreign affairs representatives.
But Ibrahim's sisters, three of whom were held in Cairo for three months after the protest, believe their brother is being treated as a second class citizen by the Irish government.
The Halawa family claim that Ibrahim is repeatedly being denied access to a lawyer and a proper court hearing in violation of his basic civil and human rights. They say that on Thursday he was moved to Wadi al Natrun prison, where detainees are reportedly subject to violent treatment by authorities.
Speaking at a press conference in Dublin yesterday, Ibrahim's sister, Somaia Halawa, directly appealed to the Taoiseach to get involved in the case:
After 600 days behind bars, it's time for Enda Kenny to intervene and put more pressure on the Egyptian authorities to ask for Ibrahim's immediate release.
Socialist TD Ruth Coppinger said "the lacklustre response of this government is very, very worrying" and raised questions as to whether the government was not doing enough because of the family's Egyptian heritage.
Sinn Féin MEP Lynn Boylan, who has raised the case in the European parliament, went further, saying:
He's an Irish speaking, GAA playing, Dublin lad but because his name is not 'Paddy Murphy' you're not getting the same level of support, even from the community, the public. 
In February the Department of Foreign Affairs rejected claims that Ibrahim was not being prioritised because of his Egyptian heritage, saying:
We understand the frustration that can build for those involved in prolonged consular cases. However, any suggestion that Ibrahim's case is not getting priority because he is of Egyptian heritage or because of his name is simply untrue. It is absolutely without foundation.
The department added in a statement yesterday that Irish embassy officials in Cairo have been "in sustained and direct contact with the Egyptian authorities":
"Embassy officials, including the Ambassador, have visited Ibrahim on more than 30 occasions, most recently yesterday, March 26. Officials from the embassy will attend Mr Halawa's hearing on Sunday."
A spokesperson for the Taoiseach did not respond to a request for comment.
Also speaking at the press conference yesterday, the People Before Profit TD Richard Boyd Barrett said:
"If Enda Kenny does not want to be complicit with a show trial and a possible, god knows, even execution of an Irish citizen, but certainly the false imprisonment of an Irish citizen, he must speak out now."
- With reporting by Michelle Hennessy.