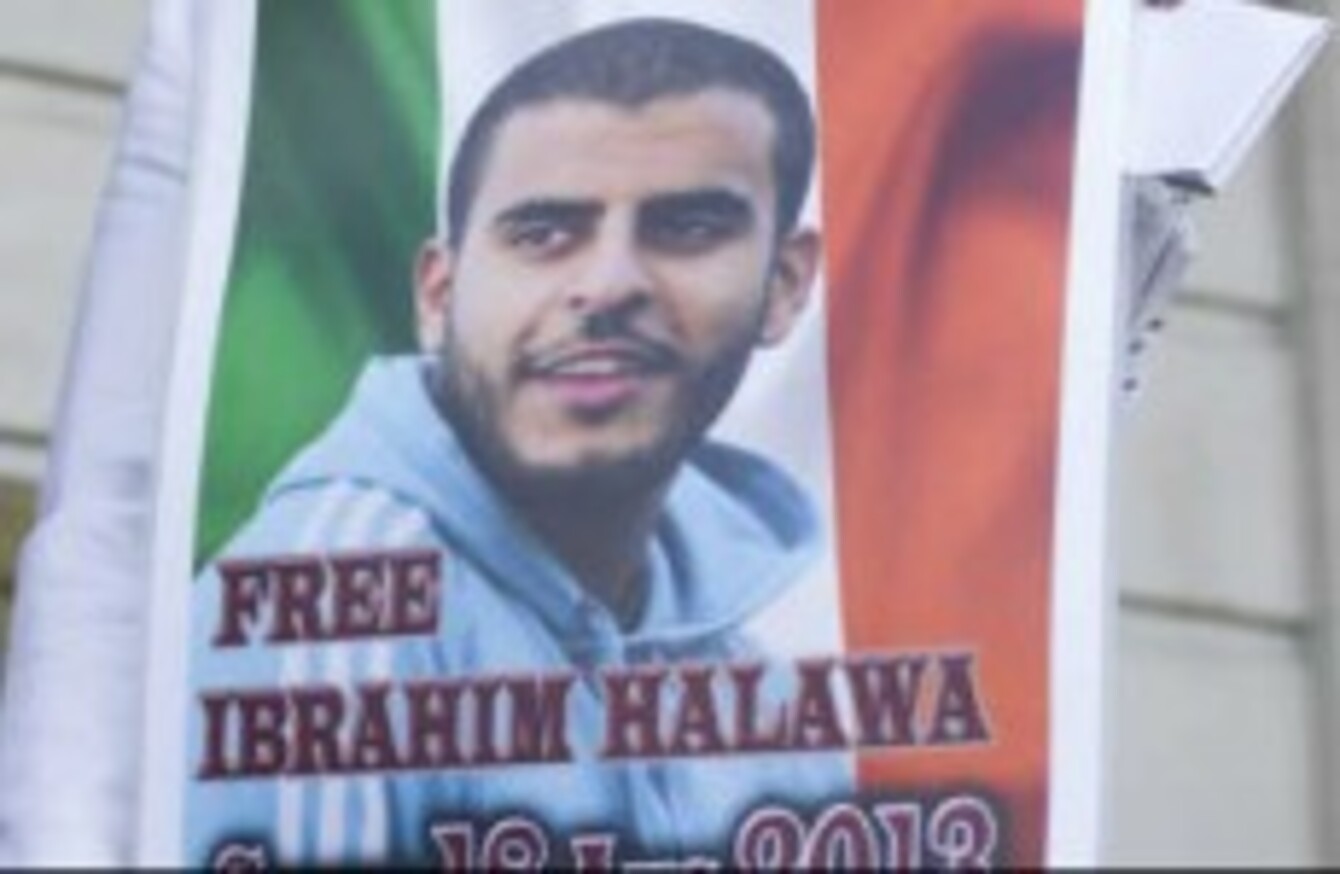 Somaia Halawa
Image: Photocall
Somaia Halawa
Image: Photocall
Updated 6pm 
FOREIGN AFFAIRS MINISTER Charlie Flanagan has said that Ibrahim Halawa's hunger strike is "unlikely to serve any positive purpose at all".
Flanagan said that along with the Taoiseach he met with Halawa's father and two sisters last week where they were informed by the family of the Irish teenager that he was considering going on hunger strike.
In a letter, which is quoted in today's Irish Times, Halawa said he is refusing to eat until he is permitted to return to Ireland. He has spent almost two years in an Egyptian prison on charges related to taking part in a pro-Muslim Brotherhood rally.
His last trial was postponed for a seventh time earlier this month.
Flanagan told the Dáil this afternoon that he advised the family against the hunger strike and said this view was shared by Halawa's lawyer and communicated to the 19-year-old.
The Fine Gael minister reiterated that the Department of Foreign Affairs is maintaining extensive contacts with Egyptian authorities at a high level. He insisted that it was "unrealistic" to expect Halawa to be released until his initial trial concludes.
Flanagan also said that comparisons with the case of freed Australian journalist Peter Greste were not accurate.
Greste, a journalist for Al Jazeera, was released earlier this year following the intervention of Australian prime minister Tony Abbott with Taoiseach Enda Kenny facing calls to make a similar intervention in the Halawa case.
But Flanagan said that in Greste's case the trial had been concluded:
He had been convicted he had been sentenced… [it was] only when this concluded that authorities were in position to release him.
The minister said that to suggest that Greste was released because of a phone call is "simply wrong" and said it was important to note that different facts and circumstances apply to each case. 
He said that Halawa's trial must be completed "before any political consideration can take place".  
'Where is human rights?'
In his most recent letter, the 19 year old, from Tallaght in Dublin, wrote:
Where is human rights? When every morning I wake up to noises of torture knowing I can be next!

Where is human rights when I have been thrown in prison for two years with no evidence? Where is the human right when I don't see the light of the sun? Hit for every word I say that the officer doesn't like, not allowed hug my own mother.
His sister Somaia told TheJournal.ie that he had "no other option" but to go on hunger strike.
He is fighting for his life. The prison he's in is inhumane. He only sees his mum behind wires.
Sinn Féin deputy leader, Mary Lou McDonald, today called on Tánaiste Joan Burton to increase efforts to secure Ibrahim's release.
Tánaiste, what would you if this was your child? You would go to hell and back to secure his release. You would be demanding that the Taoiseach pick up the phone and tell the Egyptian Prime Minister to release this Irish citizen.
The Halawa family say they have become increasingly concerned about his physical and mental wellbeing since the last adjournment.
#Open journalism No news is bad news Support The Journal

Your contributions will help us continue to deliver the stories that are important to you

Support us now
The Cairo prison he is in is known as "the worst prison in Egypt" and prisoners have killed themselves to get away from the torture committed there, according to his sister Somaia.
In an earlier letter to his family in February, the teenager wrote that he believed the Irish government would "not work hard because I am not white or with me not having an Irish name or even because my religion".
It is understood that this latest letter was smuggled out of the prison in which he is being held.
The Department of Foreign Affairs, in its most recent statement, said it is committed to seeing Ibrahim released by the Egyptian authorities.
Flanagan "has engaged actively and remains committed to taking all appropriate action to  achieve a positive outcome for this young Irishman, Mr Halawa, and his family," it said.
Meanwhile, Sinn Féin leader Gerry Adams said he has written to the Taoiseach to ask him to intervene directly in the case.
It is imperative that the Irish Government exerts top-level pressure on Cairo to secure Ibrahim's release. It is my firm belief that the Taoiseach needs to make direct contact with the Egyptian President and Prime Minister to appeal to them to release this Irish citizen.
- with reporting from Hugh O'Connell