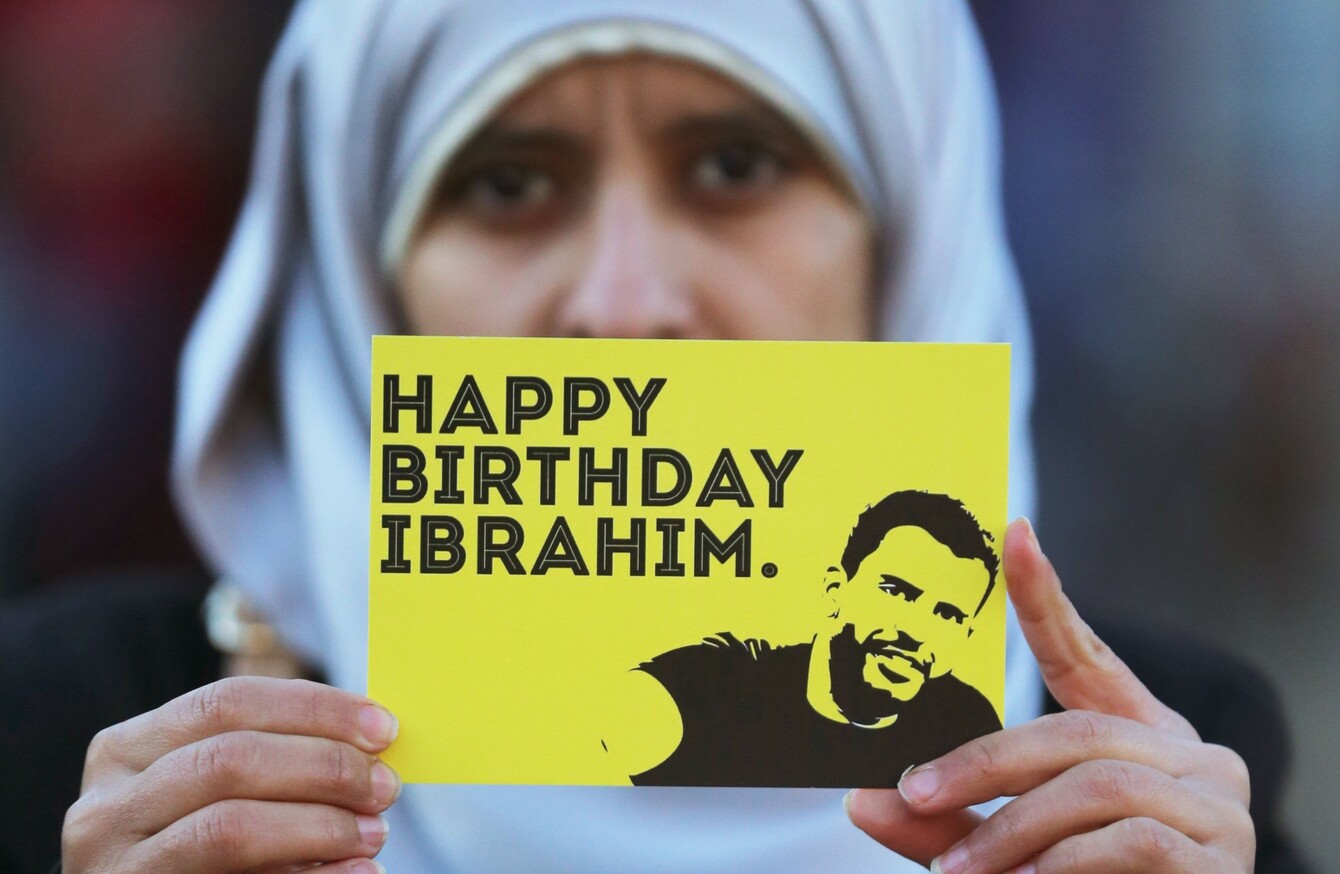 Somaia Halawa, sister of Ibrahim Halawa, at a protest in Dublin last month.
Image: Niall Carson
Somaia Halawa, sister of Ibrahim Halawa, at a protest in Dublin last month.
Image: Niall Carson
IBRAHIM HALAWA HAS told a delegation of Irish politicians who visited him today in a Cairo prison that he wants to return home to Dublin.
Halawa has been jailed without trial in Egypt for almost three-and-a-half years after 17 different court dates arrived before being postponed.
An Oireachtas delegation travelled to Egypt yesterday as part of efforts to secure his release and today they met the 21-year-old at a high security prison about 90 mins drive outside of the capital Cairo.
Green Party leader Eamon Ryan TD was among those who met Halawa today and said that he seemed strong and "very forthright" in his desire to return home.
"First of all, it was very stressful situation," Ryan told TheJournal.ie.
There was about 20 of us in the room, most of us prison authorities and the delegation. I thought he was strong and very brave and forthright about what he wanted, which is his release and his return home as soon as possible.
"He set out a whole range of basic concerns. The basic fact that he is detained in a high security prison as someone who hasn't been convicted of anything, As someone who has been brought to court 17 times without any trial being held."
"He was engaged in my mind in a political protest, which is not a crime, but he has now spent three-and-a-half years almost in those very intense prison environments," Ryan said, adding that Halawa himself sees it this way:
He was absolutely clear that he is not a member of the Muslim Brotherhood, that he was just expressing an opinion like many other people at the time and was just unlucky to be in the wrong place at the wrong time.
Halawa was arrested and detained at a demonstration in Cairo in August 2013 held in support of the Muslim Brotherhood which had been ousted from power by the Egyptian military.
He is charged with attempted murder but no evidence has ever been presented in his case. Amnesty International has also said it has seen no evidence against him.
Ryan said that Halawa spoke of his "utter frustration" at being brought to court 17 times and being told he is going to hear evidence against him before his trial is cancelled and he is returned to prison.
Halawa has been charged alongside 494 other defendants,
"What I was amazed by how strong he was in very difficult circumstances, just brave and forthright in what he wanted given the circumstances," Ryan said.
The Green Party leader said that the politicians visiting him all discouraged him from engaging in further hunger strikes after he had previously taken that action.
A total of eight Irish politicians from all the major parties are part of the delegation that have travelled to Egypt to see Halawa. Tomorrow they will meet with Egyptian president, Abdel Fattah El Sissi.
Ryan said that their dealings with Egyptian authorities have so far been "formal, diplomatic and respectful" and "not in any way confrontational".
The Irish government has formally requested that Halawa be released by presidential decree and this will be discussed at tomorrow's meeting
"I think that will be the easiest and quickest way to resolve the problem," Ryan said.