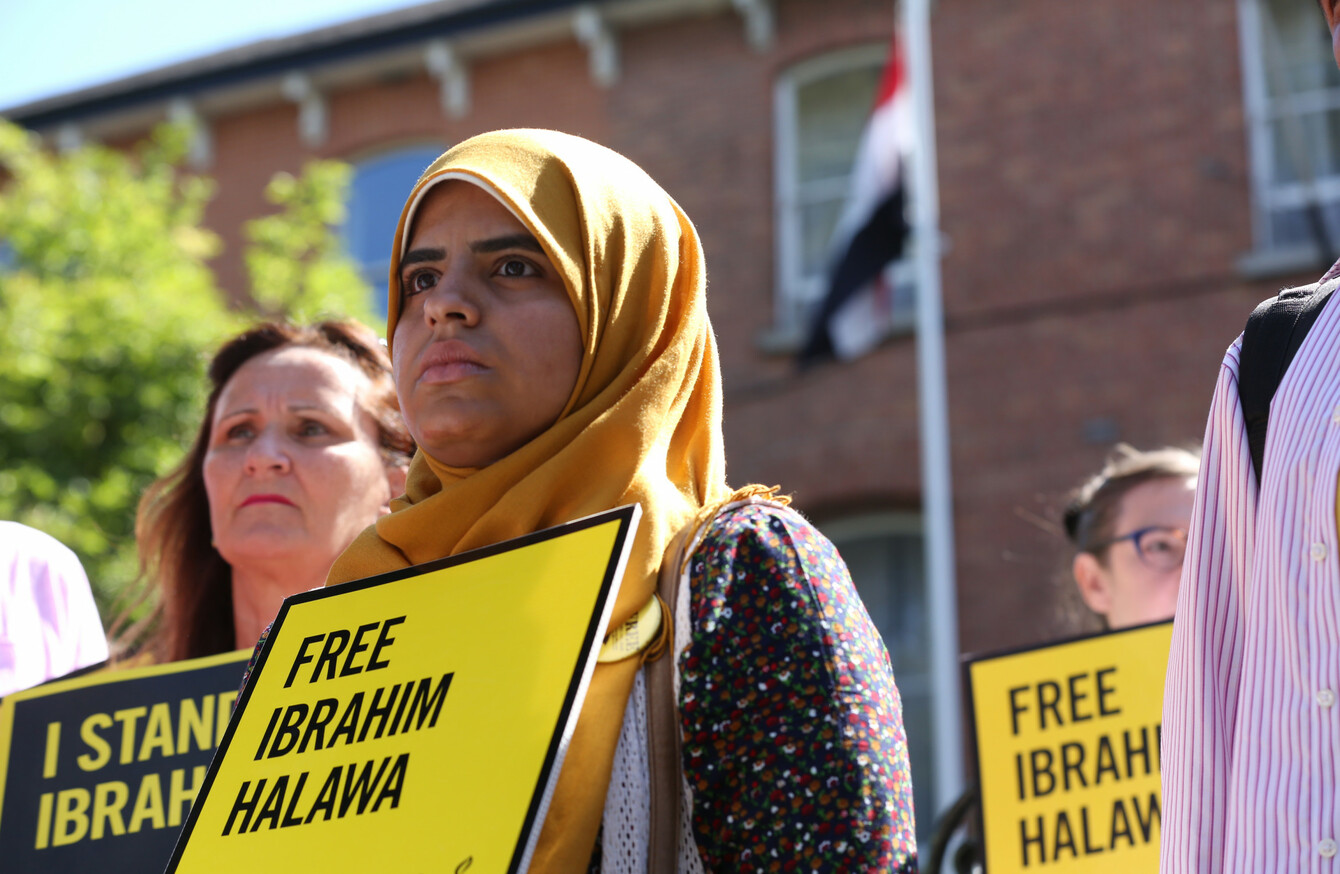 Fatima Halawa joined protesters from Amnesty International, USI and Unite Against Racism outside the Egyptian Embassy earlier this year.
Image: Sam Boal/RollingNews.ie
Fatima Halawa joined protesters from Amnesty International, USI and Unite Against Racism outside the Egyptian Embassy earlier this year.
Image: Sam Boal/RollingNews.ie
IBRAHIM HALAWA IS expected to be a free man come this weekend after he spent over four years in an Egyptian jail waiting to be acquitted of terrorism charges.
There were emotional scenes in Firhouse, south Dublin, yesterday as Ibrahim's family and friends embraced each other, many breaking down in tears when they found out the now 21-year-old was to be released.
But many have suggested that this day would not have come had the Halawa sisters not vociferously campaigned for Ibrahim's release.
His incarceration captured many politicians' attention. However, it was his family who shouted loudest, arranging dozens of protests over the last four years, desperate to secure his freedom.
His three sisters have been a constant in this campaign, keeping his name out there, protesting on every possible occasion, desperate to get him home. Their efforts have been described by Amnesty International as "heroic".
The hearing of Halawa's case was delayed 28 times before his legal team finally had a chance to defend him in court in early August.
His sister Somaia told TheJournal.ie that she has been waiting for this for a long time and that news of the verdict has yet to sink in, adding that it's been "a long four years".
"We've been waiting for this day for four years. We are very emotional as you can expect. But he's coming home and that means everything to us.
"He should never have been in prison in the first place. We made sure that everyone knew that. That's why we kept protesting. That's why we did it. We wanted to keep his name out there so people didn't forget him.
We've been through a lot but it is nothing compared to what he has been through. We're getting our brother back. This means everything.
Neither Halawa's father, Sheikh Hussein Halawa, who is the Imam of the Clonskeagh mosque in Dublin, nor his mother have ever spoken publicly about their son's incarceration in Egypt.
Halawa (21), an Irish citizen, was arrested during a protest in 2013 in support of the Muslim Brotherhood's Mohamed Morsi who had been ousted from power in a military coup.
Amnesty International has long been campaigning for Halawa's release – something they say has been a long and difficult process.
Kieran Clifford has been part of Amnesty's campaign for over three years. She explained that, for the team based in Ireland, the Halawa case became a personal mission. However, she said that all the credit for Ibrahim's release should go to the family.
She told TheJournal.ie:
We've always been led by the family. They were the driving force on this throughout his incarceration. All credit goes to them. That family never gave up. Throughout the darkest days they were there. They are the heroes in this.
#Open journalism No news is bad news Support The Journal

Your contributions will help us continue to deliver the stories that are important to you

Support us now
"This is one of the cases that was really close and really personal to us. I think there is still a measure of disbelief and shock and lots of tears to be shed, I'm sure.
"You think it's going to happen and then you have your hopes dashed. You don't want to get your hopes up and it's hard going. But this is down to the family that never gave up."
The Halawa family has been criticised for attending the protest which led to their incarceration. However, the family has said that their attendance was never supposed to be political.
Another sister Fatima said that when they visited Egypt in August 2013 it was just one of many trips they made to visit family throughout their lives.
Halawa told Saturday with Claire Byrne in January that they chose to attend the protest "on the spur of the moment" to remember those who had been killed in the Egyptian uprising and subsequent massacre.
"We went to Egypt every single year as far as I can remember to visit extended relatives, it was something our parents wanted us to do. To keep contact with our extended relatives and family members," she said.
I want to state this very clearly, in 2011 a revolution took place in Egypt in January on the 25th, the commemoration is coming up. We didn't go down and participate in anything, we weren't there at the time.