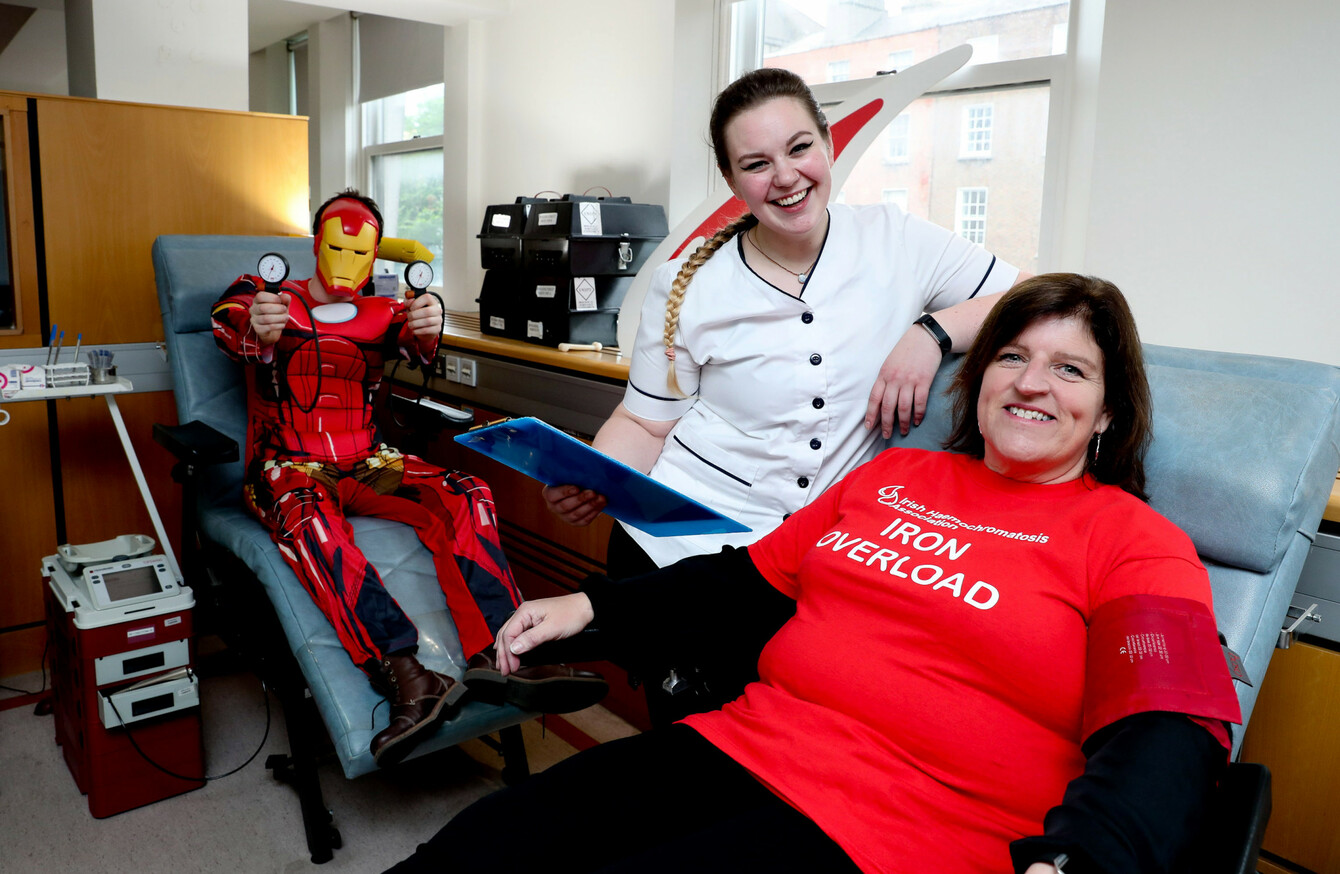 Image: Maxwell Photography
Image: Maxwell Photography
"BEFORE PEOPLE WITH haemochromatosis were able to donate, you'd struggle to find someone having their blood withdrawn who didn't ask 'why can't this be donated?'"
Donating blood is something that many people want to do at some stage but, for people with hereditary haemochromatosis (HH), having blood withdrawn isn't an option: it's a necessity. 
HH is a build up of iron in the blood which, if left untreated, can gather around organs such as the heart and liver and over time may lead to liver damage, heart failure and diabetes. Figures from the Irish Blood Transfusion Service (IBTS) show that as many as one in 83 people in Ireland are predisposed to develop the disease, while one in five people are carriers of the gene.  This is much higher than anywhere else in the world, and for that reason it is commonly known as the 'Celtic disease'.
The treatment for HH is quite simple and requires the patient having blood withdrawn in a process just like that of blood donation – except that it's in a medical environment and, until recently, the blood was discarded afterwards. 
"The person with HH could feel perfectly healthy, but they could be getting their blood removed on a hospital bed beside someone with a life-threatening condition," says Stephen Cousins, IBTS National Donor Services Manager. "There was a disconnect there, because the blood was being taken as part of the HH patient's treatment, but it wasn't being used after that."
In 2019, however, this situation has changed. For many people with HH, they will be eligible to donate blood at the many local community blood donation clinics throughout the country in the same way as others. IBTS are trying to raise awareness of this change and tell people with HH that now they can have their treatment at the same time. The service aims to collect 12,000 donations annually from HH donors – making up approximately 10% of the national blood supply.
"Now, a person with HH can attend a clinic at a convenient time in their local community, sitting beside someone who's donating blood too, and they're both saving lives," Cousins tells TheJournal.ie. "It's a very different experience."
Do you have HH? Below are seven things you need to know before donating blood (and saving lives)…
1.  You have to be in the 'maintenance phase' of treatment to be able to donate
"The first stage of treatment for a person with HH is intervention, where blood is removed from the body regularly until the iron level has reduced to a manageable level," says Cousins. "Then comes the maintenance phase. That's when the HH is under control and blood needs to be taken less regularly (up to eight times a year maximum), and this is when people are suitable to be potential blood donors." 
2. Once you match two sets of criteria, you can donate
If the patient meets certain HH treatment criteria, as well as the general criteria to be a blood donor, they can undergo the process. Find out about the HH criteria here, and the general criteria here. Of particular importance is that the HH patient has no serious complications as part of their treatment.
 3. There are no extra procedures surrounding the donation
"There's no extra steps for someone with HH to take when it comes to them donating blood," he says. "The only difference is actually positive in that there's no maximum age limit for someone to start donating, as they would be having blood removed regardless."
(If you don't have HH, you must be under 65 years of age to give blood for the first time.)
4. You can give blood in any blood donation clinic around the country
Instead of having blood removed in a hospital or a medical environment, people with HH can go to any local community blood donation clinic in the country, have blood withdrawn as usual and instead of it being discarded, it will be donated. "It's a win-win situation big time," says Cousins.
5. You can donate every 90 days
Providing you are an eligible HH patient, and also meet normal blood donation criteria, you will be able to donate every 90 days (up to four times a year). With this, your blood will be used as part of the national blood supply to hospitals. If as an eligible HH donor, on occasion, you are temporarily deferred, IBTS will still take a donation but it will not be used for the blood supply.  
6. Your blood will be used to save lives
While you'll still be getting blood withdrawn as normal, this blood will now be used to save lives rather than being discarded. 
"Very few people think it's a bad idea to donate blood," says Cousins. "People want to do it, but not everyone gets around to doing it. It's a different case for people with HH, as they're having blood withdrawn regularly – but now it can be used to save lives."
Considering that one in four people will need a blood transfusion at some point in their lives and that only 3% of the eligible Irish population give blood, an extra 12,000 donations can make a huge difference.
7. And here's why you've been seeing pictures of Iron Man…
"We try not to use the word 'superheroes' at IBTS, because donors don't see themselves as superheroes when they're donating blood – but the impact is truly astonishing," says Cousins. "For people with HH, the Iron Man connection is there because of the high iron level in their blood, and we wanted to use it to raise awareness that they too can now be life savers." 
If you believe you meet the HH criteria (you can check with IBTS here), check the standard blood donation criteria (here) to see if you're suitable to become a donor. If you reach both criteria, find you nearest clinic here so your next withdrawal can make a big difference. For more information, visit giveblood.ie or call 1850 731 137.