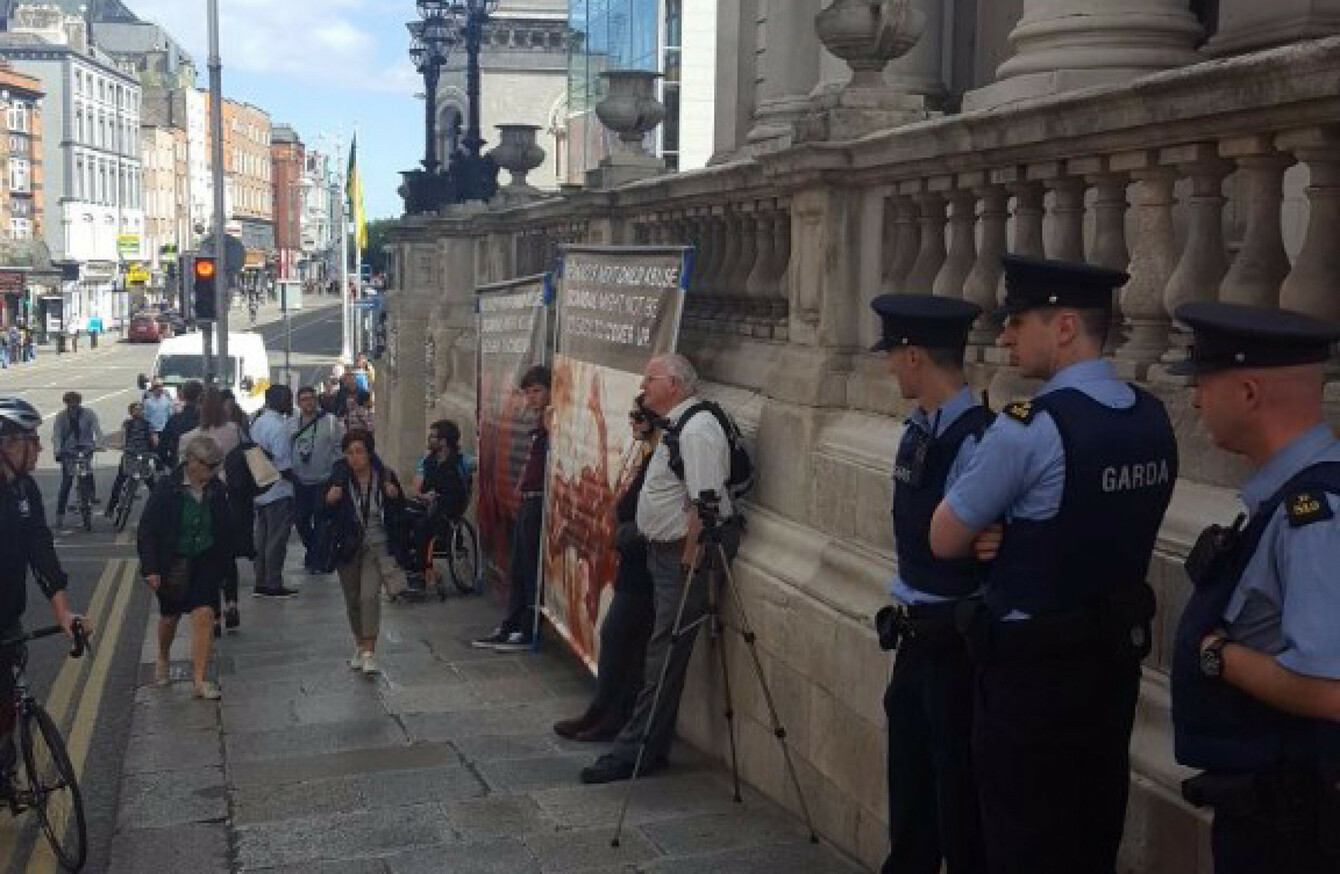 File photo. Taken of an ICBR demonstration last year on Dublin's Dame Street.
Image: ICBR/Rollingnews.ie
File photo. Taken of an ICBR demonstration last year on Dublin's Dame Street.
Image: ICBR/Rollingnews.ie
A GROUP THAT stood outside a number of maternity hospitals in Dublin yesterday displaying graphic imagery related to pregnancy and abortion has been condemned by the official campaign groups on both sides of the Eighth Amendment referendum debate.
Yesterday, the Irish Centre for Bio-Ethical Reform (ICBR) displayed the graphic imagery showing foetuses outside the National Maternity Hospital at Holles Street, the Rotunda Hospital and the Coombe Hospital.
The imagery was placed very close to the entrances of both hospitals, which meant that passers-by and those on their way into the hospital would have full sight of their content.
The group – which is opposed to abortion – had a number of individuals stationed at the hospitals holding up the large signs.
The actions were met with outrage on social media, being described as "insensitive" and "shocking" by many of those in favour of repealing the Eighth Amendment.
The Rotunda Hospital said it asked the campaigners to remove the signs out of concern for patients and staff.
Obstetrician Mary Higgins – who has advocated a yes vote in the referendum – tweeted that women who may have experienced miscarriage from a previous pregnancy would have to walk right by the signs on the way into the hospital.
A Together for Yes spokesperson was critical of the tactics employed by the ICBR.
They told TheJournal.ie: "[We] do not think this is an appropriate use of posters in this campaign.
These are deeply personal and private matters for women and their families, and such tactics only serve to cause further distress to people who might be receiving difficult news about their pregnancies.
It is understood that mainstream anti-abortion groups are also angry at the tactics of the ICBR in displaying such graphic imagery outside schools and hospitals.
Speaking to TheJournal.ie, Save the 8th spokesperson John McGuirk said: "These people are not Irish. They are not connected to our campaign, or to any other mainstream No campaign.
We have asked them to stop doing it. We are asking them go home. We hope they do so.
Jean-Simonis Engela, from the ICBR, said that the group plans further demonstrations outside the three maternity hospitals later this week.
He told TheJournal.ie that criticism of his group's actions was "disingenuous virtue signalling" and that the public "has a right to see" what an aborted foetus looks like.
Engela rejected criticism of holding the posters outside maternity hospitals specifically, and said that people often thank them for being there. He also said that the group would continue with these activities in the run up to the referendum on 25 May.
On the claim that the group is made up of members not from Ireland, Engela said that both sides of the Eighth Amendment referendum debate was "multinational".
"We try to be as multinational as our opposition," he said, before adding: "Our own Taoiseach is half-Indian."