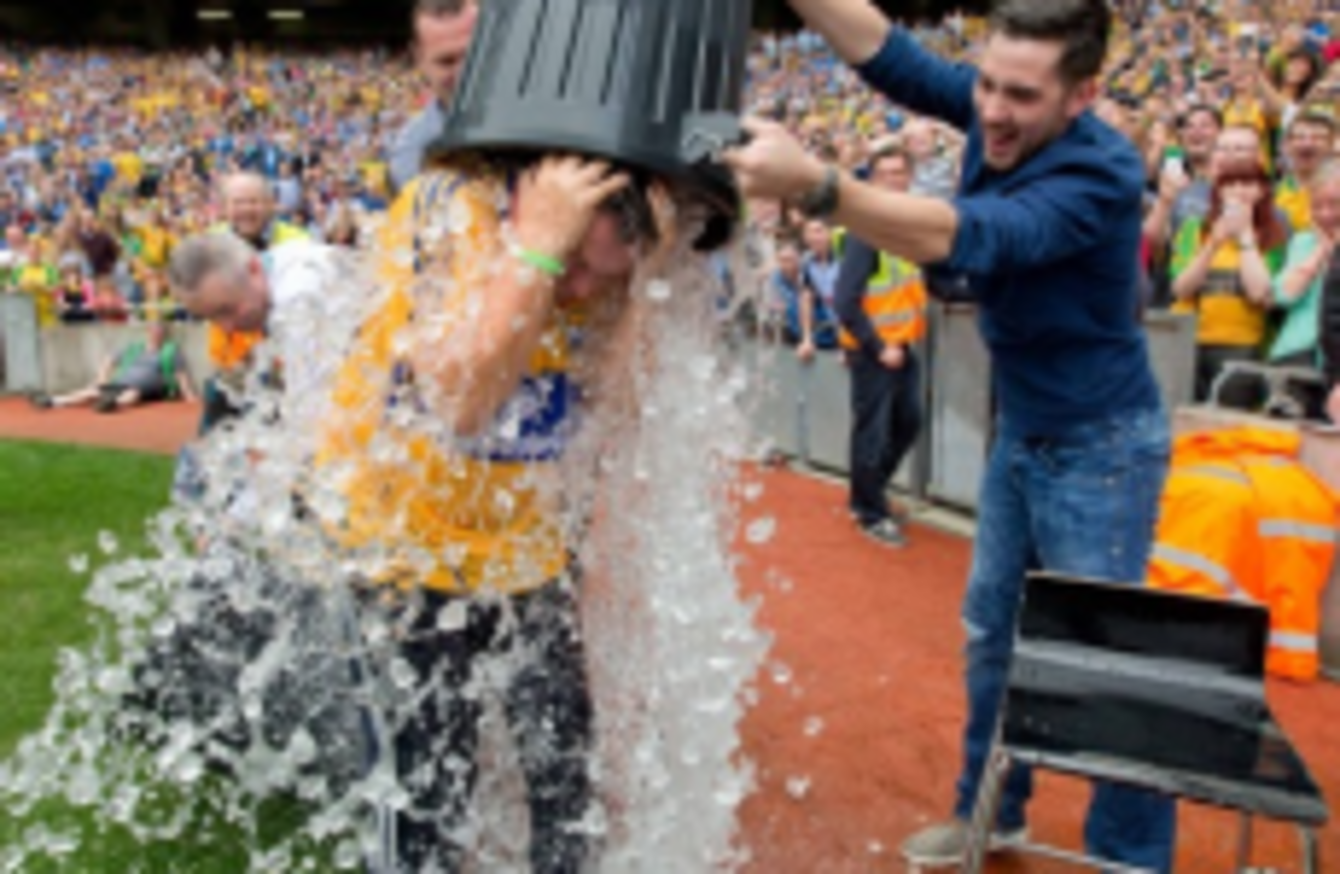 Image: Morgan Treacy/INPHO
Image: Morgan Treacy/INPHO
THIS TIME LAST year, many of us had never thought about a moment where we – or a loved one – could be told of having just 12 months to live. And that the quality of that living will be like nothing ever experienced during adult life.
Hundreds of thousands of bags of ice, millions of dollars and countless honest and heartbreaking stories from sufferers later, the global population is more aware of the struggles associated with Motor Neurone Disease.
The €1.6 million raised last year by the almost-500,000 people who completed the Ice Bucket Challenge was matched in its extraordinariness by the awareness it brought.
"It was both a phenomenon and phenomenal," says Paul Lannon, one of about 330 people in Ireland living with the condition.
"It was brilliant – in terms of money and the message. Although, I still have to explain the significance of the ice water and bucket to people. A lot didn't get that people with MND wouldn't be able to lift that bucket. And that the ice-cold water gives a small realisation that breathing with MND is like constantly trying to catch a breath."
As a result of the Ice Bucket Challenge, the charity was able to hire a third nurse to provide assistance to the hundreds of families in need across the country for at least the next two years.
However, just as those who have been diagnosed continue their daily struggle, the fight for funds is also ongoing.
The expertise of a travelling IMNDA nurse helped Barry Culliton come to terms with his mother's diagnosis two years ago.
"It was a huge shock, I didn't know much about the disease at all initially," the 32-year-old told TheJournal.ie.
When we did come to understand what was involved, it took a long time to digest it, as you'd expect.
He describes his Mum, June, as an "extremely fit, active and independent lady". She walked up to 10km most mornings, was a keen golfer and had, impressively, completed the Camino de Santiago seven times.
As a physiotherapist, she had her own knowledge of the disease and what it would do to that energetic, daily routine. Barry, his sister and his Mum's partner quickly had to familiarise themselves with MND and how it works too.
"When Mum was diagnosed the hospital put us in touch with the IMNDA. We knew nothing about them initially. They sent a specialist nurse down to us within days to explain the services and assistance they would be able to provide and try to answer the many questions we had," Barry recalls.
If the HSE – which he notes was a brilliant support at local level – couldn't come up with the equipment that was needed, the IMNDA were able to provide. Often, they knew in advance what would be required so there was no delay. They are also on hand to provide supplementary funding for private homecare, which is very expensive, as the condition progresses.
Knowing of the help the organisation had provided to the Culliton family, their friends rallied last year to help with the fundraising effort – before the emergence of the Ice Bucket Challenge.
"They decided on running a charity ball in the month of June which they named, The June Ball, as June was also our Mum's name," remembers Barry.
A year after losing their Mum, Barry and Susie decided to join the effort themselves.
"Myself and my sister Susie got involved this year but have been blown away by the amazing job our friends are doing organising the event," he says.
As part of the evening, Paul Lannon will share his experiences of living with MND with the 700-strong crowd.
As Barry noted to TheJournal.ie, MND seems to present itself in different ways – "recognising it is difficult as there are generally a number of symptoms which together are indicative of the disease but may also mirror other conditions".
"Diagnosing it often seems to be a case of ruling out the possible alternatives."
This was mirrored in Paul's case.
He recalls having issues with his mouth and arms shortly after taking on the Four Peaks Challenge when he turned 40 in 2010.
When working on his bike, his right arm became increasingly tired and he found he was always dropping nuts and bolts.
"I didn't think much of it," he says, but still took himself to a doctor but "nothing concrete really showed up".
A second trip to the doctor after struggling to lift in the gym resulted in "the news" being given in 2011. He was told he had 12 months to live.
"I wasn't expecting that," he says, before the understandable 'why me?' questioning began.
But I'm a positive guy. So quite quickly I said, 'to hell with that'. I'm going to fight this thing. Even though it's an unwinnable fight.
He soon decided that he would help the IMNDA with its awareness and fundraising campaigns "while still in a position to do so". 
"Then the day might come that I might need help with me."
#Open journalism No news is bad news Support The Journal

Your contributions will help us continue to deliver the stories that are important to you

Support us now
Three years on, Paul is still mobile but says that things are "getting more difficult".
"It affects every aspect of your life," he explains, adding that he is holding his mobile phone with two hands as we talk.
"Imagine the tasks that you learned as a child and then doing them, like that, as an adult. Physically, that's what it is like. What was a simple task a month ago, is almost impossible now."
From once being able to lift two kegs at a time at his father's pub in Kilkenny – and subsequent pubs he managed in England – Paul can no longer lift the kettle.
Dressing himself is now impossible and he has recently started to have difficulties with his speech and swallow.
His talk on Saturday, he jokes, will focus on "pulling on the heartstrings and releasing the purse strings".
In an advert last year, he said that he misses putting on a "smart suit and tie".
"At 42, I thought I had the job of my dreams – travelling all over the world, meeting different people and cultures. And leading the life I never thought I would.
I was devastated when I had to give it up. I miss that life. If only I could still put on a smart suit and tie. If only my hands still worked and I could dress myself.
"I hate the way MND has taken my life, bit by bit," he concludes.
Barry and Paul are both involved in organising The June Ball which will take place this Saturday, 27 June in the Double Tree by Hilton, Dublin.
Tickets for a night of dinner, dancing and prizes (passes to the Formula One in Silverstone with pit access, signed Major flags from Rory McIlroy, signed jerseys from Paul O'Connell and John O'Shea, Ballymaloe cookery courses, Blue Book hotel breaks, etc) are €90 and available here. Find out more on Facebook and Twitter @thejuneball.